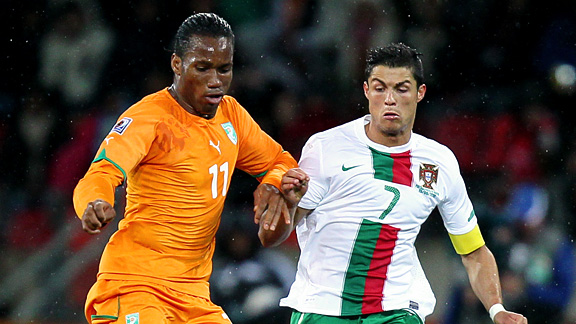 Karim Jaafar/AFP/Getty Images
Didier Drogba, left, came on as a sub Tuesday and Cristiano Ronaldo was criticized for diving during the game involving Ivory Coast and Portugal.
IN BRIEF: Didier Drogba plays but doesn't start and Cristiano Ronaldo flits from sublime to subpar as Ivory Coast-Portugal fails to live up to expectations. Brazil finally solves North Korea's bunker but is less than impressive. And New Zealand stuns Slovakia, rallying for a stoppage-time draw.
WOW! MOMENT: There were several. Winston Reid's historic goal for New Zealand. Maicon's goal for Brazil. And, maybe most of all, that North Korea gave mighty Brazil a real battle, found the net (on a gorgeous play), and fell by one measly goal -- a moral victory to be proud of. But the vote here goes to Jong Tae Se, the Japanese-born forward, whose emotions during North Korea's national anthem brought a river of tears from his eyes.
BEST PLAYER: There was no shortage of candidates, and, no, Cristiano Ronaldo, isn't on the list. Ivory Coast's Gervinho, New Zealand's Reid, Slovakia's Vladimir Weiss, Brazil's Maicon and Elano, and North Korea's Ji Yun Nam and Jong Tae Se were. But let's honor Robinho, who brought needed flair to Brazil's attack and capped a fine evening with a beautiful defense-splitting feed that Elano clinically finished.
BEST GOAL: Every goal was lovely, especially the trio in Brazil-North Korea. The best was Maicon's, for sure, for the buildup (Felipe Melo switching to ball from the left flank to the right, Elano's well-weighted pass for Maicon to run onto), for the intelligence (Maicon's look through the goalmouth to get Ri Myong Guk to lean away from his goal) and for the finish (a bending ball between Ri and the near post and into the far post netting) from the most acute of angles through the narrowest of gaps.
MIGHTIEST MISCUE: Rwandan linesman Celestin Ntagungira got caught behind the play and was out of position to see that Robert Vittek was offside when he headed home Stanislav Sestak's cross for Slovakia's goal five minutes into the second half.
BIG 'BABY': There's no doubting Cristiano Ronaldo's skill, nor Portugal's overrealiance on him --- far too often against Ivory Coast it seemed he was the only player doing anything for the Seleccao das Quinas. But Alexi Lalas, the former U.S. and Galaxy star (and Galaxy GM) and one of ESPN's studio analysts in South Africa (having a very fine World Cup, it must be said), had it right when he called Ronaldo "a baby, crying every time … dives constantly."
Portugal is among the worst offenders at diving, and Ronaldo was in plum form Tuesday. His antics led to Didier Zokora's yellow card in the seventh minute and Guy Demel's (for confronting the "baby" after another dive won a free kick) in the 21st. And let's not forget four years ago, when Ronaldo went down as if shot trying to get then-Manchester United teammate Wayne Rooney sent off.
What's sad is Ronaldo has limitless ability -- only Lionel Messi surpasses him -- and no need to cheapen his game as he does. At some point, you would assume, referees will catch on; that they haven't yet is astounding, and they haven't: Uruguayan Jorge Larrionda, one of FIFA's most experienced officials, was easily fooled.
DROGBA DRAMA: The Ivorian striker, increasingly antsy watching from the bench, finally got on the field in the 66th minute against Portugal, but his broken right arm, which is in a cast, clearly took him out of his game. Most telling was a chance in front of the goal -- a difficult chance, to be sure, but he makes his living putting away tough chances. So careful to fall on his left arm, Drogba twisted unnaturally and his shot went sideways.
KIWI CLASS: Reid was beaten on Vittek's goal, but he more than made up for it with a slide to cut off a worrisome Sestak pass into the box and, of course, his superb equalizer, a header just inside the right post three minutes into stoppage.
WORTH NOTING: Only one of Africa's six entrants -- Ghana, against Serbia in Group D -- won its opener. Three lost (Nigeria, to Argentina in Group B; Algeria, to Slovenia in Group C; Cameroon, to Japan, in Group E) and two tied (South Africa, against Mexico in Group A; and Ivory Coast). … A fine start by the Far East's reps, with Japan and South Korea (over Greece) claiming shutout wins and North Korea's impressive outing.
LOCALLY …: The best fans in L.A. might be South Korea's, who packed into Staples Center (at least 11,000 of them) Saturday morning at 4:30 to watch the victory over Greece. There's another big gathering planned in Koreatown for Thursday's match (again at 4:30) against Argentina and next Tuesday's group finale (at 11:30 a.m.) against Nigeria. North Korea has its fans, too. Pyongyang Express, a North Korea-themed food truck, was handing out North Korean flags near the L.A. Convention Center after the performance against Brazil. Their webpage is a blast!
QUOTE OF THE DAY, PART 1: "Everyone, when they look at New Zealand, think, 'Oh, they're making up the numbers' sort of scenario. It really annoys everybody, because we're a pretty good team. Now, to get a result against a team that topped (a European qualifying) group is very positive. We want to make an imprint on this World Cup, and hopefully it's the start." -- New Zealand captain Ryan Nelsen, a Stanford alum who played at D.C. United, is thrillied by the All Whites victory -- er, draw -- against Slovakia.
QUOTE OF THE DAY, PART 2: "Preparation is key, I think mindset as a team is key. Going into a game as possible favorites would be different for us, especially in this World Cup, and that does pose a challenge on the pressure side of things, to know that you're under pressure to get three points or get a good result. But I also think we need to use that as a positive to say that we should expect more as a team. There's no reason to come to tournaments like this and get results like we did on Saturday to not put in a good performance against Slovenia, because that completely takes it all away. That makes all the hard work and fight and the whole performance that we put in against England not worthwhile. It's games like this that are going to get you to the next round, not the game against England." -- U.S. defender Jay DeMerit, on the Americans' approach as favorites in Friday's Group C showdown against Slovenia in Johannesburg.
ALL ABOUT U.S.: Tim Howard let his teammates know he'll be ready Friday when he showed up at the team's hotel's pool with a little Band-Aid on his ribs, which were bruised in a crunching collision with England's Emile Heskey in Saturday's tie. "We just started laughing," DeMerit said. "It was quite funny to come out with a little 'boo-boo' "
THE RESULTS
At Phokeng/Rustenburg
New Zealand 1 (Reid 93+), Slovakia 1 (Vittek 50)
At Port Elizabeth
Ivory Coast 0, Portugal 0
At Johannesburg
Brazil 2 (Maicon 55, Elano 72), North Korea 1 (Ji 89)
STANDINGS
Group D
Italy 0-0-1 (1-1) 1 point
New Zealand 0-0-1 (1-1) 1 point
Paraguay 0-0-1 (1-1) 1 point
Slovakia 0-0-1 (1-1) 1 point
Group G
Brazil 1-0-0 (2-1) 3 points
Ivory Coast 0-0-1 (0-0) 1 point
Portugal 0-0-1 (0-0) 1 point
North Korea 0-1-0 (1-2) 0 points