Bruce Arena's work isn't done
November, 19, 2011
11/19/11
1:22
PM PT
By
Scott French
| ESPNLosAngeles.com
CARSON -- The first instinct was to flee.
That's how bad the Galaxy were when
Bruce Arena
arrived in Los Angeles back in August 2008 to discuss a rebuild of a rusting giant, a once-proud champion that had descended into circus fare during a woeful nine months under Dutch icon Ruud Gullit's stewardship.
"When I came in and looked at the team," Arena says now, gleam in his eye, "I thought about maybe going back home again. Going back to the East Coast."
He followed his second instinct instead, found nice digs near the ocean, then dug in, meticulously transforming the Galaxy from punchline to powerhouse. That path has led here, to Sunday's MLS Cup final against the Houston Dynamo at Home Depot Center -- and a potential coronation, whatever it's worth, as "greatest Major League Soccer team of them all."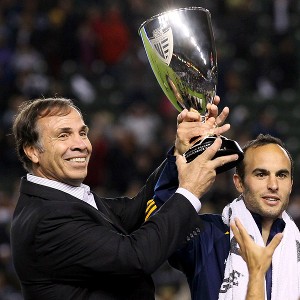 Stephen Dunn/Getty ImagesBruce Arena and Landon Donovan celebrate the Western Conference championship earlier this month.
That designation means nothing to Arena, 60, but winning the championship is everything. It was in the blueprint the moment he decided not to turn and run.

"The goal was to bring the Galaxy back where we could compete for championships, so I guess the blueprint has been partially successful," he said this week. "To get it right requires a win on Sunday. If we win on Sunday, I think we have the blueprint right."

Arena's accomplishments are legend in American soccer. He won five NCAA championships at Virginia, guided D.C. United to the first two MLS Cup crowns (plus a CONCACAF Champions' Cup title), then directed the U.S. national team through its most successful eight-year span, highlighted by a quarterfinal run at the 2002 World Cup. He was inducted last year into the National Soccer Hall of Fame.

What he's done in L.A. perhaps tops everything else. He took a franchise at its lowest point and in 15 months had it playing for a title. The next two seasons -- last and this -- were rewarded with Supporters' Shields, for winning regular-season titles. Now the club's third MLS Cup championship sits 90 minutes away.

"Everybody knows I'm a big believer in Bruce," says Galaxy assistant coach Curt Onalfo, who played for Arena at Virginia and with D.C. and was one of his assistants with the national team. "It's not the first time I've said he's the best in the business. And he just is. He's proven it time and time again in a league that's extremely difficult, where there's enormous parity. The fact that his teams have been in first place basically for two years running, it's just a remarkable accomplishment."

Arena this season guided the Galaxy to that second Shield (with 19 victories and modern-era record 67 points), into CONCACAF's Champions League (as the only non-Mexican group winner) and through three tight playoff games, all victories, against teams every bit as talented as his. He's done this while refashioning the attack; enduring dozens of injuries, to nearly every important player on the roster; and herding the team through an exhausting series of games, two a week for most of two months, during the season's final stretch.

It's been, says associate head coach Dave Sarachan, who has worked alongside Arena for many of the past 27 years, "by far his best work."
RISE AND FALL: Arena had plenty to do when he stepped in. The Galaxy had been one one of MLS's storied franchises, but the triumphs that defined their first decade had largely been forgotten two-thirds through the 2008 campaign.

L.A. had been MLS's best team out of the gate, winning its first 12 matches that first season and coming minutes from beating Arena's D.C. side in the inaugural title game before conceding two late goals and falling in overtime. Another MLS Cup trip nearly materialized two years later, when the Galaxy won 24 games and scored 85 goals, and they played for the Cup in '99 (losing again to D.C.) and 2001 (losing to archrival San Jose) before celebrating in their fourth final, in 2002.

By the time L.A. won again, three years later, the rot had set in. It stemmed from the dismissal a year earlier of head coach Sigi Schmid, who had brought stability and success to the the Galaxy -- and, when he was canned, had his the team atop the Western Division (but while playing, management decided, insufficiently entertaining soccer). The '05 campaign was difficult, but they got hot at the end as former U.S. national team coach Steve Sampson -- with ample help from Landon Donovan, in his first season with L.A. -- guided them to the trophy.

Sampson exited after a slow start in 2006, and the challenges facing Frank Yallop the following year -- primarily internal strife (amplified by David Beckham's midsummer arrival) and a heavily backloaded schedule (to take advantage of the Beckham lure) -- added up to a 9-14-7 record.

The Galaxy, prodded by Beckham's people, then turned to Gullit, a Dutch midfielder of exceptional ability with a spotty coaching résumé, and it was a disaster from the start. Gullit's temperament didn't fit: He didn't possess the patience to delve into the intricacies of MLS's roster rules nor the aptitude to build a tactical system, and the Galaxy's wonderfully entertaining but woefully incomplete soccer led to lots of goals (55), but they gave up even more (62) en route to an 8-13-9 mark that left them even on points at the bottom of the league table.

Gullit and general manager Alexi Lalas were dismissed in August, and Arena was brought on to fill both roles.

His first priority: "To really see up close and personal what we had and then try to strategize as to what we do for the next season."

It's part of the job he enjoys most. Arena is a master team-builder, mixing and matching parts to create the perfect balance of veteran leadership and young legs, of talent and workers, and breed winning chemistry.

RADICAL CHANGES: "[Chemistry is] always a huge component," Sarachan said. "First is talent -- first is upgrading every position -- but as part of the whole package, the symmetry and the way you work with each other, the blend has to be right. In all my years with Bruce, whether it's at D.C. or with the national team or here, it just sort of morphs into the blend of veterans and young players, and even the peripheral guys that kind of know their roles.

"Team-building is a quality he's always had. He's always had a vision of how teams should be and play and train. There's no blueprint on that. He has a feel for it. He has a nose for it."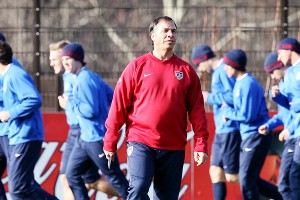 AP Photo/Michael SohnSome members of the Galaxy knew Bruce Arena when he was coach of the U.S. National team.
Arena followed his nose to, in his words, "make some radical changes on the roster." From the August takeover until the start of the 2009 season, he brought in 16 players.

Some of them (Gregg Berhalter, Todd Dunivant, Mike Magee, Jovan Kirovski, Eddie Lewis, Tony Sanneh and Dema Kovalenko) had played for him with the U.S., at D.C. United or during 15 months in charge of the New York Red Bulls, so he knew what they would bring to the group.

"The first thing he said to me," said Dunivant, who had played for Arena at New York, "he brought me into his office, he said, 'We want to get things right in the locker room first, get a core together that gets along, that the veterans can bring along the young guys and set the ship straight.' And we did that."

The Galaxy, also bolstered in the nets (with veteran Jamaican goalkeeper Donovan Ricketts) and in the back (with the addition of University of Maryland teammates Omar Gonzalez and A.J. DeLaGarza, whom Arena graded the "two best center backs in the draft"), needed nearly half the season to find their footing. As July approached, they were 2-3-9, well out of the Western race.

L.A. went 10-3-3 the rest of the way, edged Houston for the Western Division title, beat the Dynamo again to reach the MLS Cup final, where they lost on penalties to Real Salt Lake.

Arena has continued to retool his roster. Last year he brought in more leadership with Clint Mathis, added Juninho as part of a loan deal from Sao Paulo and drafted midfielder Michael Stephens out of UCLA. The Galaxy won 18 games but came up one victory short of another title game.

Lewis, Mathis and Chris Klein retired at season's end, Buddle took off for Germany and Kovalenko was released, so Arena added forwards Juan Pablo Angel, Chad Barrett and Adam Cristman -- ultimately reinventing the attack by positioning Donovan on the right side of midfield and Beckham and Juninho in the middle -- and then swapped Irish star Robbie Keane for the underperforming Angel when more firepower was needed.

The parts were shuffled when needed, the role players gave as much as the big stars -- Dunivant, Juninho, Magee, DeLaGarza and goalkeeper Josh Saunders, especially -- and the Galaxy were in command from the end of April through the last six months of the season, playing with a quality and consistency rarely seen in a league where everything leans toward the center.

"I think if you look at what the team lost last year and then going into this year, I think he did a remarkable job of putting the roster together, because it's harder," said Onalfo, who has been head coach in Kansas City and with D.C. "What people don't understand on the outside is you now have limited resources, and the facct that your team is doing well, you get penalized. You get later draft picks, you have less allocation money, you have all these things that go against you. Guys achieve their bonuses, and that now goes against your [salary] cap.

"You have all these things because the league is set up for parity. So as you succeed, it's harder and harder."

Said Sarachan: "People don't realize how hard this is. They just don't. And we do on the inside."

AN UNERRING EYE: It's hard for everybody in MLS, but Arena has set towering standards. This is his fifth MLS Cup final in seven full seasons in the league. The Galaxy, in the most competitive landscape in MLS's 16 seasons, have gone 54-16-20 in league games, regular season and playoffs, since the 15th game of the 2009 season.

What's so special about the man?

"The guy is a leader," says Sarachan, who guided Chicago to the 2003 MLS Cup final. "He's a leader of men, a leader of organizations, and when you're a leader and respected as a leader, the people underneath you -- whether staff or players -- work hard."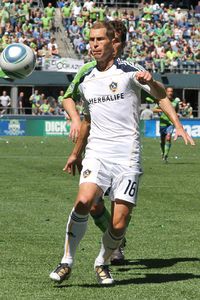 Otto Greule Jr/Getty ImagesGreg Berhalter says Bruce Arena is always in control. He's unwavering.
"He's in control. He doesn't waver," says Berhalter, who played for Arena at the 2002 World Cup, was on the 2006 roster and this season was promoted to assistant coach. "He's very determined, and he's very clear about what he wants and how he's going to get it. Especially how he deals with the players, and stuff like that.

"He's not very temperamental, in that the players don't see his emotions, which is good, I think. Because he's always even-keeled, no matter what happens. It could be the worst thing ever happen to the team, and he's very calm about it. He analyzes it, and he deals with it. And I think when you have that stability, you feel comfortable as a player, because, listen, this guy's going through it, he's as calm as anything, [so] we can be calm. ...

"You've seen that throughout the course of the year. When we did have setbacks, we've just been able to deal with it. It's because he has that calmness and he has full faith in all of his players, so the next guy just comes in, steps in, and it's no big deal."

Arena has an unerring eye. He sees things others don't -- in players' abilities and characters, in situations on the field -- and uncannily makes the correct decisions.

"Bruce just has a knack for having the intuition to make the right decision and acting on them and then implementing a really intelligent game plan ...," Onstad said. "I think that he doesn't let anything cloud his judgment. He's got clarity. He sees things very, very clearly on a consistent basis throughout an entire season. These are tiresome jobs, and human nature would allow for some dips, but he's found a way to do it. He's set a standard that's outstanding."

Arena admits that he has "an eye for it. I don't think it's natural. It's be trained, you know? There's a lot of mistakes that have been made down the road, and there's going to be mistakes ahead as well. It's something that you learn, I think, every day in the job, how to get yourself better, how to get your situation better."

Berhalter thinks Arena has "the vision to look beyond the obvious, to look outside the box on a lot of things, and he's not afraid to try things, he's not afraid to try players. ... Sometimes he comes up with these things, and I think, 'Whoa, I don't know,' and then it works out perfectly."

Nearly so. Sunday can make it perfect. It's the only thing on Arena's horizon.

"I've been around Bruce a long time now, and the one quality that stands out is his desire to succeed," said Donovan, the Galaxy's captain, who first played for Arena in 2000, at 18, with the national team. "Sometimes it gets a little annoying, because he wants it so badly. He pushes us constantly. In the moments, sometimes it's difficult, but when you look at the big picture, there's a reason why he's been so successful.

"His leadership skills are exquisite, his managerial skills, both for people and soccer-wise, are in my opinion the best in the country. And further than that, he wants to win. He wants to be successful, and that's infectious."