MLS CUP: Galaxy make best-ever claim
November, 21, 2011
11/21/11
12:19
AM PT
By
Scott French
| ESPNLosAngeles.com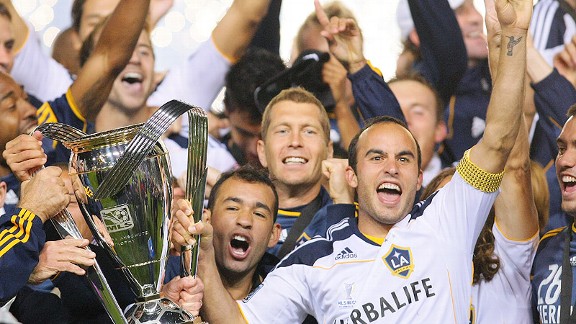 Victor Decolongon/Getty ImagesLandon Donovan and the Galaxy of 2011 could be considered one of the best teams MLS has ever had.

CARSON, Calif. -- The best team Major League Soccer has ever seen?

Bruce Arena still doesn't want to say so, but after the Galaxy's triumph in Sunday night's MLS Cup final completed a truly exceptional campaign for American soccer's signature side, it didn't make much sense to argue.

So he didn't.

"I'd like to be able to say that, but I don't know how you do that. I just don't," the Galaxy's head coach said after a comprehensive 1-0 victory over the Houston Dynamo at Home Depot Center. "I mean, this is a good team, and we've accomplished a lot this year. ... To have the regular season we had, and then throw in the CONCACAF Champions League and then to win the MLS Cup, it's a helluva accomplishment.




"I really think if I say this team belongs there, you minimize accomplishments of others. There have been some very good teams in this league. I just think we're another one of those. This is a damn good year. It really is."

This year ended brilliantly, with the Galaxy dictating terms nearly from start to finish, getting a sweet goal from Landon Donovan with about 20 minutes to go and denying the Dynamo more than a sniff or two at the net with a superb defensive game plan.

It's the club's third MLS Cup title, to go with those won in 2002 and '05, and it played out on a chilly, rainy night in front of 30,281, the largest crowd to see a soccer game at HDC. L.A. prevailed despite wasting numerous opportunities, but its possession limited the time Houston had on the ball -- and its high pressure kept the Dynamo from providing the kind of service it needed to make a game of it.

"We just wanted to be on the front foot, which we were," left back Todd Dunivant said. "We knew second balls on this kind of slick field was going to be important. I think we did a good job on the first balls, and I think we did a good job on the second balls. It made a big difference, because we were putting them on their heels, getting chances, getting in behind their defense, getting crosses in. We had a couple really good opportunities. Didn't come for a while, but we just kept going."

Adam Cristman, who stepped in for injured forward Chad Barrett, had a couple of open headers he whiffed on in the first half, Mike Magee went well over the crossbar when presented an opportunity at the end of the first half, and Robbie Keane repeatedly stretched the Dynamo backline, firing just wide and seeing a goal in the 57th minute waved off by an offside flag.

Things fell into place in the 71st minute, when David Beckham -- playing perhaps his final MLS game -- nodded Dunivant's throw-in onto Keane's path heading toward Houston's goal. Keane caught his balance, stepped past Dynamo center back Bobby Boswell, then split Boswell and Geoff Cameron with a little ball for the streaking Donovan.

Donovan -- who moved up front when Chris Birchall came on for Cristman in the 57th minute -- redirected it past goalkeeper Tally Hall and inside the right post.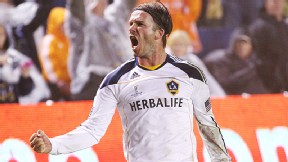 Stephen Dunn/Getty ImagesDavid Beckham suffered a torn hamstring in training last week, but the Galaxy didn't let on about the injury.
It's all the Galaxy required. Houston wasn't going to score.

"To be honest, the actual goal doesn't mean a whole lot to me," said Donovan, who had scored just twice from the run of play since July -- and not at all since Sept. 9. "I for the last month have been so determined to win. I didn't care who scored. I didn't care if it were an own goal. I didn't care how the ball went in, I just wanted it to go in.

"Winning feels so good. The goals come and go, but the moment when the whistle blew is what I'll remember."

The goal extended two of Donovan's league records. It was his 20th in postseason play and his fourth in an MLS Cup final -- to go with three scored in San Jose's 2001 and '03 title-game wins.

Donovan -- who won his fourth MLS Cup title, one off the record owned by Jeff Agoos and Brian Mullan -- was terrific all night, working with Franklin and Beckham to exploit Houston's left flank, which was weakened by MLS MVP finalist Brad Davis' absence. Neither Corey Ashe, who moved into Davis' spot on the left wing, nor Jermaine Taylor, who took Ashe's place at left back, could hang with L.A.'s attackers. Cameron suffered a first-half knee injury but remained on the field, his effectiveness diminished.

"This is what Landon does," Dunivant said. "He's a big-game player. He's a gamer, as we call it. He stepped up, and this was the best he's played all year.

"He's put so much pressure on himself for this game, leading up to it, and this meant so much to him. It's been a long time. The last time we both won, it was in '05 with the Galaxy. It seems like ages. It seems like ages at this point."

Said Arena: "Landon's been hurt [with a quadriceps strain] over the last two or three months. He started getting his legs back a little bit this week, and this [game] was important to Landon. I could see as we got to the middle of the week, he was starting to get a little bit of his old flair back, his fitness and everything else. What can you say? Landon's a great player, and he knew this was an important game for him to step up and be on his game tonight."

Beckham, too, stepped up, and it was tougher than he let on. Turns out he tore a hamstring in training this week, which is why he missed sessions Thursday and Friday -- and it could have forced him out of the final. The Galaxy just weren't going to say so; they had claimed he was sidelined because of a cold.

"I tore my hamstring on Tuesday, and I had a little bit of a cold on Wednesday morning, which I actually did, funnily enough," Beckham said. "None of us were lying."

He didn't let it bother him, at least not much.

"I've been around great athletes and competitors in my life in different sports," Arena said, "and this guy is as good as it comes. Unbelievable desire to win. He's a great teammate, a great person. I'm so happy for him. He gutted it out tonight. He obviously wanted to be there, and my hat is off to David."