CHIVAS USA: A work in progress
December, 1, 2011
12/01/11
8:48
PM PT
By
Scott French
| ESPNLosAngeles.com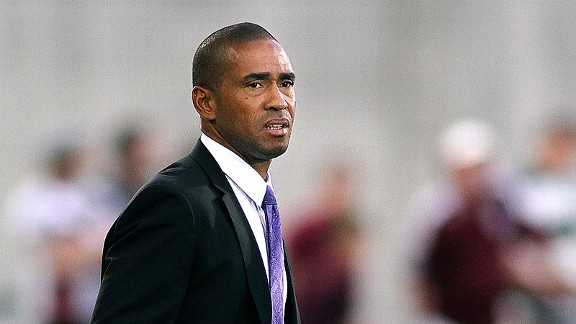 Marc Piscotty/Getty ImagesChivas USA coach Robin Fraser has been busy in the early offseason helping revamp the 2012 roster.

CARSON -- Robin Fraser is nothing if not a realist, so when he reflects on his first campaign in charge of Chivas USA, what comes to mind isn't the steps that have been taken, the foundation that has been constructed, the path that has been cleared.

It's the reality that no matter what the Goats did well in 2011 -- the there was plenty -- it wasn't nearly good enough.

That's behind the moves Fraser and general manager Jose Domene have made the past week and are working toward in advance of next year's preseason camp, which is just 6½ weeks away.



"Our plan is to continue to improve the team," said Fraser, who took charge just after New Year's this year and missed most of the offseason wheeling and dealing so vital to team building. "We need to continue looking to add pieces. We're already pretty far down the road in terms of some good ideas about players to get. Certainly, this offseason for us is about trying to identify and secure players who we feel can help us."

And so Paulo Nagamura, Justin Braun, Zarek Valentin and Gerson Mayen are gone -- others will follow -- right back James Riley (from Seattle) and midfielder Ryan Smith (from Kansas City) have arrived, and Fraser and his staff have extra funds to pursue upgrades and finance, they hope, Juan Pablo Angel's return.

Upgrades are needed, although Chivas' talent in 2011 was substantially superior to the side Martin Vasquez fielded the year before. The Goats won the same number of games (they were 8-14-12 after going 8-18-4 in 2010) but there was decent depth, especially in midfield, and reasonable talent. What they most lacked was consistency.

"At times from game to game and even within games, I thought we played extremely well and were extremely engaged," said Fraser, one of the premier center backs in MLS history. "Then at other times, it was a lack of concentration and critical mistakes."

Chivas won back-to-back games just once (in April at San Jose and against New England, neither of them playoff teams), battled to .500 three times (but never over, and not past June 11), and finished with just one victory in the final 11 games (over Toronto, also not in the playoffs).

The Goats were in playoff contention until August, when a seven-game winless streak (amplified by four straight losses) finished them off.

"We make our lives harder than they need to be ..." said midfielder Nick LaBrocca, who had a breakout year after arriving from Toronto FC during preseason. "We see what we're good at. We see what we need to work on. This whole process is about fixing those things and evening out everything we do, making ourselves more consistent all the while continuing to grow and get better at the things that we are good at."

The Goats were good at a few things. They played nice possession soccer that too often wasn't dynamic enough in the attacking third. They were resilient at the back, where injuries played havoc with the lineup, and benefited from Heath Pearce's transformation into a first-class center back and Dan Kennedy's sublime season in the nets. LaBrocca was outstanding atop the midfield diamond. Angel, acquired in August from the Galaxy, found his stride at the end and scored six goals in one four-game stretch.

Most important, Fraser and assistant coach Greg Vanney put into place a culture and built a foundation that that could make the difference for the club going forward, if upper management is willing to provide the necessary resources. Signing Angel would be a sign: Chivas' portion of his $1 million salary this season was paid, all or the great part, by the Galaxy. How much is the club willing to pay to keep him?

"I think we put into place a mentality and an approach that we want," Fraser said. "I think when it was good this year, it was pretty good. It was an interesting thing how people kept asking, 'Well, how are you going to score goals? Who's going to score your goals?' And up until about 10 weeks into the season, we were sixth in the league in goals scored.

"The point is if the team functions well as a team, you score goals, you find your goals, and also, hopefully, you don't give up a ton of goals. Inconsistency is one of the big things that sticks with us this year, because at times we were good and at times we weren't good enough."

The goal next year: Return to playoffs.

"It's what we're going to be working hard at. We want to get to that level," LaBrocca said. "We're definitely good enough. I think we showed it this year, but all the things we need to work on, if we can do those things, we'll definitely be there."