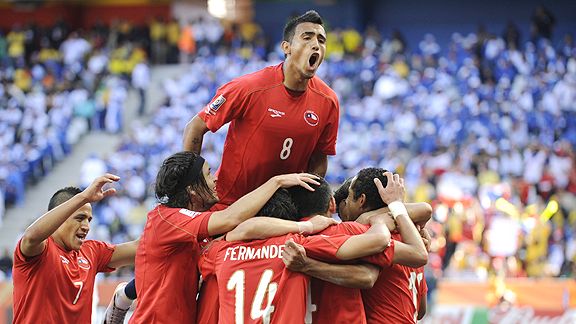 Pierre-Philippe Marcou/AFP/Getty Images
Explosive Chile will be a tough match even for a defensive-minded Switzerland.
GROUP G: PORTUGAL VS. NORTH KOREA
When: 4:30 a.m. PT. Where: Cape Town Stadium/Green Point Stadium (Cape Town)
TV: ESPN, ESPN Deportes and Univision (KMEX/Channel 34), 4:30 a.m.; ESPN Classic, delayed, 3 p.m.
Players to watch: Cristiano Ronaldo is Portugal's fulcrum, but he needs to spend more time combining with teammates and less time diving to the ground. The appeal to his yellow card, for a confrontation with Ivory Coast's Guy Demel after a dive, was denied by FIFA, so he needs to be on his best behavior or risk missing the group finale against Brazil. Japanese-born Jong Tae Se was a handful for Brazil's defense, and his connection with Ji Yun Nam and Hong Yong Jo is vital for North Korea's success.
The scoop: Ronaldo hasn't scored internationally in almost two years, although he came close against Ivory Coast. The Portuguese attack will be bolstered by Simao Sabrosa's return to the starting lineup, but Deco is out after injuring a hip in training. Carlos Quieroz stesses defense, and Portugal's has been outstanding behind Ricardo Carvalho and Paulo Ferreira. North Korea impressed with its speed, skill and relentless play against Brazil, but their bench was short: Four players -- goalkeeper Kim Myong Won, midfielders Kim Kyong Il and Pak Sung Hyok, and forward An Chol Hyok -- were absent amid defection rumors.
History: Portugal and North Korea tangled in one of the World Cup's most spectacular encounters, in a 1966 quarterfinal in Liverpool. The Koreans, who had stunned Italy in group play, ran to a 3-0 lead by the 25th minute, but Eusebio -- greatest of all Portuguese sporting legends -- scored four goals, two on penalties, to lead a 5-3 comeback victory.
Prediction: Portugal 2, North Korea 0
GROUP H: CHILE VS. SWITZERLAND
When: 7 a.m. PT. Where: Nelson Mandela Bay Stadium (Port Elizabeth)
TV: ESPN, ESPN Deportes and Univision (KMEX/Channel 34), 7 a.m.; ESPN Classic, delayed, 5 p.m.
Players to watch: Chile's relentless attack is strengthened by the return of Humberto Suazo from a hamstring injury. Switzerland will be without top defender Philippe Senderos, who injured his right ankle against Spain, so another spectacular performance from goalkeeper Diego Benaglio may be needed. Alexander Frei's return from injury will help the Swiss up top.
The scoop: Switzerland is still basking in its unconscionable triumph over Spain, and the Nati can take control of the group with another upset, but it won't be simple. The Swiss have shut out their last five World Cup foes -- all four in 2006 plus Spain -- and will set a Cup record for defensive excellence by keeping Chile off the scoreboard for 67 minutes. (The Swiss haven't surrendered a goal in 484 minutes; Italy, in 1986/1990, had a 550-minute stretch.) Frei's return is big, and so is midfielder Valon Behrami's. Chile's attack-always mentality is tough to counter, and adding Suazo to the mix makes La Roja much more explosive. But playmaker Jorge Valdivia's status is in question. Chile says he's fine, but his wife told Chilean television that he tore a muscle in the win over Honduras.
History: Disgrace killed Chile's chance to play in two World Cups. During a 1990 qualifying match against Brazil in Rio de Janeiro, goalkeeper Roberto Rojas fell to the ground, clutching his face, after a firework was thrown from the stands. Chile walked off the field and refused to return, citing safety issues, and the match was halted. Footage of the incident showed that Rojas wasn't hit by the projectile, that it had landed a good yard from him, and FIFA awarded Brazil and 2-0 victory, disqualified the Chileans from the 1990 and 1994 World Cups, and banned Rojas for life and captain Fernando Astengo for five years. Rojas' ban was lifted in 2001, but he never played professionally after the incident.
Prediction: Chile 2, Switzerland 0
GROUP H: SPAIN VS. HONDURAS
When: 11:30 a.m. PT. Where: Ellis Park/Coca-Cola Park (Johannesburg)
TV: ESPN, ESPN Deportes and Univision (KMEX/Channel 34), 11:30 a.m.; ESPN Classic, delayed, 7 p.m.; TeleFutura, delayed, 7 p.m.; ESPN2, delayed, 11 p.m.
Players to watch: Xavi, Fernando Torres and David Villa are the pivotal players up front for Spain, which couldn't find a goal in its opener and will be sure to remedy that here. Honduras, too, needs a win, and midfield string-puller Wilson Palacios is the key.
The scoop: Spain came into this World Cup as favorite and was struck down by Switzerland despite dictating the action the whole way. It can't happen twice, you've got to figure, and Honduras' defense, unlike the Swiss', isn't stout enough to silence La Furia Rojo. Torres, who came on as a second-half substitute in the opener, finally appears to be past his injury woes and figures to return to Spain's starting lineup, and that's massive. He's in the upper-tier of forwards in this Cup. Andres Iniesta, pivotal to Spain's interchanging possession game, is doubtful after picking up an injury Wednesday. The Hondurans did well to limit Chile to one goal, but even in a tournament of upsets, it's hard to imagine they'll prevail here.
History: Spain's triumph at Euro 2008, the foundation for its role as World Cup favorite, was the second major trophy La Furia Roja has captured. They also won the 1964 European Championship, winning the title 46 years ago Monday. The competition, unlike today, was a knockout event, with home-and-home series for the preliminary round, first round and quarterfinals and a single-site final four. Spain reached the semifinals with victories over Romania, Northern Ireland and Ireland. It needed overtime to beat Hungary, 2-1, to reach the title game, then took care of the Soviet Union, 2-1, on Marcelino's 84th-minute strike.
Prediction: Spain 3, Honduras 0