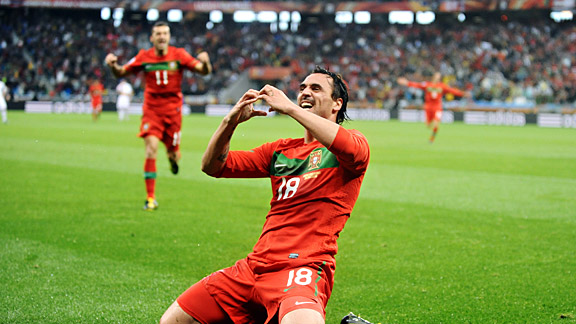 Jewel Samad/AFP/Getty Images
Hugo Almeida (18) and Portugal had plenty of chances to celebrate goals during a 7-0 rout of North Korea.
IN BRIEF: Spain reasserts itself against Honduras, a 2-0 victory that's far more one-sided than the scoreline might suggest. Chile broaches 10-man Switzerland's defense, but not until a record is broken, in a 1-0 triumph. And Portugal destroys North Korea, 7-0.
WOW! MOMENT: Portugal's second-half explosion for six goals -- three in an eight-minute stretch, three more in a nine-minute span -- turned another tight contest with North Korea into a joke. Once Hugo Almeida made it 3-0 in the 56th minute, the Koreans gave up, and the exhibition that ensued was delightful to watch but in no way competition.
BEST PLAYER: The Spaniards' finishing problems wasn't abated thoroughly enough in the win over Honduras, but David Villa did his part with two very fine strikes. That he should have had one more (he fired just past the post on a penalty kick) and could have had two more (that blast off the crossbar would have been nicest of all) doesn't take away from ingenuity that positions La Furia Roja to win Group H and avoid a second-round showdown with Brazil.
BEST GOAL: There sure are plenty to choose from, and so many of them, maybe all of them, benefited from lax defending. All seven Portuguese goals were nice, especially the first (Raul Meireles), second (Simao), third (Hugo Almeida) and seventh (Tiago). And Mark Gonzalez's header for Chile finished a nice sequence. But Villa's opener -- with a run from the left flank, splitting two defenders, then beating Osman Chavez and firing a nice shot, off goalkeeper Noel Valladares' fingertips, as he slid to the ground -- is today's winner.
MIGHTIEST MISCUE: North Korea's defensive approach after falling behind might be worthy, but the Chollima are relative amateurs, and we've seen things like this before. A better choice might be Saudi referee Khalil Al Ghamdi, who red-carded midfielder Valon Behrami in the 31st minute, giving Chile an enormous edge in a critical battle for control of Group H. Behrami, trying to break free and keep his balance, hit Arturo Vidal in the face, and Vidal made the most of it, but the contact was minor, the incident was accidental and a yellow card would have sufficed.
CONTINENTAL DIVIDE: Africa has disappointed, its six entrants combining for only one win (Ghana over Serbia) in 12 games. South American teams have played the most inspiring soccer and been rewarded for it: It's five nations are 8-0-2, with all five -- Uruguay, Argentina, Paraguay, Brazil and Chile -- winning their second games. Add Mexico, which plays in South American competitions, to the list, and it's 9-0-3 with six second-game wins.
LITTLE CONSOLATION: Switzerland set a World Cup record, beating Italy's shutout streak by nine minutes (559, or more than six games), but the goal that ended the Swiss run -- South African-born Mark Gonzalez's header -- lifted Chile to a 1-0 win.
WORTH NOTING: No European team has ever won a World Cup played outside Europe. Brazil is the only team from the Americas to win away from the Americas, capturing the 1958 title in Sweden and the 2002 championship in Japan and South Korea.
WHO'S MOVING ON: An intriguing battle in Group H for round-of-16 berths looms, but Ivory Coast will need a miracle to overcome Portugal in Group G. Chile is on top in H but a loss to Spain coupled with a Swiss win over Honduras could knock La Roja out. If Chile and Honduras triumph, goal difference (and perhaps total goals) would decide whether the Spainiards, Swiss or Hondurans join Chile in the next phase. In G, Ivory Coast must beat North Korea (which it should), Brazil must beat Portugal (also likely) and the Ivorians must overcome a nine-goal deficit. To do this, the Elephants would need to beat the Koreans by, say, five goals, and Brazil would need to beat Portugal by five.
Best bets: Brazil and Portugal in G, Spain and either Chile or Switzerland in H.
SLEEPING IN: Portugal's destruction of North Korea was the last of the games beginning at 4:30 a.m. L.A. time, and we all should be celebrating. Group play concludes with concurrent games -- for instance, both Group A games Tuesday begin at 7 a.m. and both Group B games start at 11:30 a.m. -- a concept designed to prevent teams from knowing beforehand what result will be needed to best position themselves for the next round.
The policy was implemented following two controversial results. In 1978 there were two group stages, with the second sending group winners (Holland and host Argentina) to the final and the second-place teams (Brazil and Italy) to the third-place game. Argentina went into its Group B finale needing a three-goal win over Peru; a 6-0 victory, with widespread bribery allegations that were never proven, eliminated Brazil from title contention. Four years later, West Germany and Austria arranged to play a 0-0 draw in their group final, sending both to the second phase and eliminating an Algeria team that would have advanced with a German or Austrian victory.
A WHOLE TEAM: The four North Koreans rumored to have defected were on the Chollima bench against Portugal, and team officials said reports they were "missing" was nothing more than a misunderstanding. Well ... OK.
QUOTE OF THE DAY, PART 1: "Some of them are not good decisions on the field of play, and this for human beings is natural." -- Jose Marcia Garcia-Aranda, FIFA's head of refereeing, on controversial officiating decisions. The former referee from Spain says he is satisfied with his referees' performances.
QUOTE OF THE DAY, PART 2: "There are two things that will be remembered from this World Cup. The winner, and the fact that the French team refused to attend the training session before the encounter with South Africa. … The players, they should have attended the training. I do not agree with the fact that they refused to go to the training." -- Former French great Zinedine Zidane has his say on France's scandal.
QUOTE OF THE DAY, PART 3: "If you have a player as good as Lio, who is the best player in the world, I think it would be a sin not to give Messi to the people, to the team." -- Argentina coach Diego Maradona dismisses speculation he will rest Lionel Messi in the Albiceleste's Group B finale against Greece.
QUOTE OF THE DAY, PART 4: "(Chile's Arturo) Vidal was acting. In the tackle, I was going for the ball, I had no need to touch him. I felt a contact and I lost my balance, so I moved my hands and I touched him (on the neck) and he put his hand (on his face) -- that is incredible." -- Swiss midfielder Valon Behrami, whose expulsion in the 33rd minute took the Nati out of a crucial game.
ALL ABOUT U.S.: Landon Donovan, on Wednesday's game against Algeria: "We're obviously aware of what each result means. Clearly, if we lose, we're done, and if we win, we're through. There are scenarios where if we tie we could still advance, but at this point our objective is very clear. It's to win the game and take all the other stuff out of the question, and that's our goal."
THE RESULTS
At Cape Town
Portugal 7 (Raul Meireles 29, Simao 53, Hugo Almeida 56, Tiago 60, 89, Liedson 81, Cristiano Ronaldo 87), North Korea 0
At Port Elizabeth
Chile 1 (Gonzalez 75), Switzerland 0
At Johannesburg
Spain 2 (VIlla 17, 51), Honduras 0
STANDINGS
Group G
x-Brazil 2-0-0 (5-2) 6 points
Portugal 1-0-1 (7-0) 4 points
Ivory Coast 0-1-1 (1-3) 1 point
North Korea 0-2-0 (1-9) 0 points
Group H
Chile 2-0-0 (2-0) 6 points
Spain 1-1-0 (2-1) 3 points
Switzerland 1-1-0 (1-1) 3 points
Honduras 0-2-0 (0-3) 0 points
x -- advances to round of 16