No. 9: UCLA coach Jorge Salcedo
December, 24, 2011
12/24/11
8:56
PM PT
By
Scott French
| ESPNLosAngeles.com
Counting down the top 11 personalities of 2011 in Southern California soccer ...
Jorge Salcedo
already was Southern California soccer royalty.
He is, remember, the son of FIFA/U.S. Soccer mover/shaker
Hugo Salcedo
, a former U.S. national-teamer (youth and full) who played professionally in Mexico and Major League Soccer, part of three NCAA championship teams at UCLA, and, since 2004, head coach of the Bruins' legendary men's program.
Salcedo guided UCLA to the NCAA title game five years ago, and he took the Bruins within a game of the final four the past two seasons, all the while helping to prepare nearly two dozen players for the pros. His team is annually among the best in the nation, just as it was under his predecessors
Sigi Schmid
and
Tom Fitzgerald
.
There are pressures that go along with that -- the Bruins must win; it is demanded. They need to be competing for national titles every year, and the talent Salcedo welcomed to start the 2011 season certainly was capable of doing that.
But the former midfielder from Cerritos decided to shake things up a little bit, alter the Bruins' style of play -- concede results, perhaps, in search of something bigger and better. High risk, high reward.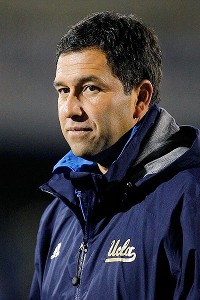 Courtesy of Jeff SipseyUCLA coach Jorge Salcedo changed his tactics this season and the Bruins reached the College Cup.
"I took a chance in the style we wanted to play this year," said Salcedo, who was a UCLA ballboy when the program won its first NCAA crown in 1985, scored the decisive penalty kick to deliver the 1990 trophy and was an assistant coach for Fitzgerald in 2002, when UCLA won for the fourth time. "I think we're unique to every other college team in the country, in that we'll pass the ball atop our own penalty box to keep possession. We'll get numbers around the ball in our half of the field. We don't necessarily make it a territorial game where we put it in the other half of the field and take our chances to win the ball back.

"We want to build the ball from back to front, and it's something that I feel strongly about -- and I feel strongly about teaching the guys how to develop that mindset, because it's really easy to break up the game and destroy the game and call it soccer. It's really difficult to make the game."

He had the players to do it, which exceeding talent in midfield, and after a stumble here and there, the Bruins were a machine as the games turned vital. By November, they were playing the prettiest soccer in America -- the closest thing in these parts to Barcelona or Spain -- and it led to a 10-0 mark in the Pac-12 a march through the NCAA tournament to the College Cup in Birmingham, Ala., where the Bruins fell on penalties after a 2-2 draw with North Carolina in the semifinals.

The ending wasn't what he wanted, but his revolution will make UCLA more attractive to top prospects and help him develop more and better talent for MLS and leagues abroad, and it ought to lead to some impressive victories, too.

"When I was hired, I was 32 years old, one of the youngest head coaches in Division I soccer, and so much of it was about me trying to get results to continue the tradition we had here, and that sacrificed a little of bit of what I thought the game should be like," Salcedo said. "Now I get to the point where I feel a little bit more secure, that I'm not going to be fired after one bad year, that now we can implement some things that I truly believe in.

"So hopefully this will be a springboard for the next few years."