MLS DRAFT: Chivas wants what's best
January, 12, 2012
1/12/12
12:13
AM PT
By
Scott French
| ESPNLosAngeles.com
One thing Chivas USA has plenty of is midfielders, as many as 10 potential starters on the roster, so it follows that when the fifth pick arrives in Thursday's MLS SuperDraft, the Goats will be looking for something else.
Maybe not.
Robin Fraser
's plan is simple: take the best available player, no matter where he plays.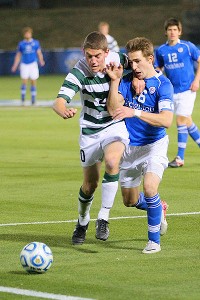 Marvin Gentry/US PresswireCreighton forward Ethan Finlay, right, could be on Chivas USA's radar in Thursday's MLS SuperDraft.
"I think position is of consideration," said Fraser, who needs to rebuild his backline and bolster his depth at forward. "But at the end of the day, I think we still go for the best player we can get."

The Goats, barring trades, have just one selection in the two-round SuperDraft -- a four-round supplemental draft follows next week -- and figures to get something good.

Nearly everyone figures Akron forward Darren Mattocks and Duke defender/midfielder Andrew Wenger will be taken with the first two picks, by Montreal and Vancouver. UCLA's Chandler Hoffman and Kelyn Rowe, Connecticut defender Andrew Jean-Baptiste and UC Santa Barbara midfielder Luis Silva are prime candidates to go third or fourth, so, worst-case scenario, at least two of them should be available.

Other options would include forwards Casey Townsend (Maryland), Ethan Finlay (Creighton) and Dom Dwyer (South Florida), center backs Matt Hedges (North Carolina) and Austin Berry (Louisville), and two more midfielders: Louisville attacker Nick DeLeon and Marquette's defensive-minded Calum Mallace.

Fraser and his staff have a game plan.

"We certainly have our projections and a couple different scenarios. We certainly have identified who we want to take ...," he said early Thursday morning K.C. time. "There are a number of good players in the draft, and some of them are extremely appealing. Some have different qualities -- some have qualities that could impact you now and some have qualities that could impact you in the future. There are a lot of things to keep in consideration."

Chivas on Wednesday announced it had acquired Ecuadoran attacking midfielder Miller Bolaņos, 21, on loan from LDU Quito. That will have no impact on the draft plan, but whom the Goats take Thursday could determine which players they target for an in-league trade or transfer from abroad.

The backline is of greater need than at forward, it appears. Captain Alejandro Moreno returns up top, and Fraser said he was "pretty confident" Juan Pablo Angel, who scored seven goals in nine games after arriving in August from the Galaxy, would be back this season. Bolaņos can play up top, and Chivas has flank depth that could enhance the front line in the right system.

The Goats have a starting backline -- Ante Jazic on the left, Heath Pearce and David Junior Lopes in the middle, newcomer James Riley on the right -- but the slightest depth. Acquisitions must be made, perhaps through trade.

"I think [who we go after] is somewhat dependent on what we do in the draft," Fraser said. "We still have needs that we want to draft, and what we get in the draft will guide us somewhat in what we choose to do."

There's plenty of trade bait at midfield, obviously -- Fraser prefers to call them "options and players who are good players" -- and it wouldn't be much of a surprise if someone moves in a swap for draft picks.

"Anything can happen on draft day," Fraser said. "Everyone is talking to everyone. All kind of activities, but absolutely nothing concrete."

WORTH NOTING: Fraser on Bolaņos: "Bolaņos is a young, talented, very creative player, a creative and experienced young player who has played a number of professional seasons. He's played in the [Copa] Libertadores [South America's club championship], and he's scored goals in significant competitions. We feel he's a player who has the ability to help us a great deal in the final part of the field." ... Fraser said he did not have a feel for winger Arturo Alvarez, whom Chivas selected from Real Salt Lake in last month's re-entry draft. Alvarez is pursuing possibilities in Europe and told the league's website he planned to remain across the Atlantic through January, then look into joining Chivas if nothing materialized. Said Fraser: "We have to make our plans, move forward as a team, and hope the timing works out for both of us if the opportunity is there."