MLS DRAFT: Chivas goes on the attack
January, 12, 2012
1/12/12
3:10
PM PT
By
Scott French
| ESPNLosAngeles.com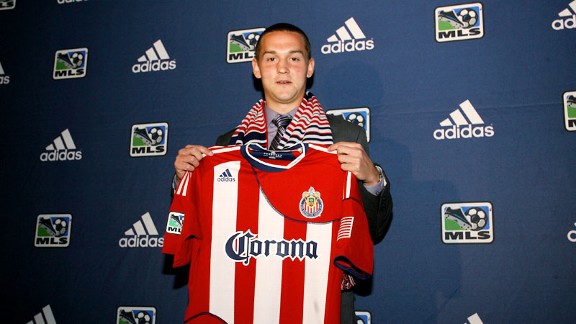 Major League SoccerChivas USA draft pick Casey Townsend is looking forward to learning under fellow forwards Juan Pablo Angel and Alejandro Moreno.

Chivas USA has some clear needs and this year's draft class has some real depth, so when the fifth pick arrived in Thursday's MLS SuperDraft, Robin Fraser and his staff had some tantalizing options to consider.

Maryland striker Casey Townsend, perhaps the best finisher on the board, proved most enticing, and the Goats exited the Kansas City Convention Center feeling like conquerors.



That's nothing compared to Townsend's emotions, nor the opportunity thrown his way -- if Juan Pablo Angel really is coming back.

Townsend, a first-team All-American who scored 17 goals as a senior and 43 goals in four seasons with the Terrapins, has big-time promise, and a season spent with the star Colombian striker's -- and working with Venezuela veteran Alejandro Moreno, too -- sounds like the best finishing school imaginable.

"Absolutely. Those two guys are very accomplished. They've proven themselves in MLS for years," Townsend, 22, told ESPN Los Angeles. "I'm very excited to learn whatever I can from them. I'll be a sponge out there and take all the advice they can give."

Townsend figures to see his share of action, too. The Goats aren't done dealing -- they've got a surplus of midfielders, at least one more offshore acquisition coming and five picks in the first two round of Tuesday's supplemental draft -- but the newcomer from Traverse City, Mich., is just the third forward on the active roster.

Uh, make that second. Angel hasn't re-signed yet, although Fraser said he's confident he will.

"This is a great place for [Townsend] to learn," Fraser said. "He has great role models around us, serious professionals who are very dedicated to their craft. It's really a dream situation for any forward to be around especially those guys."

Fraser with his only SuperDraft selection chose Townsend over center backs Andrew Jean-Baptiste, a Generation adidas signing from Connecticut, and Louisville's Austin Berry, both gone by the ninth selection, deciding to deal with one primary need rather than the other. The Goats' coach said he'd followed Townsend for "a long time."

"This is a player we are excited to get," Fraser said. "He's incredibly competitive, extremely hard-working, has a great nose for the goal ... embodies everything we're trying to do in terms of being competitive. He's a winner. He's a winner."

Chivas, which opens preseason camp Monday, was sold on Townsend after a formal interview during the MLS Player Combine that ended Tuesday in Fort Lauderdale, Fla. Townsend was chosen MVP of the event after scoring twice and assisting a third goal in two games for the team that won the tournament.

"It was very exciting [waiting to be selected]. Very nerve-racking," Townsend said. "I was really hoping to go to Chivas. I had a great sit-down meeting with them. They were my gut feeling, and I was really excited to hear them call my name."

Chivas general manager Jose Domene said that "after the interview, we were really, really happy with him. Just as a person. He's a guy who loves to compete. He knows he's got to compete, knows he has to earn a spot in the [game-day] 18, and he's willing to do all the work needed.

"In our philosophy, our culture -- the new culture we're building -- he fits perfectly."

Townsend knows Chivas midfielder Blair Gavin from his youth national team days and has friends down the hall in the Galaxy locker room -- he played alongside defenders Omar Gonzalez and A.J. DeLaGarza his freshman year at Maryland -- whom he suspects will "give me a hard time about going to Chivas."

He's already getting into the rivalry.

"They're enemy number one now, I guess."

Domene said another addition would be coming from overseas -- the Goats have already brought in Ecuadoran midfielders Miller Bolaņos and Oswaldo Minda during the offseason -- and the goal was to be "two-deep in every position." The Goats have only 18 players on their roster, and only four of them are exclusively defenders.

"It's almost impossible [to have the kind of depth we're seeking], but we're going to strengthen the backline," Domene said. "We're still looking abroad, looking within the league. If the right opportunity comes, we will grab it. Same thing with another forward."