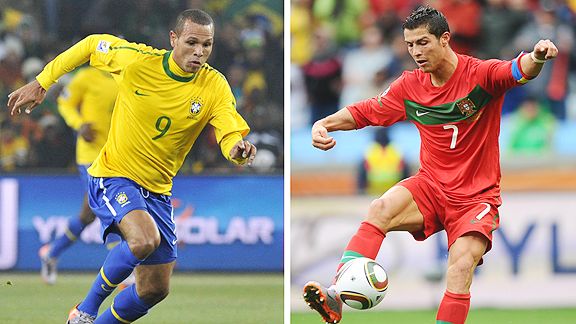 Issouf Sanogo/AFP/Getty Images
Luis Fabiano of Brazil, left, and Cristiano Ronaldo of Portugal will have the spotlight on them Friday.
GROUP G: PORTUGAL VS. BRAZIL
When: 7 a.m. PT. Where: Moses Mabhida Stadium (Durban)
TV: ESPN, ESPN Deportes and Univision (KMEX/Channel 34), 7 a.m.; ESPN Classic, delayed, 7 p.m.; TeleFutura (KFTR/Channel 46), delayed, 7 p.m.; ESPN2, delayed, 12:30 a.m. (Saturday).
Players to watch: Robinho has been active and very dangerous for Brazil, but how well he and Luis Fabiano connect with the third part of the "Golden Triangle," Kaka, serving a suspension will inform Brazil's attack. Portugal's second-half dissection of North Korea had to boost confidence, but we're still waiting for the best of Cristiano Ronaldo.
The scoop: Brazil is No. 1 and Portugal No. 3 in FIFA's somewhat worthless ranking of national teams, and No. 2 Spain likely awaits one or the other in the round of 16. Brazil, which has lost just one of 32 group-stage games since 1966, needs just a draw to win the group; Portugal would clinch a knockout-phase berth with a tie, and it probably gets through even with a loss, so great is its advantage over Ivory Coast (+9) on goal difference. Elano also is doubtful for the Brazilians after suffering a calf injury against Ivory Coast; Dani Alves is the likely fill-in, and Julio Baptista will take Kaka's place. Portugal, which is unbeaten in its last 18 games -- since a 6-2 mauling by Brazil in November 2008 -- will do again without Deco, who is sidelined because of a hip injury. Deco is one of three Brazilian-born players for the Portuguese, joined by Pepe and Liedson.
History: Portugal and its former colony have met 18 times, with Brazil winning 12 and Portugal just four, but the Europeans have the advantage in four meetings the past 10 years (two wins and a draw in four games) and in the only previous World Cup showdown (a 3-1 group-stage victory in 1966, with Eusebio scoring twice).
Prediction: Brazil 2, Portugal 2
GROUP G: NORTH KOREA VS. IVORY COAST
When: 7 a.m. PT. Where: Mbombela Stadium (Nelspruit)
TV: ESPN2 and TeleFutura (KFTR/Channel 46), 7 a.m.; ESPN Classic, delayed, 5 p.m.
Players to watch: Didier Drogba, even at less than full health, always is the key for the Ivorians, and their need for goals will require big things from Salomon Kalou and Gervinho, too. North Korea wants to prove the Portugal debacle was well out of character; Ji Yun Nam will organize a defense that won't want to disappoint again.
The scoop: Ivory Coast needs a miracle to reach the second round: The Elephants need to pour in the goals -- seven or eight or nine -- and hope Brazil beats Portugal. There's a nine-goal difference they must overcome, so a 6-0 romp coupled with, say, a 2-0 Brazil victory would not be good enough. Drogba's broken arm has impacted his facility up top, but he also hasn't had the service he requires, which is why Gervinho's presence is key. North Korea has already been eliminated, but who knows what horrors await at home should they fare no better than in the 7-0 loss to Portugal.
History: North Korea met South Korea four times during qualifying for this World Cup, but the Chollima lost their right to stage home games in the series because they refused to play their embittered rival's national anthem or display its flag. FIFA rules mandate both, and North Korea -- still technically at war with South Korea -- suggested instead that a folk song familiar in both countries and the flag both marched under at the Olympics be used. Instead, the games, initially scheduled for Pyongyang, were moved to Shanghai. Both of North Korea's home games finished even --- 0-0 in the third stage, 1-1 in the fourth and final stage of qualifying -- and South Korea won the second game in Seoul, 1-0 (on Kim Chi Woo's late goal), after a 0-0 draw in the first meeting.
Prediction: Ivory Coast 2, North Korea 0
GROUP H: CHILE VS. SPAIN
When: 11:30 a.m. PT. Where: Loftus Versfeld Stadium (Tshwane/Pretoria)
TV: ESPN, ESPN Deportes and Univision (KMEX/Channel 34), 11:30 a.m.; ESPN Classic, delayed, 9 p.m.
Players to watch: David Villa and Fernando Torres might be the best forward combo at the World Cup, especially as Torres gets closer to 100 percent. Midfield leader Xavi and Andres Iniesta, returning from injury, make the Spaniards click. Chile hasn't surrendered a goal yet, and another clean sheet would guarantee La Roja the group title. Goalkeeper Claudio Bravo, who plays in Spain (for Real Sociedad), could deliver a round-of-16 berth with a strong performance.
The scoop: Spain likely wins this group, as expected all along, with a victory, but the Switzerland-Honduras result plays into that, too. The Spaniards have been the better side in both of their games but have yet to demonstrate the pace and skill and dominance that makes them so special when they're on their game. Torres wasn't ready for the starting lineup in the first game, the shocking loss to the Swiss, and Iniesta was sidelined for the victory over Honduras. This could be the first time coach Vicente Del Bosque fields a first-choice lineup in South Africa. Chile has played absorbing attacking soccer, some of the best in the tournament, but have scored just twice, and coach Marcelo Bielsa may need to weigh the need to secure its place in the knockout phase with protecting forward Humberto Suazo, who would miss the next game with another yellow card.
History: Spain's history of underachievement in the international game has been in stark contrast to the fortunes of its two biggest clubs, hated rivals Real Madrid and Barcelona, which between them have won 21 European trophies, including 12 Champions Cup/UEFA Champions League titles (nine by Real, two in the past five seasons by Barca). There's been plenty of debate on the reasons behind this, with the ferociousness of the regional rivalries (such as the campaigns for Basque and Catalan autonomy) and greater loyalty to club than country among the most popular theories. The best Spain has done at a World Cup was a fourth-place finish in 1950. Starting with the 1982 finals, which were played in Spain, La Furia Roja have advanced to the second stage six of seven times and reached the quarterfinals in 1986, 1994 and 2002.
Prediction: Spain 3, Chile 1
GROUP H: SWITZERLAND VS. HONDURAS
When: 11:30 a.m. PT. Where: Free State Stadium/Vodacom Park Stadium (Mangaung/Bloemfontein)
TV: ESPN2 and TeleFutura (KFTR/Channel 46), 11:30 a.m.; ESPN Classic, delayed, 3 p.m.
Players to watch: Switzerland will count on future Seattle Sounders forward Blaise Nkufo to score goals and Tranquillo Barnetta, in place of suspended Valon Behrami, to create an attack. Wilson Palacios and 2004 MLS MVP Amado Guevara are the keys to Honduras controlling midfield, a must if they're going to have any chance of advancing.
The scoop: The Swiss will reach the round of 16 with a two-goal victory no matter what happens in the other Group H clash. Anything less -- even a loss -- won't necessarily deny the Nati, but they can't count on Spain losing again. The victory over the Spaniards is their only win in seven games, and they've not scored more than a goal in any of the seven. Forward Eren Derdiyok is doubtful because of a hamstring injury suffered Wednesday in training, and defensive leader Philippe Senderos remains sidelined because of an ankle injury. Honduras, which could advance with a big victory coupled with a Chile triumph over Spain, hasn't scored in six of seven games this year, and in neither World Cup outing, and has struggled at the back.
History: Honduras has never won a World Cup game, although it came close in 1982, settling for a 1-1 draw with host Spain after surrendering a second-half penalty kick. The Catrachos drew their next game, with Northern Ireland, and were on their way to a third tie, with Yugoslavia, until giving up an 88th-minute penalty. Anthony Costly, the father of Carlos Costly (who missed this World Cup through injury), played on the 1982 team.
Prediction: Switzerland 1, Honduras 0