MLS DRAFT: Rowe goes as Hoffman waits
January, 12, 2012
1/12/12
10:46
PM PT
By
Scott French
| ESPNLosAngeles.com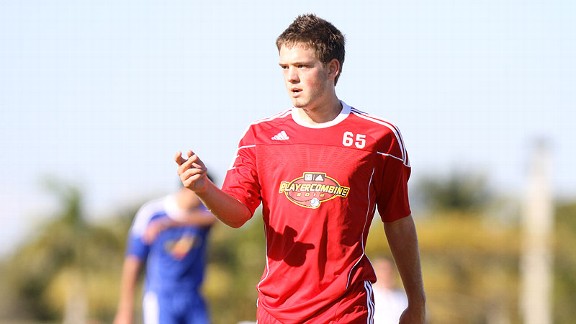 Major League SoccerUCLA's Kelyn Rowe, who was drafted No. 3 by New England, says he's honored to going to that organization.

CARSON -- Chandler Hoffman had heard the buzz, how his superb performance at Major League Soccer's pre-draft combine in Florida -- on top of his 18-goal, All-America showing for NCAA semifinalist UCLA -- had vaulted him into the top five, maybe the top three in the MLS SuperDraft.

So when Commissioner Don Garber began announcing the New England Revolution's selection with the third pick Thursday morning at the Kansas City Convention Center -- first noting the player was a Generation adidas signing from UCLA -- Hoffman got excited.

For a second or two.

It was Bruins teammate Kelyn Rowe the Revolution grabbed at No. 3, and Chandler sat down to wait. And wait. And wait.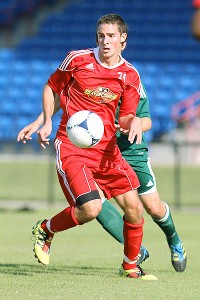 Major League SoccerIt was a longer wait than expected for UCLA's Chandler Hoffman, who was picked No. 13 overall by the Philadelphia Union.
By the time the striker from Birmingham, Ala., finally heard his name, he first round was two-thirds through and the Philadelphia Union, choosing 13th, was giddy.

"Pretty surprising. But good for us, right?" Union assistant coach John Hackworth told the league's website. "We get one of the best young attacking players in he country, someone that's proven to put the ball into the back of the net. There's nothing more valuable in all of soccer."

Hoffman's slide down he draft table was one of the big stories out of the headlining festivities at the National Soccer Coaches Association of America's annual convention, but not the only one involving local players.

There was Rowe, an attacking midfielder from Federal Way, Wash., whom New England coach Jay Heaps described during ESPN2's draft coverage as "a really critical player to our team."

And there were UC Santa Barbara standouts Luis Silva (Los Angeles/Salesian HS), who went to Toronto FC with the fourth overall selection, and Texan Sam Garza, taken by San Jose at No. 6.

Plus UC Irvine's Miguel Ibarra, a quartet of UCLA players, English midfielder Andy Rose most prominent among them, and several other hopefuls from local schools who now turn their attention to Tuesday's four-round supplemental draft.

NEWEST REV: Rowe, it turned out, was the most coveted figure once the consensus top two -- Duke defender/midfielder Andrew Wenger and Akron forward Darren Mattocks -- were gobbled up by Montreal and Vancouver.

"I did a lot of research, myself [and my staff], on the player, and it's not one of those where you can base it on one thing," Heaps, a former Revs defender who was hired as head coach in November, told ESPN2's draft analysts. "We wanted the entire body of work."

Rowe, who will have a chance to learn from 2010 U.S. World Cup midfielder Benny Feilhaber (Irvine/Northwood HS), a fellow UCLA alum, was the most admired of a good class of attacking midfielders, a dynamic player going forward who nearly turned pro after an All-American freshman season in 2010. He says he's "honored" to go to New England and play for Heaps, who was the No. 2 overall selection out of Duke, by the long-dead Miami Fusion, back in 1999.

"He's a great guy, good coach, coming in to change things up for New England, and I think I fit what he wants," Rowe told ESPN Los Angeles following the U.S. under-23 national team's training session Thursday evening at Home Depot Center. "[He told me] he's looking for good soccer players, and he said I was one. He's looking for someone to create and go forward, and I think that's what I am."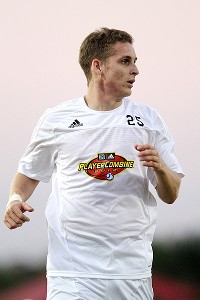 Major League Soccer Sam Garza was one of two players from UC Santa Barbara to be picked in the first round of Thursday's MLS SuperDraft.
GAUCHO PAIR: Silva, who scored 17 goals with 10 assists as a UC Santa Barbara senior, was targeted early by Toronto FC boss Aron Winter, the former Dutch national team star.

"For me, he's a really natural player," Winter, who has transformed the Reds since taking charge following the 2010 season, told MLS's website. "His technical skills, his movement and the way we are playing, I think he is going to be a great asset. You can use him like a [No.] 10, but you can use him also on the wings, left or right. He can make goals, he can get assists, all those things. He has a lot of technical abilities."

Garza, who signed a Generation adidas contract following his junior year, was gone two picks later. He's a winger who can play up front if needed -- "the good thing is I'm versatile," he noted -- and his quickness and attacking flair impressed combine observers.

"We targeted Sam right before we started [the draft]," San Jose head coach Frank Yallop told the league website. "We thought he'd be there for us, so we're happy. It was a good haul."

HOFFMAN'S WAIT: Hoffman lasted about an hour to hear his name. After not going to New England, he didn't go to Chivas USA with the fifth pick -- and he thought he might.

"After the combine, all the talk was for sure the top five," the eminently likable and humble forward told ESPN Los Angeles. "Chivas was at five, so I thought there was a good chance. I didn't end up in the top 10, and Philly was glad to grab me at 13."

He said there were a "ton of thoughts going through my head, wondering where I was going to end up. I had not spoken to the Philly staff, but I talked to their assistant coach Rob [Vartughian on Wednesday], and he said there was no way I'd be around for their pick. Sure enough, it comes to 13, and I figured they would take me."

He joins former UCLA teammates Kyle Nakazawa (Palos Verdes Estates/Peninsula HS) and Amobi Okugo in Philadelphia. Okugo, who is with the U-23s, is one of Hoffman's best friends.

"He's one of the guys that got me to commit to UCLA," explained Okugo, a midfielder who was in Hoffman's class but turned pro following his freshman season. "I was one of the late recruits. I stalled when it came to committing, and he called me up. He said, 'If you come to UCLA, we're going to do big things together.' ...

"I was surprised he dropped [to 13th]. I was trying to text him, to tell him keep your head up, because I knew he was going to go soon."

MISSING NAMES: Ibarra (Lancaster/Lancaster HS and Rose were the most prominent local players to go undrafted. The SuperDraft was trimmed to just two rounds, 38 picks, so a lot of very fine players were left for next week's supplemental draft, when both will be expected to go.

UCLA winger Eder Arreola (Chino Hills/Chino Hills HS), left back Shawn Singh and goalkeeper Brian Rowe, UC Santa Barbara left back James Kiffe and Cal State Northridge midfielder Rafael Garcia (Canoga Park/Canoga Park HS), who participated in the combine, also hope to be picked up.

Rose, a steely defensive midfielder with great leadership capabilities, had been seen by some as a potential first-round selection, but he'll count as a foreign player on his club's roster. That apparently dropped his stock.

"Andy's a standout for all of us," Kelyn Rowe said. "He's our captain, and he's the one we're looking to be better for. He had a great combine and a great year, so I don't know what the coaches are thinking. But, hey, I'm not a coach."