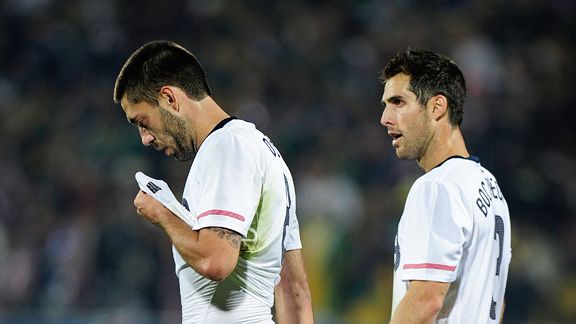 Joe Raedle/Getty Images
The U.S. gave up an overtime goal and never recovered.
The United States plays Ghana today in the round of 16 at the World Cup in one of the most anticipated matches in American history. Join us as we cover it live with instant analysis in what is sure to be a stirring event:
2:16: It's a just result. The U.S. needed to come out with intensity, and they didn't. They needed to be tight at the back, and they weren't. Edu needed to be in midfield, and Bradley's error forced him to waste a substitution after 30 minutes. Ghana was the better team by a good margin in the first half, did a great job absorbing pressure in the second half, and got a great finish by Gyan to win it. It's nice to have an African team in this African World Cup, and Ghana have the talent, the strength and the unity to get past Uruguay and into the semifinals. All along, success for the U.S. was getting to the round of 16. They did that. It's disappointing to go no further, but anything beyond this round was going to be something extra, something special.
2:04: "Viva, Mexico" the guy behind me yells. We in L.A. have one home team left, but El Tri has a tough assignment tomorrow against Argentina.
2:03: The mood here is great disappointment. … And a "U!S!A!" chant erupts from the room next to ours, and it quickly dies down.
2:01: A few last chances go for naught. And it's over. Ghana will face Uruguay in the quarterfinals.
1:59: One last chance, a Donovan corner kick from the left. … Howard goes up … Kingson! And the volley -- was that DeMerit? -- goes over.
1:51: Can't fault Ghana for wasting time. If the U.S. was in the same position, they would do it to. It's part of the game.
1:49: Lots of complaints after Addy goes down, most of them unprintable. Widespread booing.
1:47: The Thunder Sticks --- nothing else, no yelling, no chants --- go off, not in unison, more like a Cecil Taylor piano solo. And when the U.S. loses the ball, they stop. "Let's go," hollers a guy to my right. Bornstein fouled at the edge of the box. Screaming, slamming the sticks … and Kingson makes the play again.
1:43: The U.S. is in a similar position as it was against Algeria. They need a goal to stay alive, and they've got 15 minutes to do it. The room is antsy, not resigned by any means … hopeful, concerned. Quiet.
1:40: One of the best World Cup games ever contested, the 1982 West Germany-France semifinal (yes, the Schumacher-Battiston game), offers some hope. It was 1-1 at the end of regulation, and quick overtime goals by Marius Tressor (92nd minute) and Alain Giresse (98th) gave the French a 3-1 lead. Karl-Heinz Rummenigge came off the bench to pull Germany within a goal just before the teams switched sides, and Klaus Fischer netted the equalizer in the 108th. And since Germany never loses on penalties, you know who went to the final.
1:29: Not good at all. Asamoah Gyan is a finisher, and he finished that well. Another ball over the top that the U.S. defense doesn't deal with. The room is silent, and there are a lot of long faces here.
1:26: Herculez Gomez for Jozy Altidore. Gomez has an uncanny ability to score off the bench, and when he's been employed as a striker (with the Galaxy and at Puebla) rather than as a flank midfielder (with Colorado and Kansas City), he's scored regularly.
1:20: And to overtime we go!
1:19: The room I'm in has 19 televisions, all, of course, on this game. There's a massive screen at front center, flanked by two merely giant screens, with 10 big screens above them. And the six booths at the back of the room have their own sets.
1:14: Ghana is pushing forward, and that's leaving a lot of space behind their midfield and backline. Two thoughts: We cannot make a defensive mistake here -- we do, we lose. And the counter is our best weapon. Let's play quick and direct.
1:08: Free kick into the wall -- Dempsey needs to get some height on that. Oh, to have South Koreans or Japanese taking free kicks for us.
1:07: This has the feel of a game headed to overtime. The room is calm right now. You can feel the tension, and Ghana's possession right now is a little worrisome. … Almost a great goal by Altidore. A few cries for a penalty, then the replay quiets that down. But here's a free kick in a dangerous spot, and the Thunder Sticks are cracking.
1:03: Shots like Bradley's there are not going to beat Kingson. He's on today.
12:59: When I visited the ESPN Zone store, it seemed everyone was buying Lakers gear. We know who's No. 1 in this town. I saw a cool Italy shirt I'm going to get on my way out.
12:55: I've got one sort-of-Ghanian anecdote I'll share here. I played for Scribes FC, the soccer club formed by late, great L.A. Times columnist Mike Penner, until I broke my leg and spent a month in France (for the 1998 World Cup) on crutches. (Paris was not handicapped-friendly.) We had a revolving lineup of good players, some of them ringers, who joined the many sportswriters of varying skill. (I was a most-mediocre left back.) We had two Ghanians who joined us for a game in, if I remember correctly, a league in Placentia. They were Times employees -- parking-lot attendants, I believe -- and they were fabulous. 12:57: They played a couple games with us, then discovered there were no pro scouts watching our games and that Scribes was not, as they had assumed, a path to soccer stardom and riches. A lot of the clubs in Ghana, it turns out, were "company" teams, and playing for them was a way of getting seen and, hopefully, signed, and they thought we were the L.A. Times company team. Too bad we couldn't persuade them it was so -- they raised our game considerably.
12:54: That goal should open things up, give the U.S. more room to attack. … Like there. Jozy's touch betrayed him -- he hasn't been his best today. And U.S. backline can't give up free kicks there Bocanegra gets a yellow. … Howard is so solid, and the U.S. is off on another counter.
12:52: Another "USA!" chant. When Hungarian referee Viktor Kassai pointed to the spot, people were jumping up and down, screaming … and one guy in front shushed everyone. You don't want to jinx Landon before he shoots. The finish was perfect, and that same guy was dancing with the girl next to him, high-fives, a tumult of emotion.
12:49: Penalty! My first thinking was Jonathan Mensah got ball, but the replay says no. Great nutmeg by Dempsey past John Mensah. … And Landon finishes, and this room goes wild.
12:44: The intensity at ESPN Zone has grown since halftime. It was a fairly quiet room through the first half -- U.S. fans didn't have a whole lot to cheer for -- but there's a sense here something is about to happen. Fans are leaning forward, banging Thunder Sticks and screaming. Every U.S. foray forward is greeted with screams. A guy behind me is setting off an air horn. And now a "U!S!A! U!S!A!" cheer has erupted.
12:41: Everybody was calling for a penalty a minute ago. The replay showed the defender got the ball. "We're reffing with our hearts," the fan behind me said. "He got all ball, and we were yelling, 'It's a foul!' "
12:39: Magee said he'd be "doing a lot better" if the U.S. weren't behind. "This is how we've played all along, so that's a consolation." Yes, the U.S. looked like it did in the first half against Slovenia. Now if they can replicate the second half against the Slovenes. "They'll do it," Magee said. "Watch: Landon will get a goal."
12:36: I talked to some fans and to Galaxy midfielder Mike Magee at halftime. One guy in the ESPN Zone shop was complaining to the cashier that Edu should have started. "What was he doing?" he said, meaning Bradley. "Edu has to start." Another fan, wearing a Galaxy jersey, wants to see Edson Buddle replace Jozy Altidore. Said his friend: "We can still win. We just need to step it up."
12:33: You can feel a change in the U.S.'s intensity already. So close for Feilhaber. Kingson's having a great game for Ghana.
12:32: Feilhaber for Findley -- I like this sub. Feilhaber has been dangerous this tournament.
12:22: Mike Magee and Dema Kovalenko are signing autographs under the big screen here in the SportsCenter room in ESPN Zone at L.A. Live.
12:18: A disappointing half for the U.S. Ghana was better at nearly every phase of the game, and the biggest U.S. weakness -- defense at the back -- cost them heavily. Ghana has space to exploit and they've done a decent job of preventing the U.S. from turning possession into chances. Donovan needs to take charge like he did against Slovenia, Michael Bradley needs to make a greater impact, and Bob Bradley needs to make tactical adjustments to deal with Ghana's advantage in midfield.
12:05: Findley's blast raises the temperature in here. Kingson made a mistake to gift Australia a goal, but he's done a nice job today.
12:01 p.m.: An "Edu" chant below me. The guy behind me agrees: Edu should have been in the starting XI. And that's a wasted sub.
11:59: Is Bradley going to bring Edu on for Clark? Rectifying the biggest error of his starting lineup, I suppose.
11:57: Ghana is playing with the kind of intensity the U.S. needs to have. And they've overloaded midfield and are making it tough for the U.S. get get through. When Ghana attacks, there's too much space for them. Bradley will need to make some tactical adjustments at halftime.
11:51: Steve Cheundolo will miss the quarterfinals if the U.S. advances. That would mean Jonathan Spector gets his first start. … Nice save by Howard on the ensuing free kick. He's quick to punch the ball, which is smart. This is a tough ball for goalkeepers, and better to punch it to safety than try to grab it and gift Ghana another goal.
11:48: The surge ahead, with Donovan trying to string a pass for Altidore, warms up the fans at ESPN Zone. And Dempsey's ball for Altidore in the box is greeted by a few screams. The couple in front of me are working their Thunder Sticks. … And I now have a quesadilla (no sour cream, thank you) in front of me.
11:42: That's three games of four in this World Cup the U.S. has surrendered an early goal. Steven Gerrard in the fourth minute for England, Valter Birsa in the 13th for Slovenia and now Boateng in the fifth. The U.S. rallied to draw the first two games. No American team has ever won after falling behind in a World Cup.
11:40: Boateng's first goal for Ghana. And the first Black Stars goal in this World Cup not scored on a penalty kick.
11:38: This is the problem with the U.S.: They're too lax defensively. I can't understand why Clark is in there -- Maurice Edu would have been a better choice, I think. Clark gives the ball away, Kevin Prince Boateng has space to run into, nobody closes him down, and a fine finish. Then Clark picks up a silly yellow card.
11:35: A scream and then silence here as Ghana takes an early lead.
11:31: Looks like Ghana is going to use a 3-4-2-1 (you could call it a 3-6-1 or a 3-4-3 if you prefer). Will be interesting to see how they use the flanks and how they manage the backline.
11:25: Screams, Thunder Sticks and a "USA!" chant greets the first view of the U.S. players as they come out for the national anthems. I can hear a roar from another room. The room rises for the national anthem, and nearly everyone has joined in for the singing. Some really poor but passionate voices here.
11:20: I started my day in Koreatown, watching Uruguay's victory over South Korea on the big screens outside Wilshire Park Place. Amazing atmosphere for every game there, and the crowd today was massive. There was no room to maneuver in the park, and sidewalks surrounding were packed. Several hundred chose a spot on the sidewalk across Wilshire, which afforded good views of both screens. The place went mad when Lee Chung Yong's header pulled the Koreans even with about 25 minutes to play, and it was nearly silent after Luis Suarez's second goal pushed Uruguay back ahead in the 80th minute. A lot of disappointed faces afterward, but the Cup was a success for Korea, which reached the knockout round for the first time away from home.
11:14: Galaxy midfielders Mike Magee and Dema Kovalenko are here, two tables down from me. Both are rehabbing injuries, which is why they're here rather than in Toronto for today's Galaxy game.
11:11: The SportsCenter Bar is packed, but there's still some room at the Z Bar. Looks like access to the Championship Room is by invite only, and there's room to stretch in there. Three of the rooms are being used for private parties, one of them for Weezer singer/guitarist Rivers Cuomo, a huge U.S. soccer fan. Some room in the 19th Hole Bar, so come on down.
11:08: Sulley Muntari is left out of Ghana's lineup, again -- that's a plus for the U.S. Only one change in Milovan Rajevac's team from the 1-0 loss to Germany: Samuel Inkoom steps in for Prince Tagoe, but we're uncertain where he'll be slotted. Tagoe was on the right flank in all three group games, with Andre Ayew on the left, and Kwadwo Asamoah behind striker Asamoah Gyan. Anthony Annan and Kevin Prince Boateng join Asamoah in the midfield triangle. Goalkeeper Richard Kingson, right back John Pantsil and left back Hans Sarpei have been in the lineup in each game, but injuries forced Rajevac to use different combinations in central defense for each game. John Mensah and Jonathan Mensah -- no relation -- will be in the middle; Isaac Vorsah, who was so good against Serbia, remains sidelined with a hamstring injury.
11:06: Ricardo Clark, who hasn't played since a poor showing in the opener against England, is back in the XI, next to Michael Bradley in central midfield. Landon Donovan and Clint Dempsey are on the flanks, with Robbie Findley back from suspension to join Jozy Altidore up front.
11:05: We've got the lineups. Bob Bradley sticks with the same backline as in the Algeria game, with Alta Loma's Carlos Bocanegra partnering Jay DeMerit in the middle and Chivas USA's Jonathan Bornstein (from Los Alamitos) at left back. Tim Howard is in the nets and Steve Cherundolo at right back.
11:02: I arrived around 9:45, and there was a long line waiting to get in. Lots of hockey fans mulling around outside, too: The NHL draft is going on at Staples.
11 a.m.: Hello from the SportsCenter lounge in the ESPN Zone at L.A. Live, across the street from Staples Center, and the place is buzzing. Filled with U.S. fans -- no Ghanians in sight … yet -- and a few Korean supporters here, too. The pregame show is on every television, and footage of Donovan's goal against Slovenia elicited big cheers. There was a "USA! USA!" chant a few minutes ago, solely for the lone cameraman in the room.