WPS: What is the impact on L.A.?
February, 1, 2012
2/01/12
10:21
AM PT
By
Scott French
| ESPNLosAngeles.com
Women's Professional Soccer this week
canceled its 2012 season
in response to some tricky financial and legal challenges, and if that's it for America's second try at a pro women's league, there's going to be some fallout locally.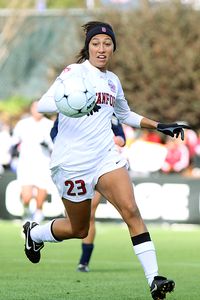 Andy Mead/YCJ/Icon SMIChristen Press would be welcomed back to Pali Blues, the club she played for while at Stanford.
Southern California is an epicenter for the women's game, prime breeding ground for top female players and home to nearly a dozen local clubs playing in one or the other of two national semipro/amateur leagues, a few of them with aspirations to join a league that suddenly might be gone.

The plan, WPS's board of directors proclaimed in its announcement Monday, is to return in 2013, and everyone in the women's game appears united in support of that. But what's best for women's pro soccer in North America isn't necessarily what appears to be best.

This could be a first real step toward unifying the women's game, which likely would require U.S. Soccer bringing into talks WPS and the two national leagues -- the W-League and Women's Premier Soccer League -- amid realization that there's not much money to be made, and there likely never will be.

WPS has lasted three seasons, just like its better-heeled, freer-spending predecessor, the Women United Soccer Association (2001-03), shedding four franchises along the way, including the L.A. Sol and 2010 champ FC Gold Pride. It was looking to play this year with only five teams, all on the East Coast.

The five clubs, as well as the terminated Boca Raton, Fla.-based franchise at the center of WPS's legal problems, are scrambling to determine their next steps. The Western New York Flash, which won last year's title after claiming the W-League title in 2010, likely will return to the United Soccer Leagues-affiliated competition. Sky Blue FC and the Boston Breakers also are considering options in other leagues.

The WPSL on Monday invited all five WPS teams to take part in an "elite division" this season.

"We want to give them a landing place for a year, but we also have [existing] teams that want to play in that elite league ...," WPSL Commissioner Jerry Zanelli, who also runs the Sacramento-based California Storm, a longtime amateur powerhouse, told ESPN Los Angeles. "We're only thinking about 2012 right now. I think they have to play somewhere, in an established league, and if they don't, it will be hard to pick things back up again.

"We don't want them to lose a year, so that's why we've offered this to them to help them out. They could go on their own schedule. We'll give them a set of [our] ground rules."

The Breakers, who already have a WPSL affiliate, might be up for it. MagicJack, which was booted from WPS last year after repeated conflicts with owner Dan Borislow, contacted WPSL on Friday about fielding a team, Zanelli said.

"If the other five accept, we won't take magicJack," he said.

WHERE WILL ALL THE PLAYERS GO?: The WPS season was to start in April. Neither the W-League nor WPSL have released 2012 schedules yet, but both are expected to begin play in May with championships in late July or early August.

Many players in the U.S. women's national team pool had been considering skipping out on the WPS season until after this summer's Olympics, and U.S. Soccer president Sunil Gulati said Monday that the league's suspension would lead to broader programming for the team in advance of London Games.

Some WPS players will look for jobs in Europe -- top clubs in Sweden, Germany and France are professional. Players who aren't tied to their WPS clubs, should the teams compete elsewhere in 2012, will be looking for places to play, and the 27-team W-League and 76-team WPSL include fully professional teams.

Several L.A.-area clubs will be destinations: The Orange County Waves won the WPSL title last year; the Pali Blues possess two W-League titles; the WPSL's L.A. Vikings and W-League's Santa Clarita Blue Heat and L.A. Strikers have growing aspirations.

"I've already spoken to several [players]," Pali Blues coach Charlie Naimo, who was the L.A. Sol's general manager, said a few hours after the WPS announcement. "Right now they're heavy-hearted, they need to take a break and are disappointed, and they're going to find the environment that helps them stay on top of their game. I don't think there will be a lot of options to go play for money."

Pali is an amateur club, which enables it to use players with college eligibility. The Waves are semipro but working out thorny financial issues. The Vikings, Blue Star and longtime WPSL amateur power Ajax America could be attractive for players. So could San Diego's WPSL sides.

Former Sol coach Abner Rogers, the Waves' boss, said he "can't put the team together until something solid" is in place after their Bay Area-based owners decided it wiser to concentrate on their other, locally based team. "If we have a team, no doubt in my mind it will be a good team. No sense in just having an average team."

Rogers had a handful of WPS vets on his roster last year says he "would expect to be contacted by players" from WPS looking for games.

Pali has sent nearly three dozen players on to WPS, and Naimo -- also head coach of Pali's brother club L.A. Blues, who play in the third-tier USL Pro men's league -- will find room on his roster for returning players willing to sign zero-dollar contracts.

"The hard part for us, we're so far along [in preparations for the coming season]," Naimo said. "We've got 18 players already signed for Pali. This hurts that a little bit. We're still committed to those players, but at the same time we have a roster, a full pool of players, and we're not going to turn away the [Christen] Presses and [Ali] Rileys of the world for anything.

"More competition, less playing time [to go around], but we're in it to bring the best players back. We're committed to make that happen."

The Vikings, who debuted in WPSL last year as the Los Alamitos Vikings and rebranded as "L.A." in the fall, put together an offseason all-star team featuring pros for exhibitions against Mexico's and Canada's national teams. Club director/coach Robert Kleinberger plans an amateur team this season "unless some of these [pro players] come available. ... And if they are, then we have some decisions to make. They would want to be paid, and that requires investments. A lot has changed as of [Monday] morning."

FUTURE OF THE PRO GAME: WPS's ownership groups say they're committed to the league's future, but there are financial issues related to a prolonged fight for first-division sanctioning by U.S. Soccer; the legal battle with Borislow, who this month won a legal ruling that the league had not followed its own procedures when it terminated his franchise (and had reached an agreement for his club to play an exhibition schedule against WPS clubs in 2012); and Puma's departure as primary sponsor.

"Long-term there needs to be a league in this country -- I'm a huge proponent of that," said Naimo, who built two W-League powerhouses in New Jersey before moving to California four years ago. "There's so many [national team] players as proof: Abby Wambach, Shannon Boxx. Pro leagues make those players."

U.S. Soccer requires eight clubs in a national league for Division I recognition but gave WPS waivers for 2011 and 2012. Travel costs are a huge burden, and player salaries add up, especially when the league's average announced attendance is 3,535, as it was in 2011, more than 1,100 off the inaugural season's total.

"Women's soccer is like women's basketball," Rogers said. "I don't think it will ever make money. If you break even, that's a victory."

A better model is needed. One we like would combine WPS, W-League and the WPSL into a three-division format -- a top league for elite professional clubs, a second division for semipro and elite amateur clubs, and a third division primarily for college players and other amateurs -- with regional competitions leading to some sort of national championships at season's end.

It's not quite major league, but neither is professional women's soccer. Realistic expectations are needed. And U.S. Soccer has to be involved.

"It has to start from the top," Naimo said. "U.S. Soccer are the only people that have the power to do that. It's got to come from the people with the most power. Getting six teams on one page is hard enough, but three leagues on one page? That's a whole different story. I expect there's a hill we've got to climb to make it happen."

A WPS Western Division, with teams from WPSL, W-League and perhaps affiliated with the Major League Soccer clubs in the Pacific Northwest, might be a viable alternative.

The Waves were formed with a plan to be L.A.'s club when WPS returned to Southern California. Blue Heat has done initial groundwork to move to a top-tier league. Kleinberger says the Vikings "potentially" could look into forming a 2013 WPS club.

Would Pali Blues be willing to turn pro?

"We can never rule out that if [WPS] comes back in 2013, we might be part of it," Naimo said. "We're never going to turn our back on it. We believe in it. We want women's soccer to survive professionally in this country."