GALAXY: Tweeting @Everton #LDsJourney
February, 19, 2012
2/19/12
8:10
PM PT
By
Scott French
| ESPNLosAngeles.com
The story of Landon Donovan's seven-week stay in England with Everton can be told, in some form, through the Galaxy captain's tweets.
[+] Enlarge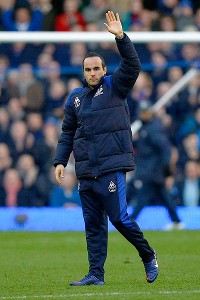 AP Photo/Tim HalesEverton's Landon Donovan waves to fans after the English FA Cup fifth round soccer match against Blackpool at Goodison Park, Liverpool, England.
Donovan is a regular, although hardly manic, user of Twitter, and as he conversed with fans and teammates, cheered on the U.S. national team in its January friendlies, gave shout-outs to top women's draft pick
Sydney Leroux
and U.S. women's star
Hope Solo
, welcomed new Galaxy teammates into the fold, mused on In-N-Out Burgers and how much he enjoyed the Australian Open tennis tournament, he also tweeted about his time with Everton.
A survey:
Dec. 25, after the Everton loan deal was completed:
"One of my best presents was at @RichardMotzkin making the Everton loan happen, wouldn't have happened without his hard work. #BestAgentEver"
Dec. 28, checking in with Everton captain Phil Neville before heading across the Atlantic:
"Leave for England tonight...so excited! What's the weather like there @fizzer18 ???"
Dec. 28, responding to Neville's reply:
"Don't remind me...is it too late to change my mind?! RT @fizzer18: @landondonovan last time- u came bronzed and went back milk bottle white!"
Jan. 1, after watching Everton's New Year's Day victory at West Brom:
"Great win for the Toffees! Can't wait for Wednesday!"
Jan. 4, after making his debut in the 2-1 loss to Bolton:
"Disappointing result, really bummed out for the club and the fans. Appreciate all the support and looking forward to turning it around Sat"
Jan. 8, after Everton is drawn with Fulham for the fourth round of the FA Cup a day after U.S. teammate Clint Dempsey scored a hat trick against Charlton:
"I hope @clint_dempsey got all his FA Cup goals out of the way yesterday :/ Going to be a tough game but can't wait!"
Jan. 16, as he takes a day off:
"Train to London, meditation in Hyde Park, reading/writing at Starbucks, shopping on Brick Lane, dinner with friends, train back #greatday"
Jan. 19, after David Beckham's return to the Galaxy was made official:
"Great day for @LAGalaxy !!! Glad David is staying for a couple more years...great guy, great pro, great teammate"
Jan. 21, after the U.S. beats Venezuela in Glendale, Ariz., with A.J. DeLaGarza making his international debut and Ricardo Clark scoring the lone goal:
"Congrats to @AJD_20 on his first cap! Great win for the US and happy that Rico got the winner!"
Jan. 23, hungry:
"I wonder if there's a @VeggieGrill in England... #craving"
Jan. 23, after a follower takes umbrage of his "dislike" when another follower heads to In-N-Out Burger:
"I love In N Out. I dislike that she's going and I'm not RT @Rollie3333: @landondonovan in and out burger rules!!"
Jan. 24, after watching a YouTube video from U.S. Soccer with three women's national-teamers competing in a "text-off," won by Hope Solo:
"Ahahaha. I would beat all of you guys! #ihavenolife RT @ussoccer: RT @studio_90: @CarliLloyd @HopeSolo @HeatherMitts"
Jan. 27, after beating Fulham in the F.A. Cup fourth round:
"Wow. The energy in the stadium was great and really proud of our performance. Thanks to the fans, players and EFC for another great memory"
Jan. 28, after the U.S. women beat Costa Rica to qualify for the 2012 London Olympics:
"Congrats to the US women for qualifying! #London2012 @hopesolo @alexmorgan13 @CarliLloyd @sydneyleroux"
Jan. 28, after a fan questions the Donovan-Dempsey "rivalry":
"Agreed #pointless RT @wizardonwaverly: Don't understand the either/or fued going on w/ some writers about @landondonovan and @clint_dempsey"
Jan. 31, after hiss assist helps Everton beat EPL leader Manchester City:
"Another magical night at Goodison. So proud and blessed to be a part of it. Thank you all once again for the love you've shown me #COYB"
Feb. 1, after Edson Buddle returns to the Galaxy:
"Welcome home TeddieBless!!!!!!!!!!! Great day for the @LAGalaxy !!! Love that guy and can't wait to play with him again @EdsonBuddle"
Feb. 2, sending up Everton captain Phil Neville:
"I love @fizzer18 , what a great captain, best ever. Wish he knew who I was #IAmInvisibleToHim"
Feb. 2, linking out to coverage of protests in Egypt following the Port Said tragedy:
"Amazing photo of Bob Bradley and his wife in Egypt. Respect to both of them being stand up people. #respect #USA"
Feb. 4, after watching Beckham on an English talk show:
"I can't believe David didn't mention me on the show ? #gutted #depressed #bummed #devastated #NotPassingToHimThisYear"
Feb. 6, after Chris Birchall's departure from the Galaxy became official:
"@chrisbirchall7 Sorry to hear the news buddy. Thanks for all you did for the club and for all the good laughs! Take care pal #MrPerfect"
Feb. 6, responding to a fan:
"Apology accepted but I deserved it RT @kchaiag: @landondonovan for years I called you Prema-donovan, I was wrong. Lo siento senor"
Feb. 7, mulling over the Galaxy's offseason/preseason additions:
"Wow, unbelievable offseason for the @LAGalaxy So grateful to have the owners/coaches that we do. Can't wait for the season to start!"
Feb. 8, in praise of Philip Neville:
"@fizzer18 is honestly the best captain I've ever been around. Takes care of all the guys, great leader, always a joy to be around #skip"
Feb. 12, after assisting another goal in an upset victory over Chelsea:
"Thank you for all the messages, it was another great night for the Toffees. So glad my family was there to see it. Enjoy your Sunday!"
Feb. 14, as speculation swirls around a potential Everton return:
"I am under contract to the Galaxy for the next two years. Who knows what the future will bring after that. Don't let headlines mislead you."
Feb. 17, responding to a fan's tweet:
"Thank you RT @AshMeegs: Footballers need to take a look at @landondonovan! The man oozes class and is a true professional. Great person #EFC"
Feb. 18, after Everton's F.A. Cup victory over Blackpool, which he missed because of the flu:
"Emotional day for me. Devastated I couldn't play, ecstatic we won, sad to leave EFC. Thank you for the memories I will never forget"
Feb. 18, saying goodbye:
"Most of all, thank you for allowing me to be a part of your family #OnceAToffeeAlwaysAToffee"