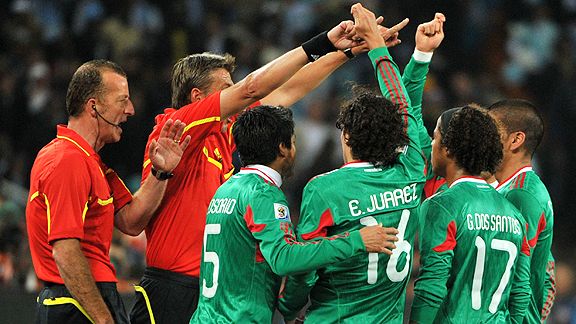 Roberto Schmidt/AFP/Getty Images
Mexican players protest Argentina's first goal complaining the referee missed an offsides call that would have nullifed the goal.
IN BRIEF: It's Big Sunday at the World Cup, but two would-be round-of-16 sizzlers turn into thrashings A bad call, a very bad mistake and a brilliant strike sinks Mexico, sending Argentina to the quarterfinals with a 3-1 win. A very bad call slows down England, which can't stay with Germany in a 4-1 defeat.
WOW! MOMENT: Thomas Mueller turns a tight fight into a rout with exceptional counterattack goals three minutes apart to give the Germans a 4-1 lead.
BEST PLAYER: Mueller, just 20, was sensational, absolutely dominant on the right flank. He combined with, well, everyone, created chances for himself and teammates, fueled (with Mesut Oezil) a deadly counterattack to score two fine goals, and did all the hard work to set up Lukas Podolski's strike. A complete performance.
BEST GOALS: There were two that really stood out. Miroslav Klose took advantage of John Terry's and Matthew Upson's inability to deal with Manuel Neuer's goal kick to give Germany a 20th-minute lead, outbattling Upson for position and neatly directing the ball off the bounce past goalkeeper David James and inside the right post. Maybe better was Tevez's second goal for the Argentines, a fearsome blast from 26 yards that, really, spelled the end for Mexico.
MIGHTIEST MISCUES: We'd be remiss if we neglected Ricardo Osorio's gruesome gaffe to gift Argentina its second goal. Atop his box, the Mexico center back misplayed a ball to his left, right onto the path of Gonzalo Higuain, who took it past goalkeeper Oscar Perez and slipped it into the net ahead of a sliding Francisco Javier Rodriguez. Mexico wasn't coming back from a two-goal deficit. Muy malo.
Worse were the officiating problems -- again. This is quickly becoming a World Cup of horrendous refereeing errors, even rivaling 2002, which we never thought possible.
It was 1966 again in the England-Germany standoff, except this time the English strike off the crossbar, into the goal and out again didn't count. Beautiful drive by Frank Lampard (he hit the crossbar later with another, except it didn't bounce down), unquestionably in the goal, and Uruguayan referee Jorge Larrionda and linesman Mauricio Espinosa get it wrong. And a 2-2 game is very different from a 2-1 game.
And Argentina's first goal, by Carlos Tevez (from Lionel Messi's chip, after goalkeeper Oscar Perez cut off Tevez from Messi's through ball), was clearly offside -- two, maybe three yards. Italian linesman Stefano Ayroldi either wasn't watching what he should have been or doesn't understand the rule. We're betting on the former. Either way, it put El Tri at a disadvantage they couldn't overcome.
WORTH NOTING: Germany (or West Germany) has played in every World Cup except 1930 (most European countries skipped it) and 1950 (post-WWII ban), and it's failed to reach the quarterfinals just once, in 1938. The Germans have been to the semifinals or further in seven of the last 10 tournaments, dating to 1966. … Klose's goal was his 12th in three World Cups, tying him with Pele for fourth on the all-time list, behind Brazil's Ronaldo (15), West Germany's Gerd Mueller (14) and France's Just Fontaine (13).
QUOTE OF THE DAY, PART 1: "Oh my God!" -- Uruguayan referee Jorge Larrionda, after watching a replay of the Frank Lampard goal -- er, non-goal -- that clanged off the crossbar, bounced down into the goal, and bounced up into German goalkeeper Manuel Neuer's hands.
QUOTE OF THE DAY, PART 2: "We didn't play too badly in the first game against USA, just made a big mistake. We played a bad game against Algeria, but we played well against Slovenia. Today, if the referee had whistled for the goal, it would have been different. It was too big a mistake." -- England head coach Fabio Capello's rundown of England's disappointing World Cup.
QUOTE OF THE DAY, PART 3: "We managed to expose the England defense. We wanted to get into the penalty area quickly and we did it a couple of times extraordinarily. We knew that the midfielders -- Gerrard and Lampard -- always support the forwards and that their midfield would be open. We knew there would be spaces. Our objective was to set Terry up with Klose to force him to come out of the defense. We knew the fullbacks would be very much to the side, and that would create space that we could penetrate." -- Germany coach Joachim Loew explains the winning tactics.
QUOTE OF THE DAY, PART 4: "You can't feel happy about being knocked out of a World Cup. We played well, and we put an awful lot into it, but it wasn't enough. … The first goal was a tough blow to take, and we couldn't come back from it. Unfortunately, it's another failure. I just hope we can make the quarterfinals one day." -- Rafael Marquez, after Mexico was eliminated in the round of 16 for the fifth straight World Cup.
QUOTE OF THE DAY, PART 5: "We all saw what happened. Great teams like this Argentina side don't need this kind of help." -- Marquez, on Carlos Tevez's offside goal.
QUOTE OF THE DAY, PART 6: "Two mistakes … drastically changed the course of the game. There was a before and after." -- Mexico coach Javier Aguirre, on Tevez's goal and Ricardo Osorio's giveaway for Argentina's second.
QUOTE OF THE DAY, PART 7: "I believe if we keep on staying focused, why can't we lift the trophy?" -- Ghana defender Samuel Inkoom, a day after the Black Stars reached the quarterfinals with an overtime win over the U.S.
QUOTE OF THE DAY, PART 8: "I'm proud of our guys. We had opportunities last night. We didn't capitalize on them. Ghana did. … I want to see the sport take off in America. It's a beautiful game, and I think this is the first time it has really captured the imagination of the U.S. from a men's perspective." -- Kobe Bryant, who is celebrating the Lakers' NBA title in South Africa.
THE RESULTS
At Mangaung/Bloemfontein
Germany 4 (Klose 20, Podolski 32, Mueller 67, 70), England 1 (Upson 37)
At Johannesburg/Soweto
Argentina 3 (Tevez 26, 52, Higuain 33), Mexico 1 (Hernandez 71)
ROUND OF 16 SCHEDULE
Monday
Netherlands vs. Slovakia, 7 a.m.
Brazil vs. Chile, 11:30 a.m.
Tuesday
Paraguay vs. Japan, 7 a.m.
Spain vs. Portugal, 11:30 a.m.
QUARTERFINAL SCHEDULE
Friday
Netherlands/Slovakia vs. Brazil/Chile, 7 a.m.
Uruguay vs. Ghana, 11:30 a.m.
Saturday
Argentina vs. Germany, 7 a.m.
Paraguay/Japan vs. Spain/Portugal, 11:30 a.m.
All times Pacific