GALAXY: Mistakes end CCL dream
March, 14, 2012
3/14/12
11:43
PM PT
By
Scott French
| ESPNLosAngeles.com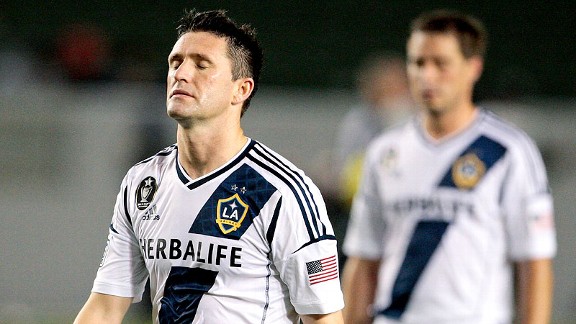 AP Photo/Bret HartmanRobbie Keane had a frustrating game in the Galaxy's 2-1 loss to Toronto on Wednesday.

CARSON -- The Galaxy's unexpected exit Wednesday night from the CONCACAF Champions League exposed, or perhaps confirmed, weaknesses at the back while illustrating that it's not how many chances are created but rather what is done with them.

L.A. dictated nearly every facet of its quarterfinal second leg against Toronto FC, but it failed in the most vital areas, and so it's adventure in this competition is done while the Reds, after a 2-1 triumph at Home Depot Center provided a 4-3 aggregate victory over two games, are headed to the region's final four.




Rookie Tommy Meyer was schooled twice by Ryan Johnson and the Galaxy failed to turn its opportunities into goals, sparking some serious hand-wringing over what's missing and what needs to be done.

The biggest issue, no matter how often head coach Bruce Arena protests otherwise, continues to be Omar Gonzalez's absence and L.A.'s inability to find an adequate replacement, but something else is afoot.

"It's more mentality," said midfielder Mike Magee, whose go-ahead goal a little more than midway through the first half was wiped away by a possibly errant offside call. "We have the defenders. Obviously, you can't replace Omar, but the mentality is not right. It's not the defenders, it's not the goalie, it's all of us. We're kind of lacking a bite, which is something that won us a championship last year.

"If you don't have a bite as a team, you're not going to beat anyone."

The Galaxy did enough to advance to a semifinal against Mexico's Santos Laguna, but it managed to find the net just once -- when former L.A. defender Ty Harden, sliding to break up a Landon Donovan pass for Robbie Keane, knocked the ball into his net for an own goal 10 minutes into the second half -- despite creating at least a dozen good opportunities.

They weren't sharp when it mattered, especially Keane, who was stopped twice by TFC goalkeeper Milos Kocic in one-on-one opportunities, the most frustrating in the 74th minute, when his chip after Donovan played him into the box was slapped away.

"He's lost a little confidence," said Arena, who started the same nine players who were in his lineups in last week's first leg and Saturday's league-opening loss to Real Salt Lake. "He's had some chances in these past three games. You lose your confidence a little bit. He's going to have to get it back real quick."

The Galaxy outshot Toronto, 14-7, and conceded just two shots on goal -- Johnson's header to provide the Reds a 34th-minute lead and Nick Soolsma's volley from Johnson's chip for the winner in the 67th. L.A. was caught offside nine times, and a few of the calls were questionable at best.

Fatigue was a factor, after Arena promised he wouldn't let it be following the loss to RSL.

"The way our guys recovered indicated they could play," Arena said. "Tonight you didn't see a tired team. I think you saw a team that was pretty good tonight. We punished ourselves by not winning this game. That game was there to be won, for sure. We didn't get the job done. Certainly, fatigue is a little bit of an issue, but it wasn't the difference in the game tonight."

David Beckham wasn't so sure.

"I never want to make excuses," he said. "I don't want to make excuses and say fatigue's a part, because I think that's an easy way out. Obviously, it's an issue … but it's not an excuse. We lost the game because we didn't defend well, we didn't finish plays off."

The backline problem is the most glaring, and it's not going to solve itself. Gonzalez, a tall, dominant center back, was MLS's Defender of the Year last year, and Meyer isn't going to step straight out of college soccer and into his shoes. Toronto knew this.

Johnson, who lost Meyer's mark to nod home Soolsma's cross for the first goal and beat Meyer on the left to chip for Soolsma's strike, said Toronto targeted Meyer.

"When I saw they made that switch [with Meyer starting in place of 6-foot-4 veteran Andrew Boyens], we kind of thought we could win those head balls and get some chances that way," Johnson said. "We were able to play a little but more direct, and I think that is a weapon we can use."

Meyer has played just two professional games, and it's going to take him time to develop.

"He's was OK," Arena said. "He got caught on a couple of plays. Inexperienced player and got burned on a few of them. He's got to do a little bit better. He's got to learn from it."

Meyer agreed.

"The only thing that I can do is keep working harder and learn from my mistakes -- and try not to make any mistakes in the game," he said. "That's the main goal, that I keep playing confident, and hopefully the results will come."

Said Donovan: "Tommy's going to be fine. He's coming out of college into a tough environment. The unfortunate part is when Omar gets hurt, he's been asked to fill a role. His job is to be getting better all the time, but unfortunately he's learning a little bit the hard way. I think he's done OK. He's made a couple mistakes, but that's normal for a rookie. He's going to get better. He'll be fine."