CHIVAS: Villafaña back after Oly failure
March, 28, 2012
3/28/12
11:21
PM PT
By
Scott French
| ESPNLosAngeles.com
CARSON --
Jorge Villafaña
is trying to keep his mind off what occurred Monday night in Nashville, but he wasn't about to escape so easily back into practice with Chivas USA.
Peter Vagenas
, a 2000 Olympian, made sure to give the 22-year-old defender an earful.
During a break in a short-sided drill Wednesday morning at Home Depot Center, the veteran midfielder needled Villafaña about the United States' failure to advance from group play in CONCACAF's Olympic qualifying tournament. The Americans, with Villafaña at left back, surrendered a late, late goal in a 3-3 draw with El Salvador that ended their run toward this summer's London Games.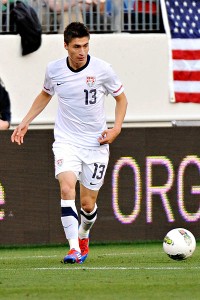 Frederick Breedon/Getty ImagesChivas USA's Jorge Villafana was part of the U.S. team that suffered a shocking end to its run toward Olympic qualification.
Vagenas brought up El Salvador, and he also mentioned Canada, which beat the U.S., 2-0, on Saturday, exposing the underbelly of a side that, all assumed, was a sure thing to make it to the Olympics.

"I asked him," Vagenas said afterward, "if they were going to just replay the 2000 Olympic Games [men's soccer matches] during the time slots that were scheduled for them this summer."

That 2000 team, Vagenas remembers well, was among the most memorable in American Olympic history, winning its group and making a stunning sprint to the semifinals before losses to Spain and Chile left them fourth.

Villafaña laughed when asked about the stick. "We knew that we were going to get this from everybody," he said, "but there's not much we can do right now, just focus with Chivas."

SHEDDING TEARS: Villafaña has been through a range of emotions the past few days. He was seconds from playing this weekend for a berth in London when Jaime Alas' long-range shot bounced off Chicago Fire goalkeeper Sean Johnson and into the net, a catastrophic result that prompted heated criticism of the team, of coach Caleb Porter, and of U.S. Soccer -- a sign, at the very least, that American soccer fans and observers are nothing if not passionate.

"Everybody was shocked," Villafaña said Wednesday. "We were winning, 3-2, and the last second you get scored, and you're out of the tournament. Everybody was on the ground crying. I don't even know what I was supposed -- it was bad. But soccer's like that, you know."

The former Anaheim High School standout, whose career was paved by winning the first "Sueño MLS" talent search five years ago, blamed "a lot of mistakes, a lot of defensive mistakes," and he shares that blame. El Salvador's second goal Monday was simple after the U.S.'s backline, Villafaña especially, watched Andres Flores sprint into space to finish Alas' feed.

"We didn't lose [advancing in] the game against Salvador, we lost against Canada," Villafaña said. "Only if we had at least tied against Canada, we could have been through to the [final four]. There's not much we can do right now. Things happen and already happened, and that's life, and we have to keep going."

He said he hoped the experience would make him "stronger, take us to the right attitude, and just keep working hard and be prepared for the next opportunity that will come."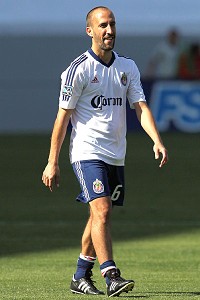 Victor Decolongon/Getty ImagesChivas USA's Peter Vagenas, a member of the 2000 U.S. Olympic team, was not shy expressing his feelings about the U.S. failure to qualify for London 2012.
Vagenas is sympathetic, but he's also a little angry.

"Oh, man. Oh, man. Not good, not good," he said when asked his take on the Olympic campaign. "I feel for the guys. Obviously, Sueño's here, he's devastated. Not good and, to be frank, unacceptable. That being said, we've got to move forward. But, again, not getting out of the group was unacceptable."

He also called it "mind-boggling" and noted that "I know it's difficult, but at the same time, if we want to move forward as a country and we want soccer to become one of the mainstream sports in this country, the overwhelming response has to be that it's unacceptable."

The 2000 team's qualification for the Sydney Games was aided by a one-game strike by Honduran players over pay, and "we had some luck through" the process, Vagenas acknowledges. Then something else took hold once the Americans got to Australia.

That team was guided by the late Clive Charles, the longtime University of Portland coach universally revered in the American soccer community. Charles, an Englishman who came to America to play in the old North American Soccer League and remained here when his playing days were done, coached the side although he had just learned (but did not divulge) he had prostate cancer, which killed him three years later.

"I've yet to find anyone in soccer who has one bad word about that man," Vagenas said. "If you ask anyone who's ever played for him, as brief as it was, and whether you were captain of that team or never saw a minute, the over-resounding response is 'He's the best coach I've ever played for.' This is across the board.

"And then that group was a special group. It was just a special time. To this day, it's one of the most cherished experiences of my life. It's a group that I still stay in contact with. When you succeed like that as a whole, you have something that sort of bonds you from now until forever. Whether it's Ben Olsen, Josh Wolff, Brian Dunseth, John O'Brien -- we can all sort of look back to this special time in our careers, and when you look back, regardless of what we've done since then, it's a blessed moment."

FRASER'S POINT: Porter, who has built the University of Akron into the nation's most admired men's soccer powerhouse, has taken a good deal of criticism over his roster and lineup selections, tactical responses in games and his lack of international experience. Chivas head coach Robin Fraser has a problem with it.

Bringing good, young coaches into U.S. Soccer is a necessity, and Porter -- a former Indiana University star who played in MLS for San Jose and Tampa Bay -- is one of the most admired young (at 37) coaches in the country.

"You bring in guys who are good, and you give them an opportunity," Fraser said, "and maybe it doesn't work out the first time, but does that mean you discard Caleb? Is Caleb now considered not a good coach? … Fact of the matter, everybody always looks for someone to blame. …

"At the end of the day, if Sean Johnson makes a save -- and I think he's a very good young keeper; he made a mistake -- and the team goes on and wins [in the semifinal against Honduras] and we go to the Olympics, regardless of how we do at the Olympics, everyone says Caleb is a great coach."

Fraser says he believes Villafaña is fine mentally, that he's ready to jump right back into the mix and will be available for selection for Sunday's game against Sporting Kansas City at Home Depot Center.

Fraser also knows how failure can gnaw at you.

We asked him whether rewarding victories or difficult defeats stayed with him longer during his playing days.

"That's a really tough question …," he said. "I think tough defeats eat away at you for a long time, months and months later in very small minutes of a long time. Mistakes come back and they keep haunting you. Whereas a great win certainly vaults you and winning championships makes you feel great for about three months, and then you're into a whole new [season]."

The worst loss Fraser had to deal with was the Galaxy's defeat to D.C. United in the inaugural MLS Cup, in October 1996. L.A. watched a two-goal lead disappear in the final 20 minutes, then gave up a golden goal in overtime on an Eddie Pope header.

"We were just talking about the game today, just coincidentally," said Fraser, whose teammates with the Galaxy included Vanney and L.A. captain Dan Calichman, a Chivas Academy coach who works with first-team defenders. "We were up, 2-0, and we never thought we were going to lose that game, going into it. I remember what went through my head when Chris [Armas] scored [to give the Galaxy a 2-0 lead in the 56th minute].

"I thought, 'Man, this is great. This great young kid, he's got such a promising future, he's going to be MVP of the first-ever MLS Cup. How great is that?' I literally thought that the second he scored. Obviously, about 30 minutes later a different story was written."

Villafaña says he's tried to avoid reading the stories of his team's failure.

"Right now I'm trying to stay away from that, trying not to think about that," he said. "Get it out of my system. I know it's a hard thing to do, but I have to do it."