L.A. BLUES: Starting over, with a plan
April, 13, 2012
4/13/12
6:31
PM PT
By
Scott French
| ESPNLosAngeles.com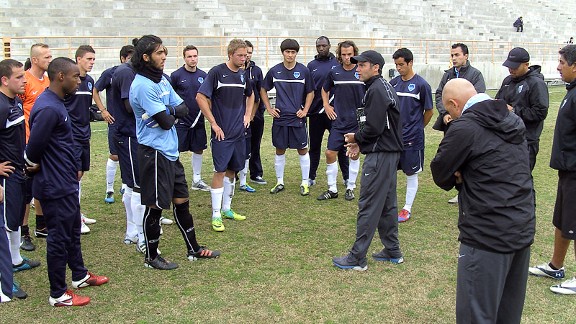 Blues Pro SoccerCharlie Naimo addresses his team during the buildup to the 2012 USL Pro season.

FULLERTON -- The Los Angeles Blues embark Saturday night on their second go-round in the USL Pro, looking to right what went wrong in the inaugural season, when their championship-caliber side unraveled after its big-name star abandoned ship.

Head coach/general manager Charlie Naimo and his staff gutted the team, keeping just four players and bringing in a mix of veterans and youngsters with perhaps not quite the flair of last year's group but with far more grit and resilience, and the Blues are thinking title as they kick off against the Rochester Rhinos at Cal State Fullerton's Titan Stadium.

The Blues want desperately to improve on last year's 8-7-9 campaign, followed by a first-round exit in the third-division professional league's playoffs, and challenge defending champion Orlando City SC and several prime contenders, including the Rhinos, who won the National Division last year, seven points ahead of third-place L.A.



But the real fight is off the field, where Steve Donner -- the club's new vice president of business operations -- is leading a charge to professionalize the organization, create for it a role on Southern California's crowded sports landscape, and create a foundation that will enable the Blues to survive and succeed for years to come. The most important move has been hauling the team's offices from Santa Monica to Fullerton, just a couple of blocks from the club's training ground at Fullerton College, and pledging its future to Titan Stadium after splitting a dozen league games last year among Cal State Fullerton and venues in Corona, Norco and Pacific Palisades.

Tickets are cheap, certainly in comparison with the Galaxy (and, less so, Chivas USA), parking is free and the soccer is better than decent. That's what Donner -- a sports marketing executive with extensive experience in hockey, minor-league soccer and lacrosse -- and his staff are trying to sell.

"A very convenient, very entertaining sports option in the Orange County and the L.A. Metro market: That's the niche we hope to create," said Donner, who was chief executive officer last year at Orlando City, which led the USL Pro in attendance. "It's going to take some time in order for people to understand what we really are."

That's because word didn't get out last year. A short lead-time to the club's debut -- the Tampa, Fla.-based United Soccer Leagues accepted the Blues for its top division in December 2010, and play began five months later -- had the organization scrambling from the start just to put on a season. Marketing was nearly nonexistent, sponsorship was sparse, and little more than 4,500 showed up for the entire 12-game home schedule, with just four crowds above 600.

A BAD START: "It couldn't have been worse last year," Naimo acknowledged. "It's really no one's fault. We started so late. Geographically, we were a constellation, and bottom line: You can't market to people you're not around."

"It did not work, as far as sponsorship, ticket sales," Ali Mansouri, who owns the club with his wife, Maryam, said at the close of last season. "We had a budget, what this thing is going to cost us. And we were very close to it. We were about 10 percent [above] what we estimated the cost is going to be. Very happy about that. But we also had an estimate of how much money we're going to bring in. We [made] 20 percent of that. That wasn't good."

Mansouri, who estimated an $800,000 loss in year one, says he's committed for three years: "We will be there [in 2012], will be there the following year. If we cannot make it to the level -- not to make money, because I never anticipated this thing, but if it can come closer to [covering] its own cost, then we'll keep it going. If not, then we have to sit down and look at it again."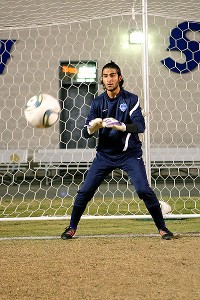 Blues Pro SoccerIranian goalkeeper Amir Abedzadeh is still a kid -- he'll be 19 in two weeks -- but he's the Blues' man in the nets.
Donner, who was brought on in January as a consultant and then persuaded to stay, is the point man in giving the Mansouris reason to keep it going. He's predicting a crowd of 3,000 to 4,000 for Saturday night's opener at Titan Stadium, which seats 10,000, and a 3,000 average. Mansouri's prediction before last season was 2,000 to 3,000 per game, and the average draw was just below 400.

This time, there is marketing at work. The club has bought newspaper space and radio airtime, done direct mailings and is working on relationships throughout the community. A legion of sponsors -- it's up to 17 after only three came on board last year; a jersey sponsor remains on the wish list -- will help get the word out.

"When people hear our story, it's very compelling. It's refreshing to people," Donner said. "But until people come opening night, how are we any different than we were a year ago. Proof's in the pudding. That's why we hope to put on a great show starting Saturday and show we're a viable franchise, alive and worthy of coming out and supporting."

That's Naimo's primary responsibility, creating a team that plays entertaining soccer and, as important, wins. Last year's group had the first part down pat -- the Blues' game, at its best, was arguably more exhilarating than the Galaxy's or Chivas' -- but struggled to put it together, especially after star Argentine midfielder Walter Gaitan departed in mid-June, two months into the five-month campaign.

"I think [this year's team is] overall a harder-working team. I think the team gets along better," said Naimo, who has won three W-League titles, two of them with the Pali Blues. "There's a sense that the team will battle a little bit harder for one another, which is comforting. It's a hard-working team, can get the goal fast, will send numbers defensively, relentless, work ethic is great. And that's what I believe we are.

"The last week and a half, it's been a little bit of 'let's play already.' "

THE TALENT: Returning are former Chivas USA defender Carlos Borja, former Galaxy attacker Israel Sesay, Cuban defender/midfielder Erlys Garcia and teenage goalkeeper Amir Abedzadeh. Borja has an exquisite soccer mind and can play in several spots. Garcia has made the move from center back to holding midfielder. Sesay, who turned pro at 16, is only 21, and "he's been fantastic," Naimo says, during the 13-game preseason, which includes a victory over Chivas USA. Abedzadeh, the son of former Iranian national team goalkeeper Ahmad Reza Abedzadeh, has won the job in the nets; he'll be 19 on April 26, and Naimo says he's "going to be a friggin' big-time goalkeeper. Big time."

The newcomers include Scotsmen Ricky Waddell, a midfielder who has emerged as a team leader, and Allan Russell, a striker who played the past two seasons with the Carolina RailHawks in the second-division North American Soccer League and possesses, Naimo says, "the strongest presence" in the side. He'll see some time at holding midfielder, too.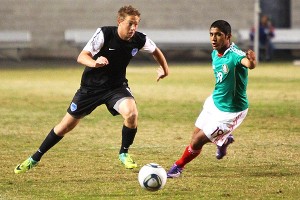 Blues Pro SoccerNewport Beach's Bryan Burke was MVP of the Premier Development League title game last year.
Former UC Irvine star Irving Garcia (who spent a season with the New York Red Bulls) veteran midfielder Brian Farber (also from the Carolina RailHawks), Welsh attacker Chad Bond, Gambian center back Ebrima Jatta, winger-forward George Davis IV (an All-USL Pro second-teamer last year with the Dayton Dutch Lions) and defender Matheau Hall will be counted for contributions, and there's another player -- an Iranian star -- coming through the pipeline.

Three rookies are expected to make impacts: right back Bryan Burke, MVP of Kitsap Pumas' USL Premier Development League title triumph last year, and South Korean left back Sun-Hyung Cho and left-sided midfielder Cheun-Yong Park, both from Anaheim's Bethesda Christian University.

Naimo said he wanted to add "more locker-room guys, guys with experience who have been good pros for awhile," and "guys who can handle the grind a little bit better." Last year, he went after talent, and some of that talent struggled with the realities of USL Pro: back-to-back games (with overnight travel) against gritty, battle-toughened teams that had enough heart to handle a more technically astute foe lacking some of the attributes necessary in the third-division league.

"Part of our recruiting and research wasn't always 'take the best player available,' it was 'take the player who understands the challenges the USL Pro schedule presents,' " Naimo said. "Who's going to mentally tire? Who's going to be OK with this? ... We're kind of built to maybe win if we're not playing so good."

Last year's team "found ways to lose games," Naimo noted, even when it played well.

"We were the better team most games -- we had more possession, we out-chanced teams," he said. "Ours didn't go in, we'd make a mistake, and theirs would [go in]. We couldn't finish our chances, we'd get unraveled. There's this illusion, because we were such a possession team last year and at times we were so good at it -- the illusion was that was the measure of the win, vs. the scoreboard."

The Blues started 3-0-1, then went 5-7-8 the rest of the way. They didn't win a game at Fullerton -- 0-4-2, including a strong performance in a U.S. Open Cup loss to the Galaxy -- and were 3-2-3 in league play at Centennial High School in Corona, Riverside Community College's Norco campus and Palisades High School.

Gaitan's departure -- it was about money, club officials said -- changed things for the worse.

"That's when we lost our pacifier, our unspoken pillar," Naimo said. "Walter was the leader by example that nobody wanted to cross. I think the team began unraveling when Walter left because everybody felt powerful. It's not good when everybody feels powerful. People need to feel like soldiers to win. I've never seen a battle where there's 10 generals and no soldiers. So that's what happened. We had too many generals after Walter left, and that ultimately did us in.

"If Walter had stayed, we probably would have been eight games better. We would have been right up there with Orlando City for that regular-season championship."

Is this group better?

"Different is the answer," Naimo said. "This is a different team. We wanted to have a team that would be more prepared for the battle of this hectic schedule, and the expense might be a little bit of possession and maybe some flair that we might have had last year. But we've got to win."