GALAXY: Spark sought vs. ailing Red Bulls
May, 4, 2012
5/04/12
6:50
PM PT
By
Scott French
| ESPNLosAngeles.com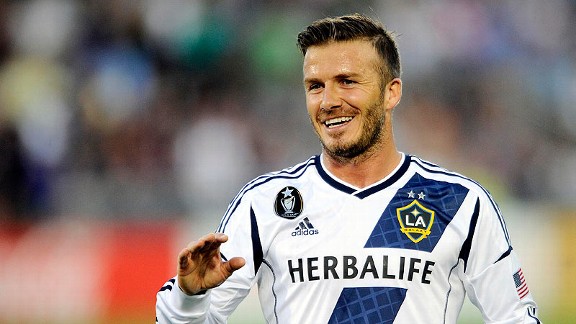 Ron Chenoy/US Presswire

CARSON -- A week ago the Galaxy were feeling pretty good about their progress following a poor start to their season while anticipating a three-game winning streak, proof of sorts that all was good.

After failing to win their third in a row, rallying in stoppage last weekend to tie visiting FC Dallas, and falling, 2-0, Wednesday at Seattle, they're looking for positive signs once more.

"There's no need to panic yet, but we want to get it sorted out as soon as possible," said David Beckham, who is expected to return to L.A.'s lineup for Saturday night's showdown the New York Red Bulls at Home Depot Center. "We can't continue going into games and going through the motions and not doing things right on the field, because it shows. When you don't get results, that's what you look for -- it's the simple things that we're not doing right. I don't think we need to start panicking too much, but it needs to start happening pretty soon."

The Red Bulls, which has become a rival of sorts since joining L.A. as a big-money club bringing in big-name Designated Players, could provide the perfect balm. They're missing a half-dozen starters -- including DPs Thierry Henry and Rafa Marquez -- to injury or suspension.

"You can perform two, three, perhaps maximum four games when your without six of seven regular players," Red Bulls coach Hans Backe said, "but then you will drop a little bit."

The Galaxy hopes that drop arrives now. They don't expect that will be so.

"Sometimes that's a good thing [to be missing starters]," Beckham offered. "Sometimes players who have not played games come in and want to prove themselves, and it's a tougher game."

It's certainly not the marquee matchup everyone expected in the teams' only regular-season meeting this year. Henry has been a clear-cut MVP favorite, scoring nine goals -- a good many of them sensational -- before going down last week with a hamstring injury that could sideline him for a month. Marquez is serving the last game in a three-match suspension for breaking San Jose midfielder Shea Salinas' clavicle with a football-style tackle followed by a kick three weeks ago.

Holding midfielder Teemu Tainio is out because of a sprained knee, and three first-choice defenders -- Wilman Conde, Roy Miller and Stephen Keel -- are dealing with a variety of ailments.

The Galaxy is looking for something elusive, the sense that things will be right no matter who they throw on the field and what competition they come up against. That swagger, built primarily through defensive dominance now absent with Omar Gonzalez out, was behind last year's run to the Supporters' Shield and MLS Cup triumphs.

"I think the beginning of the season was frustrating," Landon Donovan said. "Honestly, the last four weeks, I think we've been fairly consistent. We've made a few mistakes, but it's not like it was at the beginning of the year. We won two games that were good wins for us, one home [against Portland] and one away [at Colorado], and the Dallas game, we should have won that game. The Seattle game was a little bit of a letdown. I think we all feel that if we would have gone in 0-0 at the half, we could have regrouped and done a little better job. ... We weren't far away in that game. We weren't perfect, but we were close.

"I'm encouraged by how we're playing, but we had something about us last uear that found a way to get results when we weren't at our best, and we have to get back to that."

What will it take?

"A lot off hard work on the training ground. It's simple as that," Beckham said. "We were in for a bad stage at the beginning of the season, and we came out of it a little but, and we've come back into it slightly. We need to start showing people why we were champions last season, and that's having a strong defense, and once we've got that right, we're going to score goals. But at the moment, it's not right at all. All the way through the team."

Said Donovan: "There's perception and then there's reality. The perception, and it's partially reality: We're not playing up to our standard, which is true. The reality is if we win a game or a couple of games, we're [back on track toward] achieving our first goal, which is to make the playoffs every year. You don't want to get too carried away with that. However, a lot of teams say that 'it's OK, we have time,' and the next thing you know, you don't have time. I think for us more than anything it's about finding a way to win games. I meant, it's great to get better and play OK, but we have to win games. Period."

WORTH NOTING: Forward Robbie Keane and left back Todd Dunivant, who were left at home for the trip to Seattle, also figure to return to L.A.'s lineup, but it's possible others who played the past two games -- Donovan, defenders A.J. DeLaGarza and Sean Franklin, and midfielder Juninho all went 90 both games, and defender David Junior Lopes went 79 and 90 -- could be rotated out. ... Goalkeeper Josh Saunders remains unavailable because of a "personal matter." ... Backe says defender Jan Gunnar Solli will return to the lineup after missing last weekend's win over New England and Juan Agudelo, who underwent meniscus surgery after he was hurt during Olympic qualifying, could play 20 minutes. ... The Galaxy lead the all-time series, 19-17-7, but that includes a U.S. Open Cup victory and three playoff wins. New York has the edge in MLS regular-season games, 16-15-6. ... Backe says "definitely set plays will be so important for us to get some easy, cheap goals, so we have worked a lot with set plays." The Swedish coach said of the Galaxy: "Of course, they will be one of the teams at the end of the season that is going for the Cup. I mean, there is quality players at almost every position." ... Donovan on Fredy Montero's 35-yard blast for Seattle's second goal Wednesday night: "It was a fantastic goal. To do it on turf is not easy. To strike it the way he strikes it is very tough to do -- there's very few players who can do that. Cristiano Ronaldo can do that, a few others, but not many guys can hit the ball like that." Can he? "No."
NEW YORK RED BULLS
Head coach:
Hans Backe.
Key players:
F Thierry Henry, F Kenny Cooper, M Joel Lindpere, D/M Rafa Marquez, D Jan Gunnar Solli, M Teemu Tainio, M Dane Richards, F Juan Agudelo.
Local guys:
None.
Update:
When the Red Bulls are on, nobody can stay with them, but their explosive talent is matched by inconsistency -- and the club grossly underachieved last season. They've been fabulous at times this year, primarily through runaway MVP favorite Henry, but he's out with a hamstring injury, one of seven starters (and another could-be starter, in Agudelo) who have been sidelined in recent weeks. Cooper, an arrival from Portland, has fit in immediately (he has seven goals, two fewer than Henry) but New York's attack is ailing along with its knees and hamstrings: just four goals in the past three games after scoring 13 in the previous three. Things aren't so fine at the back, not just because of injuries. They've entrusted the nets to rookie
Ryan Meara
, who looked good in last week's shutout win over New England, but struggled to find the right back four, with injuries and Marquez's faltering form playing havoc. Marquez is one of the biggest names in the league, but the Bulls are a better side when he's not in it. He's wrapping up a three-game suspension this weekend (that's five games he's been banned so far this year, first two for last year's playoff skirmish after he hurled the ball at Landon Donovan).
GALAXY
Out:
D Omar Gonzalez (left ACL tear), D Leonardo (right ACL/LCL tears).
Questionable:
G Brian Perk (sports hernia surgery).
NEW YORK RED BULLS
Out:
M Teemu Tainio (right knee sprain), F Thierry Henry (right hamstring strain), F Jose Angulo (right knee sprain), D Stephen Keel (back strain), D Roy Miller (left knee effusion), D Wilman Conde (left groin strain).
Questionable:
F Juan Agudelo (left knee surgery recovery), D Jan Gunnar Solli (left calf strain).
Home Depot Center (Carson), 5 p.m.
Referee:
Kevin Stott
TV:
ESPN and ESPN Deportes
Radio:
K-Talk (KTLK-AM/1150, English) and ESPN Deportes (KWKW-AM/1330, Spanish)