Donovan's actions: louder than his words?
May, 27, 2012
5/27/12
5:17
PM PT
By
Scott French
| ESPNLosAngeles.com
Landon Donovan's phenomenal performance in the U.S. national team's rout of Scotland on Saturday night rang loud and true, each of his three goals providing context to his remarks last week that intimated he no longer has the hunger, the commitment, to succeed at the highest levels of his sport.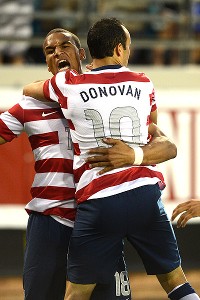 Gary Bogdon/Getty ImagesLandon Donovan gets a congratulatory hug from teammate Terrence Boyd after Donovan scored the first goal for Team USA against Team Scotland at EverBank Field in Jacksonville, FL.
It's been a challenging 12 months for Donovan, who battled injuries as he never has while leading the Galaxy to the greatest season in Major League Soccer annals, enjoyed another superb spell in England with Everton, celebrated his 30th birthday and struggled to find his best form as L.A. followed up last year's titles with a horrid start to the current season.

He'd been away from the national team since last September, declining call-ups because he was hurt or ill or exhausted, and, having crossed into his fourth decade, has been forced to consider how much time he has left on the field.

His showing Saturday night in Jacksonville, Fla., with a hat trick priming the Americans' 5-1 romp over the Scots, suggests he remains the most potent force for the national team, no matter Clint Dempsey's stature. As U.S. coach Jurgen Klinsmann noted afterward: "Now we have Landon back, and he gives us the goals. We can't complain tonight."

Donovan set another U.S. record with his 125th international start, and he extended his record goal total to 49 -- and his record assist total to 48 by setting up Jermaine Jones' goal -- while proclaiming he doesn't "want to be mistaken for not caring. I care, and I like being a part of this team. I'm a professional, and I know how to do my job. I've been doing this a long time."

Donovan is fiercely intelligent, sharply introspective and uncommonly honest, if not quite as open as he was before Grant Wahl's book on David Beckham appeared a few years ago. Detractors have long questioned his commitment, largely because he hasn't made playing in Europe a priority, even as he has set standards for Americans with the quality of his play, ability to see the game and drive for success, in MLS and with the U.S. team.

His commitment and hunger faced heavy scrutiny after he spoke candidly Wednesday in a roundtable interview with journalists in Florida about the challenges in maintaining the focus necessary to prosper at the top levels of the game.

"That's a part that's always a challenge for athletes: trying to keep the passion alive while knowing it's still your job," Donovan said. "There's no question that at some point, probably sooner rather than later, I'll be pretty burned out. And when that time comes, then I'll take a step back and take a look at it and see if I want to keep going."

Donovan's contract with the Galaxy lasts through 2013, and he says "ideally" he'd "like to play a couple more years and hopefully get to the World Cup, assuming I'm still enjoying it and passionate about it, and then sort of reevaluate from there and see where I want to go. That would be a perfect world."

He'll be 32 when the World Cup kicks off in Brazil, and there's no guarantee he'll have the passion needed. He said there has been "transformation" in how he approaches his job just in the two years since he led the U.S. into the knockout stages in South Africa.

"In 2010 I was so eager to show myself that I could still do it," he said. "2006 was so disappointing [with the U.S. exiting winless from the World Cup in Germany]. There was that sort of passion and hunger. Candidly, the last few years -- last year included, even though we won the championship [in L.A.] -- there's more of a reality that I'm not going to be able to do this forever. I'm not going to want to do this forever. I know that I have many better things and greater things to do in my life still.

"There's a natural point where it's not as fun anymore, not as enjoyable, and you still try to find ways to keep it enjoyable. I used to think maybe if I'm still fit, I can play a long time. I think from a mental standpoint now I'm realizing if I'm not enjoying it, I'm not going to play. I still enjoy it to a large extent, but I've always promised myself that if that ever goes away, I'm not going to play just to play."

Donovan has been a known entity since he was 17 and won the Golden Ball as MVP of the 1999 FIFA U-17 World Cup in New Zealand, and he's been at the heart of this country's rise to legitimacy -- and more -- in international soccer. His retirement will end an era, and that end is near, whether two or four or six years down the road. But it's not here yet, as he demonstrated Saturday.

His message is more than "I'm not going to be able to do this forever." It's also "I can do this right now." He wanted to make that clear on Friday, after his words had been pored over and dissected.

"I'm trying to be present; I want to be in the moment," he told reporters. "I've been very candid and let people know how I feel, but the reality is that I still enjoy it. I still want to contribute to this team. I still care. I don't want people to get the wrong idea. I still enjoy being part of this, and if I didn't I wouldn't be here. I want to contribute in the right way."

WORTH NOTING: Terrence Boyd made his first start and Joe Corona won his first cap against the Scots. ... Michael Bradley scored the other U.S. goal, a brilliant bending blast to the upper-right corner. ... Donovan, who is from Redlands, last week said all players "reach a point in their career where it's natural to lose some of that hunger, that desire, to sort of break out or be a star. My mindset now is I want to be successful, and I realize now that as I'm getting older, I'm not going to be the guy who's scoring goals every game or making a great impact all the time. I'm going to do it as much as I can in that way. But if I can be a part of the team and help lead it to successful times, then that's what I want to do. I know at some point, and I had a small brush with this with Bob [Bradley, the former U.S. coach] last time at the Gold Cup, at some point the time will come when I'm not a first-choice player. And the challenge then will be how do I still make a positive impact? I want to be a positive influence. I want to be someone who they want to call in and want here consistently, regardless of my role."