MLS WEEKS 15/16: Henry's arrival lifts New York's prospects
July, 14, 2010
7/14/10
3:24
PM PT
By
Scott French
| ESPNLosAngeles.com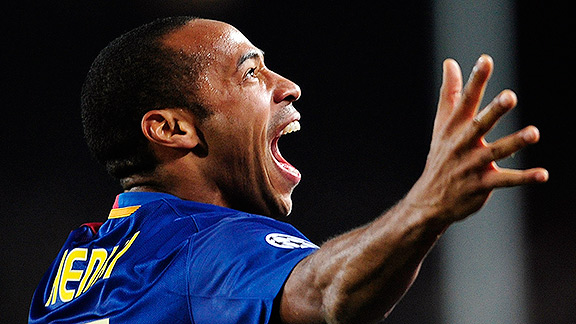 AP Photo/Manu Fernandez
Thierry Henry, the only Frenchman to play in four World Cups, will be joining the Red Bulls of Major League Soccer.
It's not how a team starts in Major League Soccer, but rather the moves it makes in the middle that most determines how it finishes. Rosters are never set until August, and summer acquisitions -- during the brief offseason for Latin America and most of Europe -- often influence the playoff chase more than early-season form.
So … watch out for the Red Bulls?
The worst-kept secret in league history is out, officially now, with New York's management announcing it has reached a multiyear deal with Thierry Henry. The wing-attacker, among his generation's greatest stars and the only Frenchman to play in four World Cups, will be introduced at a news conference Thursday in New York.
Henry, 32, whose move to New York has been rumored for years and had appeared certain since this season began, will be among the biggest names ever to play in MLS, alongside Lothar Matthaeus and David Beckham.
"Thierry joining the Red Bulls is great," Beckham, who is missing this season with the Galaxy after snapping his Achilles' during his loan spell in Italy, said in an interview with Reuters. "I knew that he was interested in coming to the MLS because we've talked many a time about it, and I've known for a while certain things.
"Thierry going there can only be good for the sport because it raises the profile, gets people talking about the MLS again and it makes it bigger. … For a player of his caliber and a name that he's got around the world and in the sport, for him to be going to New York and playing for Red Bull is exceptional."
Henry, now perhaps best known for the hand ball that led to France's clinching goal in a World Cup Cup qualifying playoff last year against Ireland, was part of the winning sides at the 1998 World Cup and 2000 European championship and played in France's disastrous campaign in South Africa. He has made 123 appearances for France, scoring 51 goals, and played for big clubs in France (AS Monaco), Italy (Juventus), England (Arsenal) and Spain (Barcelona).
"This marks an exciting new chapter in my career and life -- it is an honor to play for the New York Red Bulls," Henry said in a statement. "I am fully aware of the team's history, and my sole goal during my time here is to help win the club its first championship."
The Red Bulls (formerly the MetroStars) have been among MLS's least successful clubs, posting just five winning records in 14 seasons (twice finishing one game above .500) and reaching the MLS Cup final just once, losing to Columbus at Home Depot Center after a stunning run through the 2008 playoffs. After a 5-19-6 campaign last year, New York appointed Swede Hans Backe as head coach, and he's guided the club to an 8-5-2 mark, just two points behind Eastern Conference leader Columbus.
Backe said Henry would be paired with Juan Pablo Angel up front, telling MLS's Web site: "He will play as the highest striker. And we know he's very, very mobile. That means he would probably be on both the left- and right-hand sides. That's one of his favorite positions to start the attacking game, but he will definitely play as a striker."
Henry will certainly be the biggest name to arrive during international soccer's summer Transfer Window, which opens Thursday and runs through Aug. 15. Players out of contract can sign at any point.
OTHER MOVES:
Chivas has signed Mexican winger Rodolfo Espinoza, to go along with Venezuelan forward Giancarlo Maldonado and Brazilian midfielder Paulo Nagamura (who's returning to the Goats after six months in Mexico), and Brazilian forward Maicon Santos, whom Chivas released two weeks ago, has rejoined former Goats coach Preki at Toronto FC. (He came close to scoring twice off the bench in the Reds' victory last weekend over Colorado.)
Big news also out of Houston, which has released Mexican forward Luis Angel Landin, its Designated Player. "We are sorry things didn't work out with Luis Landín," Dynamo chief operating officer Chris Canetti said in a statement. "Our hopes and expectations for this signing were never met."
The Dynamo has brought in Ghanaian midfielder Anthony Obodai, who has spent his professional career in Holland, most recently with RKC Waalwijk, and announced assistant coach John Spencer, a Scottish former striker who finished his playing career with Colorado. Spencer, who has assisted Houston head coach Dominic Kinnear for 4½ years, is expected to be part of Portland Timbers' coaching staff when the club joins MLS next season.
ODDS AND ENDS:
Robbie Findley scored in his second straight game since returning from the World Cup, converting a penalty kick in Real Salt Lake's 1-0 victory at Chicago. … San Jose ended a five-game winless streak with a 2-1 comeback triumph at Philadelphia. Arturo Alvarez's last-minute winner came courtesy of Bobby Convey's eighth assist. … David Ferreira scored for the third successive game, netting the equalizer in the 87th minute of FC Dallas' 1-1 draw at Seattle, which lost first-time starter Miguel Montano to a red card 11 minutes into the second half. … Houston's MLS winless streak reached six games with a scoreless draw at home against Chicago. The Dynamo would have won had Brian Ching scored into an empty goal rather than fire Danny Cruz's cross over the crossbar in the 24th minute.
Last week's scores (home teams listed first)
Thursday

Chicago 0, Real Salt Lake 1 (Findley pen. 40)
Saturday

New England 2 (Perovic 67, Nyassi 74), L.A. Galaxy 0
Kansas City 0, Chivas USA 2 (Braun 56, 87)
Toronto FC 1 (Ibrahim 20), Colorado 0
Philadelphia 1 (Fred 14), San Jose 2 (Glen 45, Alvarez 90)
New York 0, D.C. United 0
Houston 0, Columbus 0
Sunday

Seattle 1 (Montero 14), FC Dallas 1 (Ferreira 87)
Standings
Western Conference:
Galaxy 36 points, Real Salt Lake 30, FC Dallas 22, Colorado 22, San Jose 22, Houston 19, Seattle 16, Chivas USA 14
Eastern Conference:
Columbus 28, New York 26, Toronto FC 22, Chicago 17, New England 14, Kansas City 12, D.C. United 12, Philadelphia 11
This week's games (all times Pacific)
Wednesday

Kansas City at Columbus, 4:30 p.m. TV: MLS Direct Kick
Thursday

Seattle at D.C. United, 5 p.m. TV: ESPN 2/ESPN Deportes
Saturday

Toronto FC at Philadelphia, 12:30 p.m. TV: MLS Direct Kick
New York at Columbus, 4:30 p.m. TV: MLS Direct Kick
Real Salt Lake at FC Dallas, 5:30 p.m. TV: MLS Direct Kick
Kansas City at Colorado, 6 p.m. TV: MLS Direct Kick
Sunday

L.A. Galaxy at D.C. United, 4:30 p.m. TV: Fox Soccer Channel/Fox Sports en Español
Leading goalscorers
1. Edson Buddle (Los Angeles) 10
2. Juan Pablo Angel (New York) 9
3. Dwayne De Rosario (Toronto FC) 8
4. Alvaro Saborio (Real Salt Lake) 7
5. Justin Braun (Chivas USA) 6
Conor Casey (Colorado) 6
Kei Kamara (Kansas City) 6
Sebastian Le Toux (Philadelphia) 6
Fredy Montero (Seattle) 6
Marco Pappa (Chicago) 6
Chris Wondolowski (San Jose) 6

OTHER GAMES
Last week's results (home teams listed first)
Tuesday
U.S. Open Cup: Houston 1 (Oduro 86), Chivas USA 3 (Braun 5, 90, Lahoud 65)
U.S. Open Cup: Columbus 3 (Renteria 38, Lenhart 70, Gaven 87), Charleston (USL-2) 0
Wednesday
U.S. Open Cup: Seattle 2 (Jaqua 50, 62), L.A. Galaxy 0

This week's games (all times Pacific)
Wednesday
Friendly: Celtic (Scotland) at Philadelphia, 5 p.m.
SuperLiga: Pumas UNAM (Mexico) at New England, 5 p.m. TV: TeleFutura (KFTR/Channel 46)
SuperLiga: Morelia (Mexico) at Chicago, 6:30 p.m. TV: Galavision
Thursday
SuperLiga: Pachuca (Mexico) at Houston, 5 p.m. TV: TeleFutura (KFTR/Channel 46)
SuperLiga: Puebla (Mexico) at Chivas USA, 7:30 p.m. TV: TeleFutura (KFTR/Channel 46)
Saturday
Friendly: Tottenham (England) at San Jose, 1 p.m. TV: ESPN/ESPN Deportes
SuperLiga: New England at Chicago, 4 p.m. TV: TeleFutura (KFTR/Channel 46)
Sunday
Friendly: Seattle at Celtic, noon. TV: ESPN/ESPN Deportes
SuperLiga: Chivas USA at Houston, 5 p.m. TV: TeleFutura (KFTR/Channel 46)