Former L.A. Sol superstar Marta scored her first goal since moving to FC Gold Pride, adding an insurance tally in the Bay Area club's 3-1 win over reigning Women's Professional Soccer champion Sky Blue FC in Castro Valley.
Canadian striker Christine Sinclair scored the first two goals for Gold Pride (1-1-0, 3 points), and rookie Kelley O'Hara, who won the MAC Hermann Trophy as college soccer's top player last fall at Stanford, assisted two goals.
[+] Enlarge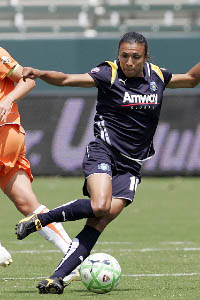 AP Photo/Lori Shepler
Marta, shown playing for the L.A. Sol last season, scored her first goal for FC Gold Pride on Saturday.
Marta, who headed north when the Sol suspended operations after talks with potential new owners broke down in January, scored in the 83rd minute. Finnish striker Laura Kalmari scored for Sky Blue (1-1-0, 3), which is from New Jersey.
Marta wasn't the only former Sol player who found the net in Week 2. Defender Allison Falk, who scored the first goal in WPS history, netted expansion Philadelphia's first goal, answering English star Kelly Smith's strike in a 1-1 draw with Boston. Philly is 0-0-2 (2 points) and Boston is 1-0-1 (4 points).
Casey Nogueira, the Sol's top pick in January's college draft, pulled Chicago (0-1-1, 1) even with Saint Louis (1-0-1, 4).
U.S. national team star Abby Wambach scored one goal and assisted two more to lead Washington (1-1-0, 3) to a 3-1 victory over expansion Atlanta (0-1-1, 1). Swiss forward Ramona Bachmann scored the first goal in Atlanta's WPS history.
This week's scores (home teams listed first):
Saturday
Chicago 1 (Nogueira 60), Saint Louis (Chalupny 5)
FC Gold Pride 3 (Sinclair 12, 76, Marta 83), Sky Blue FC (Kalmari 51)
Sunday
Boston 1 (Smith 50), Philadelphia 1 (Falk 56)
Washington 3 (Wambach 44, Sawa 51, Welsh 90), Atlanta 1 (Bachmann 48)