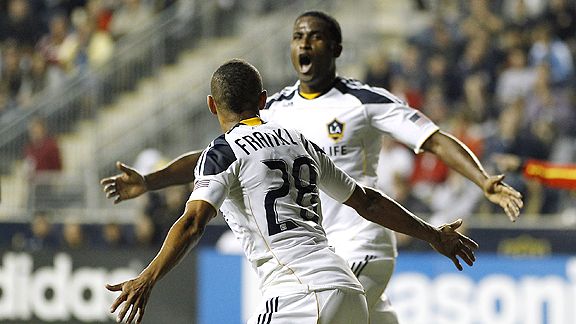 AP Photo/Matt Slocum
Edson Buddle gets ready to celebrate with Galaxy teammate Sean Franklin after Buddle's first-half goal Thursday at Philadelphia.
Thursday night's 1-0 victory at Philadelphia didn't come easy, but it just might be enough to give the Galaxy the regular-season rewards it most desires.
Their lead on Real Salt Lake in the Western Conference and Supporters' Shield races is five points -- the Utahns can trim it back to two with a win Saturday over the Red Bulls in New Jersey -- with just two games left on their slate, a week from Saturday against Colorado and Oct. 24 against FC Dallas, both at Home Depot Center.
David Beckham, who scored on a free kick in L.A.'s SuperClasico victory Sunday over Chivas USA, delivered again from a set piece, sweetly curling a 27th-minute free kick onto the head of Edson Buddle, who outmaneuvered Philly's Michael Orozco to flash it inside the far post.
The sequence gave Buddle, MLS's Golden Boot leader, a career-high 16th goal, and Beckham his first assist, which he celebrated by applauding the sellout crowd of 18,779 at PPL Park that greeted nearly all of his touches with boos.
But let's be clear: This one belonged to goalkeeper Donovan Ricketts, who in one of his finest displays of the season made three superb stops to notch his 11th league shutout (tying Kevin Hartman's 1999 franchise record) and the team's 12th -- and only its third since starting the campaign with nine clean sheets in the first 11 games.
Good thing the Jamaican was on, because so was Philly, which had far more possession and better scoring opportunities while doing a fine job of bottling up Galaxy captain Landon Donovan.
Sebastien Le Toux showed why, for a team that was never in the playoff chase, he is a legitimate MVP candidate, superbly orchestrating the Union attack and creating all three would-be goals for Philadelphia.
Ricketts was superb on all three:
The Frenchman's third-minute free kick from the left flank, maybe 40 yards out, that swerved toward the upper-right corner only to be parried away by the leaping keeper.
Le Toux's nifty back-heel from Andrew Jacobson's nice feed in the 73rd minute, a subtle redirection that forced a sprawling stop by Ricketts.
A nice stop on Shea Salinas' blast from the right, from Le Toux's perfectly weighted ball, that might have wrong-footed Ricketts on another day.
Ricketts was an MLS Goalkeeper of the Year candidate early in the season -- that award will go to Hartman, so exceptional for FC Dallas this year -- but he's had his struggles along with the Galaxy's the past four months. His form has improved in the past month, and Thursday's performance was a good sign for L.A. with the postseason just three weeks away.
L.A. set a league record for fewest away goals conceded in a season -- just seven, while going 9-3-3 -- and there's a caveat in these numbers for anyone who believes this might be over, what with the Galaxy closing with two home games. Nine of L.A.'s 12 shutouts have been away from Home Depot Center: That's nine in 14 matches. In 15 played at HDC, including the "away" game last weekend against Chivas, the Galaxy has just three shutouts, and they have surrendered 15 goals.