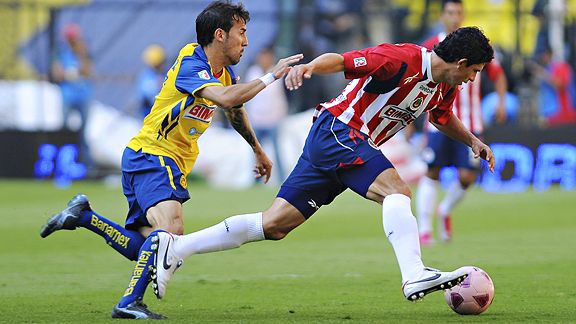 Jaime Lopez/Getty Images
Vicente Sanchez, left, of America vies for the ball with Jonny Magallon of Chivas during Sunday's game.

The rule of thumb is you play to win at home and to tie on the road, but Sunday's 0-0 draw at America in the 206th edition of Mexico's "Super Clasico" wasn't enough for Guadalajara, which faces a difficult path to get into the Primera Division's Apertura playoffs.
Chivas (3-3-7) are fourth in Group 1 and 11th overall, and they're only two points behind eighth-place America (4-3-6), which held onto its spot in the playoff zone despite its third successive draw. But the Goats finish with a brutal schedule, with games in this week's "doble jornada" against fifth-place (and reigning champion) Toluca and at third-place Santos Laguna, followed by showdowns with No. 1 Cruz Azul on Nov. 6 and at No. 2 Monterrey on Nov. 13.
Six clubs -- Pumas UNAM, Morelia, Pachuca, Puebla, Gallos Blancos in addition to Guadalajara -- are within three points of a top-eight slot, and only Cruz Azul and Monterrey are assured of playoff berths, realistically if not mathematically.
"Now we depend on what other teams do, and that is a very complicated position," Jose Luis Real, Guadalajara's head coach, told the media following Sunday's draw. "But we can't surrender -- we are going to try to qualify. As long as we are alive, we will fight for the postseason."
Chivas have won just once in its last eight games and have picked up only seven of 12 points against the division's three worst clubs: They lost at Atlante in August, beat crosstown rival Estudiantes Tecos in early September, managed only a 2-2 draw with Atlas, their other Guadalajara rival, the first weekend in October, and beat Necaxa last week.
In games against eight of the nine clubs battling for the final four postseason berths -- Toluca is the ninth -- the Goats are 0-2-6, 0-2-2 at home.
Club Deportivo Guadalajara possesses the most Mexican professional top-tier titles (11, the last in the 2006 Apertura, eight seasons ago) and counts a huge, fanatical following in Southern California, and not just among the millions in the region with roots in Jalisco. Chivas, in part because of their policy to field only Mexican players, have a deep national following that extends to Mexicans around the world.
It's part of what makes the "Clasico" one of the world's great rivalries. America, from Mexico City, represents the country's elite, and its owners' deep pockets have lured top players from throughout Latin America and on occasion Europe to Estadio Azteca. The rivalry is the capital vs. the provinces, the elite vs. the people, the world vs. Mexico, and the standing of the clubs has no bearing on the intensity of the games.
Sunday's meeting was intense, and Omar Arellano nearly gave Chivas a seventh-minute lead -- and Xavier Bez an advantage early in the second half, after dodging first-half chances by America's Vicente Sanchez and Matias Vuoso.
ALMOST THERE: Cruz Azul (9-2-2) was two minutes plus stoppage from clinching a playoff berth, but settled for a 1-1 draw Sunday at Morelia after Miguel Sabah's late equalizer. The Cementeros are 10 points ahead of Jaguares and 11 ahead of Pumas UNAM in Group 3 with four games to play. The top two teams in each group are assured postseason play.
Monterrey (8-0-5), too, is on the verge after a 2-1 victory over Santos Laguna -- its only competition for the Group 1 lead -- as Chilean World Cup forward Humberto Suazo scored his 10th goal of the campaign and Osvaldo Martinez netted the winner three minutes into the second half. The Rayados are second overall, even on points with Cruz Azul but behind on goal difference, and Santos is third, even on points with Group 2 leader San Luis but ahead on difference.
Christian Benitez netted his league-best 12th goal for Santos.
ETC.: Toluca ended a 342-minute drought on 2006 Mexico World Cup midfielder Zinha's free kick just before halftime of a 2-1 victory Sunday over Puebla. The Diablos Rojos (5-3-5) had been shut out in successive weeks by Santos, Cruz Azul and Monterrey. … Alfredo Moreno tallied twice to lead Atlas (3-8-2) to a 3-1 triumph over visiting Atlante (2-8-3) in a showdown of the division's bottom two sides. … Jaguares (5-4-4) are seventh overall after their fifth win in seven games, a 2-0 decision over Pachuca, with Danilinho setting up Jorge Rodriguez's and Jackson Martinez's goals. … Sixth-place Tigres (5-4-4) is 3-1-2 in their last six following a 2-0 triumph over Pumas, which hasn't posted back-to-back wins all season.
LIGA DE ASCENSO: Club Tijuana is the first side to clinch a postseason berth and is on the verge of nailing down the No. 1 spot -- and a bye to the semifinals -- following a 2-1 victory at last-place Atlante Neza. The Xolos (9-0-5), who rallied from an early deficit on an own goal and Mauro Gerk's strike eight minutes into the second half, lead second-place Veracruz (7-1-6) by five points.
Veracruz needed a late goal for a 2-2 draw at fifth-place Alacranes (6-4-4) after Eder Pacheco scored his 10th and league-leading 11th goals in Durango. … Juan Manuel Sara scored his ninth and 10th for Lobos BUAP (7-5-2), which ended a three-game losing streak with a 4-0 rout of Dorados to jump into third place, ahead of Indios de Ciudad Juarez (6-3-5) on goal difference. … Former Chivas USA winger Francisco Mendoza netted his fourth goal in Indios' 1-1 draw at La Piedad. … Former Chivas USA forward Roberto Nurse scored his seventh in Cruz Azul Hidalgo's 1-1 tie with Altamira. … Diego Esqueda's hat trick sunk skidding Irapuato, which has lost three in a row, in Leones Negros' 4-3 victory.
AMERICANS IN ACTION: Not a great week for the Yanks. Only three saw action in the Primera Division -- Sacramento's Miguel Angel Ponce went 90 for Guadalajara, Riverside's Sammy Ochoa came on at halftime for Estudiantes, and Texan Jose Francisco Torres was an second-half substitute for Pachuca -- and none of their teams scored. At least Ponce, Chivas' left back, played a role in a shutout in his Clasico. Joe Corona started in Tijuana's win in the Ascenso.
Past week's games (home teams listed first)

Friday

Necaxa 0, San Luis 2 (Matellan 22, M. Arroyo 92+)

Saturday

Gallos Blancos de Queretaro 1 (S. Blanco 67), Estudiantes Tecos 0

Jaguares de Chiapas 2 (J. Rodriguez 34, J. Martinez 75), Pachuca 0

Santos Laguna 1 (C. Benitez 33), Monterrey 2 (Suazo 4, O. Martinez 48)

UANL Tigres 2 (Juninho 22, D. Alvarez 77), Pumas UNAM 0

Atlas 3 (A. Moreno pen. 20, 70, G. Espinoza 48), Atlante 1 (C. Bermudez 59)

Sunday

Morelia 1 (Sabah 88), Cruz Azul 1 (Aquino 73

Toluca 2 (Zinha 44, H. Mancilla 70), Puebla 1 (Pereyra 18)

America 0, Guadalajara 0
Standings

Group 1: Monterrey 29 points, Santos 22, UANL Tigres 19, Guadalajara 16, Necaxa 13, Estudiantes Tecos 12

Group 2: San Luis 22 points, Toluca 20, America 18, Pachuca 16, Atlas 11, Atlante 9

Group 3: Cruz Azul 29 points, Jaguares 19, Pumas UNAM 18, Morelia 16, Puebla 15, Gallos Blancos 15

Overall (top 8): 1. Cruz Azul 29 (+16 goal difference), 2. Monterrey 29 (+12), 3. Santos 22 (+7), 4. San Luis 22 (+3), 5. Toluca 20 (+1), 6. UANL Tigres 19 (+8), 7. Jaguares 19 (+6), 8. America 18 (+2). Playoffs: If season ended now, the top eight would qualify

Relegation percentage: 1. Necaxa (13 games/13 points) 1.0000; 2. Atlante (81/92) 1.1358; 3. Gallos Blancos (47/54) 1.1489; 4. Atlas and Jaguares (81/96) 1.1852
This week's games (all times Pacific)

Tuesday

UANL Tigres at Pachuca, 6 p.m.

Atlas at Pumas UNAM, 7 p.m.

Wednesday

Necaxa at Estudiantes Tecos, 3 p.m.

Morelia at Jaguares, 6 p.m.

Santos at Puebla, 6 p.m.

Toluca at Guadalajara, 6:30 p.m.

Gallos Blancos at Atlante, 7 p.m.

Cruz Azul at Monterrey, 7 p.m.

Thursday

America at San Luis, 6 p.m.

Saturday

Puebla at Cruz Azul, 3 p.m.

Pumas UNAM at Gallos Blancos, 3 p.m.

Guadalajara at Santos, 5 p.m.

Jaguares at UANL Tigres, 5 p.m.

Pachuca at Atlas, 6:45 p.m.

Sunday

Monterrey at Morelia, 10 a.m.

San Luis at Toluca, 10 a.m.

Estudiantes Tecos at America, 2:30 p.m.

Atlante at Necaxa, 3 p.m.

Schedule subject to changeLeading goalscorers

1. Christian Benitez (Santos) 12

2. Humberto Suazo (Monterrey) 10

3. Itamar Batista (UANL Tigres) 8

4. Sergio Blanco (Gallos Blancos) 7

Johan Fano (Atlante) 7

Christian Gimenez (Cruz Azul) 7

Gabriel Pereyra (Pubela) 7

8. Edgar Benitez (Pachuca) 6

Carlos Ochoa (Jaguares) 6

Javier Orozco (Cruz Azul) 6

Matias Vuoso (America) 6
OTHER GAMES

Last week's results (home teams listed first)

Tuesday

CONCACAF Champions League: Santos Laguna 6 (Peralta 20, 51, Luduena 27, 87, Ruiz 40, Quintero 81), Municipal (Guatemala) 1 (Castillo 39)

CONCACAF Champions League: Real Salt Lake 3 (USA) (Araujo 43, 67, Warner 69), Cruz Azul (Mexico) 1 (Villaluz 71)

Wednesday

CONCACAF Champions League: Toluca (Mexico) 5 (Mancilla 19, 56, 90, Cuevas pen. 55, Calderon 87), FAS (El Salvador) 0

CONCACAF Champions League: Marathon (Honduras) 0, Monterrey (Mexico) 1 (Santana 69)
Past week's results (home teams listed first)

Saturday

Pumas Morelos 0, Guerreros FC 0

Albinegros de Orizaba 2 (J. Cavallo 54, A. Orozco 87), Merida FC 1 (A. Herrera 56)

Alacranes de Durango 2 (Eder Pacheco 50, 74), Veracruz 2 (Maz 48, L. Hernandez 82)

Irapuato 3 (J. Perea 25, A. Gonzalez 31, E. Gonzalez 45), U de G Leones Negros 4 (Regis 9, Escueda 11, 15, 71)

Sunday

UAT Correcaminos 1 (R. Ramirez 86), Leon 2 (L. Delgado 22, Ceja 55)

Lobos BUAP 4 (Sara 57, 87, Metlich 72, J. Alfaro 92+), Dorados de Sinaloa 0 Atlante Neza 1 (F. Herrera 16), Club Tijuana XC 2 (og L. Velazquez 28, Gerk 53)

Cruz Azul Hidalgo 2 (Nurse 4), Altamira 1 (Saldivar 92+)

La Piedad 2 (J. Barrera 35, Murguia 86), Indios de Ciudad Juarez 2 (F. Mendoza 45, J. Echavarria 60)
Standings: x-1. Club Tijuana Xoloitzcuintles de Caliente 32 points, 2. Veracruz 27, 3. Lobos BUAP 23, 4. Indios de Ciudad Juarez 23, 5. Alacranes de Durango 22, 6. Albinegros de Orizaba 21, 7. Pumas Morelos 20, 8. Irapuato 20, 9. Dorados de Sinaloa 19, 10. Leon 18, 11. Altamira 18, 12. Guerreros FC 18, 13. Cruz Azul Hidalgo 16, 14. U de G Leones Negros 15, 15. La Piedad 15, 16. UAT Correcaminos 11, 17. Merida FC 10, 18. Atlante Neza 8 (x -- clinched playoff berth)This week's games (all times Pacific)

Friday

Pumas Morelos at Altamira, 5 p.m.

Atlante Neza at Leones Negros, 6:45 p.m.

Saturday

Irapuato at Guerreros, 4 p.m.

Indios de Ciudad Juarez at Veracruz, 5 p.m.

Albinegros de Orizaba at Alacranes de Durango, 5 p.m.

Lobos BUAP at Merida, 5:05 p.m.

Correcaminos at Dorados de Sinaloa, 6 p.m.

Cruz Azul Hidalgo at Leon, 6 p.m.

Sunday

La Piedad at Club Tijuana, 1 p.m.

Schedule subject (and likely) to changeLeading scorers

1. Eder Pacheco (Alacranes) 12

2. Juan Manuel Sara (Lobos BUAP) 10

3. Juan Manuel Cavallo (Albinegros) 8

4. Eduardo Lillingston (Indios) 7

Roberto Nurse (Cruz Azul Hidalgo) 7

Mauricio Romero (Veracruz) 7

Miguel Zepeda (Leones Negros) 7

8. Jared Borgetti (Leon) 6

Hector Gimenez (Guerreros) 6

Nelson Sebastian Maz (Veracruz) 6

Rafael Murguia (La Piedad) 6