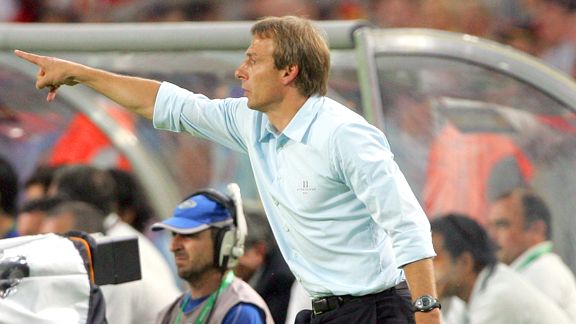 AP Photo/Frank Augstein
Juergen Klinsmann, a Huntington Beach resident who coached Germany in the 2006 World Cup, will be a consultant for Toronto FC.
Any conversations Chivas USA, seeking a replacement for ousted coach Martin Vasquez, might have wanted to have with Juergen Klinsmann aren't going to happen.
The Huntington Beach-based German legend has been signed on as a consultant for Toronto FC, which will use his company, SoccerSolutions, to rebuild its soccer infrastructure -- in need of an overhaul after the club's failure to reach the postseason in its first four seasons.
Klinsmann never was anything close to a frontrunner for the Chivas job, but his experience as a world-class player and high-profile coach, proximity to Carson and availablity meant he was someone the Goats, at the very least, needed to talk with.
Klinsmann starred in three World Cups and three European Championships, winning titles in each; won a bronze medal at the 1988 Seoul Olympics; and played for big clubs in Germany (VfB Stuttgart and Bayern Munich), England (Tottenham), Italy (Inter Milan and Sampdoria) and France (AS Monaco) -- and for one small club in Orange County (the semipro Orange County Blue Star, under the pseudonym Jay Goeppingen).
He guided Germany's national team to third place at the 2006 World Cup, then spent nine months in charge of Bayern Munich -- Vasquez and Chivas USA assistant coach Nick Thesloff were on his staff -- before clashes with the club's directors, in part over American-influenced methods regarded as revolutionary by the tradition-bound club, cost him his job.