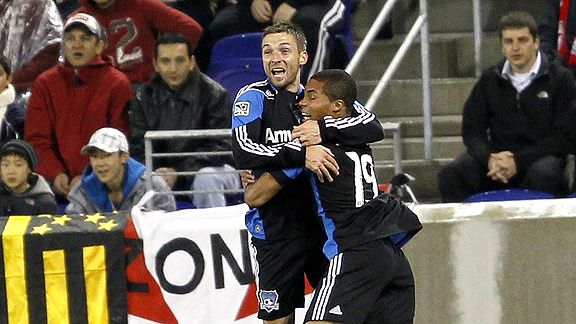 Chris Trotman/Getty Image
Bobby Convey's two goals helped lead San Jose to an upset of New York.
A look at Thursday's MLS postseason action:
IN BRIEF: Bobby Convey scores twice and sets up MVP finalist Chris Wondolowski's decisive header, and San Jose -- the lowest seeded team in the tournament -- pulls out a 3-2 aggregate stunner over Eastern Conference regular-season champion New York to reach the Eastern title game. The Earthquakes, just one win from their first MLS Cup final appearance since their 2008 restoration, score goals five minutes apart for the 3-1 second-leg victory, with Convey providing a would-be winner in the 76th minute and Wondolowski the actual winner in the 81st.
BEST PLAYER: Convey, a one-time teen phenom who was part of the 2006 U.S. World Cup team, was sensational on the left flank, in midfield for the first half and as left back after Ramiro Corrales departed just before halftime with a hamstring injury. Convey, allowed alone into the Red Bulls box by New York midfielder Rafa Marquez, side-footed San Jose to a sixth-minute lead after Ryan Johnson's cross wasn't adequately dealt with, turned Tim Ream at the top of the box to blast home Arturo Alvarez's feed for a 2-0 (and 2-1 aggregate) lead, then played a pefect cross for Wondolowski to nod home. His forays forward terrorized New York all night and enabled the Quakes, although outplayed much of the game, to maintain control from start to finish.
BEST GOAL: What a winner by Wondolowski. San Jose had gone ahead in the series on Convey's second goal with 11 minutes (plus two minutes of stoppage) to go, but Juan Pablo Angel -- playing his final game for New York, scoring his first goal since the end of July -- pulled the Red Bulls even by heading in teen sensation Juan Agudelo's short cross. With overtime maybe 10 minutes away, Wondolowski found space near the right post and looped Convey's to the upper-right corner. San Jose celebration was underway.
BIGGEST STOP: Earthquakes goalkeeper Jon Busch was outstanding all night, but never bigger than with a right-shin save after Mehdi Ballouchy escaped an offside call for a 1-on-1 blast in the 60th minute. If Ballouchy puts it away, it's 1-1 -- and that means it's 2-1 for the Red Bulls.
RED CHANCES: New York, which won in San Jose last weekend, started two of its three Designated Players, Angel and Marquez, and brought Thierry Henry -- MLS's biggest star, Beckham or no Beckham -- off the bench during a three-on/three-off swap in the 84th minute. Henry nearly netted a goal to tie the series in the 88th minute but put a clear header over the crossbar from within the 6-yard box, then was set for a close-range shot from Angel's header in the 90th minute but for a superb defensive play by Convey. Had Convey not been there, the offside flag was up. Agudelo, dangerous all night, hit the right post in the 39th minute.
WORTH NOTING: If Colorado holds onto its 1-0 lead in the second leg Saturday at Columbus, the Eastern Conference final will be between two Western teams, ensuring the second straight all-West MLS Cup final. ... San Jose is bidding to become the third eighth-overall seed to win an MLS crown, joining the 2005 Galaxy and last year's Real Salt Lake side.
QUOTE OF THE DAY: "I'm not saying it [will happen], but we can go all the way, sure. Why not? To come here and score three goals against a very good team, that's pretty good." -- San Jose coach Frank Yallop, who guided the old Earthquakes, now in Houston, to MLS titles in 2001 and 2003.
THE RESULTS
at Harrison, N.Y.
New York 1 (Angel 78), San Jose 3 (Convey 6, 76, Wondolowski 81)
(San Jose wins on aggregate, 3-1)
SATURDAY'S SECOND LEGS
Colorado at Columbus, 1 p.m., TeleFutura (KFTR/Channel 46). First leg: Colorado, 1-0
FC Dallas at Real Salt Lake, 7 p.m., Fox Soccer Channel and Fox Deportes. First leg: FC Dallas, 2-1
SUNDAY'S SECOND LEG
L.A. Galaxy vs. Seattle at Home Depot Center, 6 p.m., ESPN and ESPN Deportes. First leg: Galaxy, 1-0