GALAXY: Delight and, ultimately, disappointment
November, 21, 2010
11/21/10
12:21
AM PT
By
Scott French
| ESPNLosAngeles.com
TORONTO -- This is where the Galaxy wanted to be, planned to be: In Canada's largest city, preparing for Sunday's MLS Cup title game, 90 minutes from the club's first Major League Soccer championship in five years.
The disappointment from last weekend's loss to FC Dallas in the Western Conference final slowly is ebbing away, replaced by a broader perspective of what the Galaxy accomplished over eight months and what will be required to reach next year's goal: winning the MLS Cup title, of course.
L.A. posted the best record during MLS's regular season (18-7-5) -- that would have meant the championship in most leagues on the planet -- it won the Western Conference title, claimed the Supporters' Shield for the third time (gaining entry to the group stage of next season's CONCACAF Champions League) and came just a handful of miraculous Kevin Hartman saves of reaching an MLS-record seventh title game.
All in all, not bad. Just not good enough.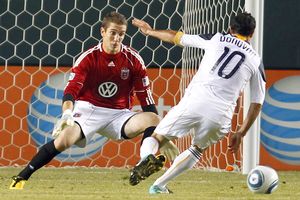 AP Photo/Lori SheplerLos Angeles Galaxy's Landon Donovan scores a goal against D.C. United's Troy Perkins, left, the second half of an MLS soccer game on Saturday, Sept. 18.


"It hurts. There's only one team that's happy at the end of the year," defender Todd Dunivant said a few days after FC Dallas' 3-0 triumph ended the Galaxy campaign. "It was a tough ending for us. We had every intention to get back to the Cup [after losing on penalties to Real Salt Lake in last year's final] and win it this year. But we've looked at the positives, too. We won the Supporters' Shield and qualified for the Champions League, so there are a lot of positives to take out of it."

Goalkeeper Donovan Ricketts acknowledges "it means a lot to lead the regular season. It's good. But in this league, it means nothing. Ultimately, you have to play the playoffs and get to MLS Cup. So the Supporters' Shield is only a consolation for me, personally.

"It's not bad we got some silverware. But that's not what I play for. I play for MLS Cup."

The Galaxy started strong -- they were 10-0-2, with nine shutouts, virtually assuring themselves a postseason berth before the World Cup kicked off -- and finished well and plugged along well enough during a tough, long spell in the middle of the season in which they rarely played enticingly to stay ahead of the pack.

Forward Edson Buddle has a superb season, scoring 19 goals in all and finishing second in the MVP balloting, but he was better at the start (scoring nine goals in the first six games, which won him a spot on the U.S. World Cup team) and at the end (six goals in the nine games leading to the FC Dallas defeat than in the middle.

Midfielder Landon Donovan, the Galaxy captain, led MLS with 16 assists and finished fourth in the MVP balloting, but he was drained by the end of the season, making a far more substantial contribution to the Galaxy's defensive play than to their attack.

Buddle and Donovan were deserving selections to the MLS Best XI all-league team, and they were joined by Ricketts and defender Omar Gonzalez, whose merits are more easily debated. Ricketts was the league's Goalkeeper of the Year, an astonishing honor given the performances of Hartman and Real Salt Lake's Nick Rimando.

Coach Bruce Arena called in an "awkward" season marred by injury, illness, tragedy and the World Cup.

Defenders Sean Franklin and A.J. DeLaGarza, midfielder Dema Kovalenko, forward Mike Magee and winger Eddie Lewis missed significant swaths of action, David Beckham wasn't near full strength until (if at all) the playoff arrived, and backline leader Gregg Berhalter was forced out by what was described as a mystery ailment.

Juninho, the best of the three Brazilians on loan from Sao Paulo, twice was called back to Brazil by family deaths, and his return trips to L.A. were tangled in bureaucratic red tape. The World Cup experience sapped Donovan and Buddle, two of four MLS players on the U.S. side, and they needed several weeks to find their form after returning from South Africa.

Even Arena was sidelined -- by a bout with dengue fever contracted during a Champions League trip to Puerto Rico.

The Galaxy might not have been the finest team in MLS this season -- Real Salt Lake would probably win a poll, and FC Dallas and the New York Red Bulls, when healthy, can make stirring arguments, too -- but they were the best over 30 games, and that has to count for something.

"Most players in this league will tell you, the Supporters' Shield is harder to win than the MLS Cup," Donovan said. "When it comes down to four games at the end of the year, generally, who plays well wins. You don't even have to win four games. You could tie two games and win in penalties and win two games. In that sense, it's more difficult to win over 30 games."

The reward just isn't as satisfying.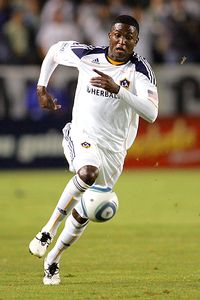 Victor Decolongon/Getty ImagesEdson Buddle of the Los Angeles Galaxy paces the ball on the counterattack against D.C. United during the MLS match at The Home Depot Center on September 18.
WHAT WORKED/WHAT DIDN'TThe Galaxy was almost unbeatable when they scored early. They went ahead in the first half hour in each of their 10 wins at the start of the season -- six times in the first 12 minutes -- and the groundwork for their 11th, 13th, 14th, 16th and 17th wins also was built with early strikes. Buddle was sensational up top, and the slowing of his scoring rate had more to do with how defenses adjusted to him than any lapse in form.

1. TIMELY GOALS VS. NO GOALS:

L.A. lacked another consistent scoring option. Five players partnered Buddle up top in MLS play -- Magee (10 games), Tristan Bowen (nine), Donovan (eight), Jovan Kirovski (seven) and departed Alan Gordon (four) -- and none of them scored as a forward after the World Cup break.

2. DEFENSIVE STRENGTHS/WEAKNESSES: A lot of credit for the Galaxy's shutout string at the start of the season goes to the backline and Ricketts, who were superb in shutting off opportunities for opponents. But once midseason arrived, so did the errors.

The Galaxy pushed its restraining line almost to midfield, and foes used through balls and balls over the top to speedy forwards and wingers to take advantage, forcing the retreating defenders into making mistakes or beating them with pace or quick combination play. That had much to do with the difficulties for two months following the World Cup. During one stretch, L.A. lost seven of 11 games -- one of them was a friendly, against Real Madrid -- while conceding 21 goals.

The Galaxy restored its form at the close of the season and into the playoffs, and that was all about defending. The return of Kovalenko from injury was huge -- nobody on the roster and very few in the league can match his bite and commitment to midfield defense -- and so was a heightened emphasis to defending all over the field. Donovan, Beckham and Buddle were three of L.A.'s best defensive players down the stretch.

3. TACTICAL ACUITY: L.A. has the kind of talent in Donovan, Beckham and Buddle (and increasingly in Juninho) to create a dynamic attack, and there were plenty of signs early in the season that that was the first idea. But with Buddle and Donovan off in South Africa (and no prospect of Beckham's return from that torn Achilles' tendon; his return to training in August was at least two months ahead of schedule), opponents adjusted -- drawing the Galaxy attackers deep into their territory, then quickly counterattacking to create chances at the other end -- and L.A. went through an identity crisis of sorts.

What the club discovered was that it performs better when it allows the other team to hold onto the ball, when it closes off passing lanes and destroys space, and when it runs its attack off the counter. It wasn't always aesthetically pleasing, but it was a winning formula.

Playing into all of that: The Galaxy always played smart, a trait possessed by all Arena-coached teams. At their best, they managed games from start to finish, always disrupting their foes' flows with physical play, a foul early in a sequence, with tactics often called "professional." It paid off when the creative spark was missing: No other team in MLS was nearly as good at winning when not playing particularly well.

4. DEVELOPING TALENT: A lot of young players took steps forward this season, which bodes well for next year, as long as L.A. protects them during next week's expansion draft -- and protect them it will.

Gonzalez, the 2009 MLS Rookie of the Year, has quickly evolved into one of MLS's best center backs. His partnership with Berhalter, a veteran of two World Cups and 15 years in Europe, has been invaluable, but he spent as much time with others in the middle, and the most promising relationship he has is with A.J. DeLaGarza, his old college roommate and his backline partner when the University of Maryland won the 2008 NCAA title.

DeLaGarza, who's quick and relatively tiny (5-foot-9 to Gonzalez's 6-5), is the most versatile of L.A. defenders, but he might have won a starting job in the center with superb play while Berhalter was out and then during the postseason.

We knew right back Sean Franklin, the 2008 MLS Rookie of the Year, could attack the flank, but he progressed mightily as a defender as the year wore on, and his play against Seattle's Steve Zakuani during the playoff opener was inspiring.

Juninho, who has played mostly as a holding midfielder in Brazil, developed nicely in an attacking role, primarily as a linking player. His next step is from play-enabler to playmaker. Teen forward Bowen, who had just one minute of MLS action coming into the season, made 10 MLS starts and showed sparks of his promise.

And Michael Stephens, the rookie midfielder from UCLA, demonstrated great skill on the ball and tremendous vision. He hit the "rookie wall" in late summer and rarely played afterward -- had he, he might have been a Rookie of the Year finalist -- but he'll unquestionably make an impact next year.

WHAT'S NEEDEDL.A. desperately needs a second scoring option. Buddle was the only go-to guy on the field -- Donovan, too, can score, but he's more provider when he's stationed in midfield, and he seems to add more to the team from midfield -- and the burden of having to score isn't a desirable one.

1. HELP UP FRONT:

"I think the core of the team is very good …," Klein said. "But whatever we do, we need to find more goalscorers. … We need, obviously, someone else to put the ball in the net."

2. CREATIVITY: A true attacking midfielder, a la Dallas' David Ferreira or Real Salt Lake's Javier Morales, would greatly enhance the Galaxy attack, and then it might make sense to throw Donovan next to Buddle. That would be one of the best 1-2 punches in MLS.

Can Juninho grow into such a player? We're not sure. His growth this season was extensive, and similar advances next season could transform L.A.'s attack.

3. YOUTH: The Galaxy had decent depth, but there's a lot of old legs on the roster, even after the retirements of Clint Mathis, 33, Chris Klein, 34, and Eddie Lewis, 36.

Berhalter is 37, and he's mulling retiring, although our guess is he'll be back, perhaps in a less substantial role. Beckham, 35, has one more year on his Galaxy contract; he has no plans to go on loan in the winter, so L.A. might finally have him for a full season. Kovalenko is 33. Kirovski is 34.

Dunivant, who had a fine campaign at left back, will be 30 the day after Christmas. Buddle will be 30 in May. Even Donovan, who was 16 when he burst onto the U.S. soccer scene, is getting up there. He'll be 29 in March.

L.A. needs to get younger and faster and, especially in light of Dallas' and Colorado's runs to Sunday's MLS Cup final (ESPN and Galavision, 5:30 p.m. PT), more dynamic.

HIGH POINTSL.A. was downright great during that 10-0-2 start; for awhile it looked like they might go unbeaten -- not really feasible in a league with so much parity -- and it took a team of Real Salt Lake's caliber to finally knock them down.

1. THE BEGINNING:

2. SOUNDERS SERIES: Seattle had so much speed on the flanks and such a solid spine -- how were the Galaxy ever going to stop them in the first round of the playoffs? With smart, defensive play and timely attacks. It worked perfectly, and L.A. went into the Western Conference final as the odds-on favorite to win it all.

3. GALAXY 4, SOUNDERS 0: Back in May, well before Seattle figured itself out, the Galaxy gave the Sounders such a beating. The scoreline doesn't accurately express how impressively one-sided this victory was; that Sounders management gave refunds (as credit on season tickets next year, alas) to the 35,000 at Qwest Field speaks volumes.

LOW POINTSThe Puerto Rico Islanders are a fine team. They won the USSF D2 Pro League this season -- it's the No. 2 league in the U.S.; both MLS expansion teams next season played there this year -- and a legacy of toppling bigger, better foes in the regional club championship. That didn't lessen the sting of their 4-1 rout of L.A. in a preliminary-round opener. L.A. won the second leg, in Puerto Rico, but the series was already over.

1. CHAMPIONS LEAGUE:

2. JUNE … JULY … AUGUST: You could say the Galaxy was substandard from their first defeat, June 9 at RSL, until Beckham's return to the field in the Sept. 11 win over Columbus. And they weren't really all that good until falling behind FC Dallas in the regular-season finale. But that midseason stretch, the seven-losses-in-11-games stretch, was really poor.

3. NEW YORK 2, GALAXY 0: It was billed as an MLS Cup preview when the Galaxy and Red Bulls met at Home Depot Center on Sept. 24, even with Beckham still trying to regain fitness and Thierry Henry out with a knee injury. The Red Bulls were substantially better -- especially in midfield with Rafa Marquez and Tony Tchani in the middle and Dane Richards and Joel Lindpere on the flanks. How was anyone going to beat New York? Easy. Injuries.

NEXT YEARThis one's easy. They want to win MLS Cup. Nothing less will do.

"We didn't achieve what we set out to do, but to be honest, we can't say it was all bad," Ricketts said. "We led the league straight through the season. That was a positive. We have to work on closing the gap next season. We have to defend the Supporters' Shield, and we want to win MLS Cup.

"There's no time to rest. Every season you have to be better than the last."