MLS CUP: Pleasure and pain? Meet Mac Kandji
November, 21, 2010
11/21/10
11:34
PM PT
By
Scott French
| ESPNLosAngeles.com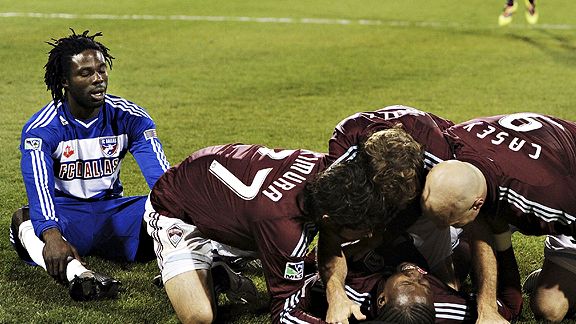 Harry How/Getty Images
Colorado's Macoumba Kandji is mobbed by teammates -- while FC Dallas' Ugo Ihemelu watches -- after having a hand in the winning goal for the Rapids.
TORONTO --
Macoumba Kandji
was hurting. He was on crutches. He'd never felt better in his life.
Ah, pleasure and pain. Not many know the balance between them better than the Senegal-born, Gambia-bred, Georgia-schooled forward, who had plenty to celebrate Sunday night -- and was due for an MRI exam Monday morning to assess damage to his left leg.
Kandji was responsible for the goal that lifted Colorado to the MLS Cup title, an overtime own goal by FC Dallas defender
George John
that completed a 2-1 turnaround that gave the Rapids their first piece of silverware.
Kandji was on a trainer's table while teammates feted their triumph with bad, smelly champagne. When he finally arose, gingerly stepping forward with a crutch under his left arm, defender
Drew Moor
wrapped him in his arms. The broad smile wasn't about to leave his face.
"It's fantastic, man," he said. "I'm just so happy."
Kandji had come on for
Omar Cummings
in the 98th minute. It was his second appearance in an MLS Cup final -- he was a late sub for the New York Red Bulls, while on loan from the Atlanta Silverbacks, then a second-tier club, in Columbus' 2008 triumph at Home Depot Center -- and this one was much more fulfilling.
His big moment arrived in the 107th, after FC Dallas failed to clear
Conor Casey
's cross from the left, and the ball squirted out to Kandji on the right side of the Hoops' box.
He stepped toward the goal, along the byline, first outbattling
Jair Benitez
. The ball rolled forward, and Kandji lunged at it, beating
Ugo Ihemelu
and toe-poking it toward Casey, who had roamed toward the left post.
As Dallas goalkeeper
Kevin Hartman
started moving down his line, toward Casey, John sought to stop the little cross. He stuck out his leg, the ball hit his thigh, and it ricocheted inside the right post.
Kandji already was flattened when the ball reached the net. Ihemelu fell on him as they collided, and that's when the pain shot through his leg.
"I thought he broke his leg," said Colorado goalkeeper
Matt Pickens
, who watched it develop from 80 yards away. "You could see it on the replay. They collided, and you could see his leg bow."
Kandji said his knee hyperextended when Ihemelu "sat on my leg. … I knew it had gone in, and then I tried to get up, but I couldn't."
Soon his teammates were on top of him, celebrating. "It was just crazy," he said. "But it was awesome."
Kandji, who joined the Rapids in September in the trade that sent Moroccan midfielder
Mehdi Ballouchy
to the Red Bulls, was lying prone on the field for a few minutes. FC Dallas, ready to kick off, got tired of waiting.
Ihemelu raced over and gave Kandji a shove, and Kandji shoved back. Hartman wagged his finger in Kandji's face.
"The thing that [made me mad] is they were trying to give me a hard time while I couldn't even walk, so that's why I turn around and got in a fight with them," Kandji said. "Because I was telling them that, you know, I'm not trying to fake. I would rather stay on the field and try to score another goal than try to fake it on the ground. I'm not that kind of player."
The goal officially was credited to John, an own goal. Kandji has different ideas.
"I wouldn't give him credit," he said. "I scored that goal. I'm never going to give that credit. That is my goal. He can try to claim it all he wants. They can claim it, that they scored an own goal, but I took the guy on, toe-poked the ball. He just happened to be there."
Colorado played the final 13 minutes without Kandji, staving off a Dallas onslaught with just 10 players. Nobody was happier than Kandji when the final whistle blew.
As he joined the celebration, he was asked how much pain he was in.
"I don't know," he replied. "I can't feel it because of the shock of this championship. We'll see once I lay down."