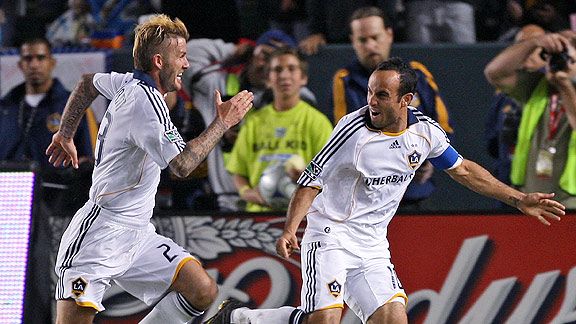 Juan Miranda/MLS/Getty Images
David Beckham, left, wants to pursue an offseason short-term loan deal, but Landon Donovan figures to be resting before the Galaxy opens training camp.
With so much ado about Landon Donovan and David Beckham and whether they'll be en route to European clubs after New Year's on new loan deals, the Galaxy finally put its foot down Tuesday. Or at least one foot.
The club declared that Donovan, its captain, would not be returning to England next month. As for Beckham, we'll see.
Donovan, apparently, is fine with staying home for the start of preseason training next month. Everton, with which he spent 10 glorious weeks last winter, wanted him back, and Fulham and Newcastle United also expressed interest in picking up the star forward/midfielder, who in a statement released by the Galaxy said it was "important" to regenerate before the 2011 campaign begins March 15.
Donovan said in early November that he wasn't sure whether he'd look for another short stint overseas -- he had a trying spell at Bayern Munich two years ago, followed by last season's Everton triumph -- but figured his interest would rise as January neared. He said he was congnizant that he only had so much time left to play top-level soccer (he'll be 29 in March) and wanted to take advantage of every opportunity that came his way.
His statement Tuesday: "While I enjoyed my time at Everton last season and still appreciate all the support their fans have given me, I feel that it is important to continue to rest and recover this offseason as opposed to going on loan. I never considered being loaned to a club other than Everton, but I have been playing nearly nonstop for the past two years, and I believe that this decision will allow me to perform at my best for the Galaxy and the national team throughout the upcoming year."
Whether or not the words are entirely Donovan's or truly capture his sentiments, the stance makes sense. Donovan has been playing nearly non-stop since the beginning of the 2008 season -- Galaxy (MLS Golden Boot)/national team/Bayern/Galaxy (MVP)/national team/Everton/Galaxy (top assists man)/World Cup/Galaxy -- and has a heavy year in front of him, with the Galaxy pushing hard for the MLS Cup title (with the possible addition of Juan Pablo Angel, and perhaps Ronaldinho, too) and the U.S. national team looking to regain the CONCACAF Gold Cup crown. He can use the time off.
Beckham's situation? Much different.
The English midfielder, who went to AC Milan on six-month loans the past two winters (and suffered a torn Achilles' tendon in Italy last March), had said upon returning to the Galaxy late last summer that he had no interest in pursuing another loan deal, but it appears he has changed his mind.
"I won't be going back to AC Milan this time because it is not possible to go onto the roster for such a short length of time," Beckham said after picking up a lifetime achievement award at the BBC Sports Personality of the Year ceremony Sunday in Birmingham, England. "But I will be going back somewhere, as I want to keep myself fit and keep myself in with a chance of getting called up for England again. To do that, I have to be somewhere, so fingers crossed I can sort something out."
The Galaxy's against it and expects him in L.A. when preseason camp opens, but a loan deal -- especially a shorter deal that would have him with the Galaxy before the MLS season begins -- might be beneficial for both club and player.
Beckham was sidelined for five months, didn't play in a competitive match for six and was just starting to find his form when the Galaxy's season ended in the Western Conference final. He doesn't need rest, he needs games.