Guardian angel leads Rafael Baca to MLS
February, 15, 2011
2/15/11
8:42
PM PT
By
Scott French
| ESPNLosAngeles.com
Loyola Marymount's
Rafael Baca
slipped more or less unnoticed through Major League Soccer's draft last month, but the most unexpected of meetings -- in the worst possible circumstances -- has led to a job in the league.
Baca, 21, on Tuesday hinted on his Facebook page and told the
San Jose Mercury News
that he has signed to play this season with the San Jose Earthquakes. The deal is pending league approval.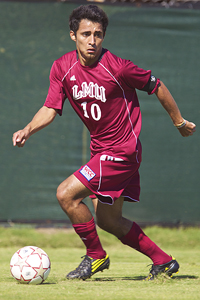 Courtesy of Loyola Marymount athleticsRafael Baca was a third-team All-American last season for Loyola Marymount.
The creative midfielder, an NSCAA third-team All-American after leading LMU to a share of its first West Coast Conference men's soccer title, had joined the Earthquakes on trial after running into assistant coach Ian Russell at Lions teammate David Kucera's funeral in the Bay Area.

It was a devastating day -- Kucera, a sophomore forward, died unexpectedly Jan. 9 -- that turned golden for Baca.

"I went to the funeral. I don't know, sometimes things are meant to be, and Ian happened to be there, gave me the opportunity to try out …," Baca said after San Jose played the Galaxy last week at Home Depot Center. "I told [head coach Frank Yallop] thank you for the opportunity and that I was going to make the most out of it."

Baca, who was born near Morelia in Michoacan, Mexico, and raised in Lawndale -- he was the big star for Animo Leadership Charter High School's undefeated CIF Southern Section Division VI title-winners in 2007 -- drove home from Kucera's funeral, packed, drove back to the Bay Area the following day and was offered a trial after impressing in a brief combine.

His versatility -- he can play in nearly any attacking position, but especially in central midfield or on a flank -- and his skill and understanding of the game stood out.

"Sharp little player," Yallop said after Baca displayed good feet and field sense in the 1-1 draw last Thursday with the Galaxy. "I just think he's great energy, clean on the ball, energetic. He's a good player. … I think he's got a chance. He's done well so far."

That's no surprise to Paul Krumpe, LMU's head soccer coach.

"He can be a fantastic wide midfielder at the next level," said Krumpe, a defender on the 1990 U.S. World Cup team. "Talk about a guy with a ridiculous amount of work rate. He plays much bigger than the size of his body [5 feet 8, 160 pounds]. He's solid through and through."

How Baca, an All-American by one publication as a junior and a preliminary candidate for the Hermann Award, failed to receive an invitation to MLS's pre-draft combine and escaped the draft unscathed stunned Krumpe.

"He was such a dominant player the last two years, helped resurrect our program, was really a huge part of us getting better," Krumpe said. "Certainly, he was the leader of the team. But the last couple of years, I don't know. It's baffling to me. You never know with the MLS draft."

Baca says he didn't expect to be drafted, that he knew his status as a foreign player -- he is not a U.S. citizen and does not possess a green card --- would keep teams away.

It took tragedy and luck to open his path to MLS, and he believes he might have received a little nudge from Kucera.

"That's what I thought about -- I think he's up there," Baca said. "It's funny, because his dad came and gave a speech [to LMU's soccer team] and said, like, how I was his hero. And it's funny, because he's my angel now, looking over me."