There were several things that contributed to Chivas USA's loss last week to Real Salt Lake, but the biggest was the absence of midfielder orchestrator Sacha Kljestan, whose creativity, vision and skill can't be approximated by anybody else on the roster.
So it's rather bittersweet for the Goats that they'll have Kljestan back Saturday when they take on D.C. United at RFK Stadium. The Chivas captain was one of seven players released when U.S. coach Bob Bradley announced his World Cup roster Wednesday morning.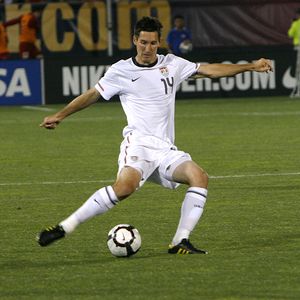 Jason Potterton/ESPN.com
Sacha Kljestan will return to Chivas USA after he was not selected for the U.S. World Cup roster.
Chivas USA would have preferred Kljestan be heading to South Africa, alongside defender Jonathan Bornstein, but they certainly can use his abilities as they look to end a three-game losing streak.
"Yes, it is a big plus" to have Kljestan back, head coach Martin Vasquez said. "For us, he's an important player. … We would have loved for him to go (to the World Cup), that's how we felt. Now we're going to sit and talk to him and go from there."
Kljestan, 24, who was to meet Chivas on Thursday in Washington, has been in impressive form this season, and it gained him a spot on the 30-man preliminary World Cup roster and an invitation to the weeklong training camp in Princeton, N.J. He faced considerable competition for a role in South Africa, and his performance in a 4-2 loss Tuesday night against the Czech Republic did not help his case.
"The competition, some of the guys playing in his position, are playing in Europe, and maybe that was a disadvantage for him," Vasquez said. "I still think Sacha is going to become mentally stronger after this, and he's young. He can still play in two World Cups (in 2014 and 2018). I'm sure he's going to respond with a lot of maturity and learn from this experience.
"Sometimes this situation will help you to grow more and respond in a positive way. That's what we expect, and dealing with him every day, watching him be our leader, I have a feeling that's how he's going to respond."
The Galaxy also is in action Saturday, taking on the Columbus Crew in Ohio in what is clearly MLS's game of the week, a battle between the league's lone unbeaten teams.
This week's slate (all times PDT):
THURSDAY, MAY 27
FC Dallas (2-2-5, 11 points) at Chicago Fire (2-3-3, 9 points), Toyota Park (Bridgeview, Ill.), 5 p.m., ESPN2/ESPN Deportes
The Brimstone Cup rivalry has been awful one-sided, with FC Dallas winning in its last six visits to Chicago and all four since Toyota Park opened. The Fire has won the series just once, in 2001. Neither team has been particularly impressive: Dallas is coming off its worst performance this season, in a 1-0 loss to the Galaxy, and Chicago has won just one of six home games, including last week's Sister Cities Cup defeats to Paris St. Germain and Legia Warsaw. Fire coach Carlos de los Cobos used those games to experiment, moving holding midfielder Logan Pause to right back and giving rookie Corben Bone a chance to impress. Hoops coach Schellas Hyndman also is tinkering, swapping midfielder Atiba Harris with forward Jeff Cunningham in training.
SATURDAY, MAY 29
Chivas USA (3-6-1, 10 points) at D.C. United (1-8-0, 3 points), RFK Stadium (Washington), 4:30 p.m., FSN Prime Ticket and KWHY/Channel 22
You'd think this would be simple for Chivas USA, given D.C. United's horrid form, but the capital club went out and beat AC Milan on Wednesday. Sure, the Rossoneri were missing some pivotal talent, but Ronaldinho was on the field. D.C. also fared well in its first U.S. Open Cup qualifier a month ago, so maybe they're incapable only in league games. They've taken shutout losses in four of their past five MLS matches. Chivas USA also is on a skid, losing its past three, but all three were against top-line MLS competition. And Sacha Kljestan's return bodes well for the Goats.
Los Angeles Galaxy (8-0-2, 26 points) at Columbus Crew (6-0-2, 20 points), Crew Stadium (Columbus, Ohio), 4:30 p.m., FSN West
The game of the year, at least to this point, features the last two unbeaten sides, and if you're looking for a real difference between them, try defense. The Crew has surrendered five goals in their four-game win streak, and they pulled out two victories last week despite being outplayed at New York (in a 3-1 win in which the Red Bulls hit the woodwork three times) and Kansas City (in a 1-0 decision). Goalkeeper Will Hesmer has been inconsistent, and Robert Warzycha keeps changing his mind at left back: Gino Padula or Danny O'Rourke. The return of Chad Marshall and Robbie Rogers from the World Cup camp gives Columbus an edge, but the Galaxy rolls on no matter who's missing. L.A. hasn't given up a goal in its last five games, including the 1-0 triumph over Boca Juniors, and Sean Franklin's return to health strengthens the backline. Yes, Landon Donovan and Edson Buddle are gone for at least another month, but that'll provide enough time to see if teenage forward Tristan Bowen's star turn is for real.
New York Red Bulls (5-4-0, 15 points) at New England Revolution (2-6-2, 8 points), Gillette Stadium (Foxboro, Mass.), 5 p.m., MLS Direct Kick
The good news for the Revs is midfielder extraordinaire Shalrie Joseph is back -- he's seen time in just one game because of injury and a monthlong personal-reasons absence -- and Lithuanian forward Edgaras Jankauskas has been upgraded to "questionable." The bad news is they haven't won in their past seven MLS games, their past nine in all, and haven't scored in their past four. New York is winless in its last three MLS matches, but it beat Juventus on Sunday, routed Colorado in a U.S. Open Cup qualifier Wednesday, and dominated New England in another Open Cup qualifier two weeks ago, so there's no better chance to end a 13-game MLS regular-season winless streak against the Revolution. Something to please L.A. fans: Former Galaxy defender Chris Albright started in last week's loss to Columbus, his first MLS action in 14 months, since suffering a knee injury while with the Revs.
Philadelphia Union (1-5-1, 4 points) at Houston Dynamo (5-4-1, 16 points), Robertson Stadium (Houston), 5:30 p.m., Fox Soccer Channel (live) and Fox Sports en Español (delayed, 9:30 p.m.)
Here's a good chance for the Dynamo to put together back-to-back wins after alternating between victories and defeats in their past nine games. Brian Ching, perhaps unjustly, returns from the World Cup camp, and Joseph Ngwenya is eligible, and Danny Cruz had a wonderful first MLS start last week, and Luis Angel Landin is in fine form, and Cam Weaver is healthy, so that ailing attack is looking most capable. Philly had last week off, giving Coach Peter Nowak time to tinker, but the Union is 0-5 on the road, and that's likely not going to change.
Seattle Sounders (3-4-3, 12 points) at Colorado Rapids (4-3-1, 13 points), DSG Park (Commerce City, Colo.), 6 p.m., MLS Direct Kick
Sigi Schmid publicly rebuked Fredy Montero, and he responded by coming off the bench to beat New York. Let's see how his admonishment of Swedish star Freddie Ljungberg works this week as the Sounders look just their second MLS win in seven games. They'll do so without Jhon Kennedy Hurtado, their top defender, who tore an ACL last week; new signing Jeff Parke familiarized himself with teammates in Wednesday night's 3-0 romp over Boca Juniors. Colorado has scored in just one of four games this month, Mehdi Ballouchy's strike to beat D.C. United two weeks ago, and the Rapids are coming off a 3-0 Open Cup qualifying loss at New York.
Kansas City Wizards (2-4-2, 8 points) at Real Salt Lake (5-3-1, 16 points), Rio Tinto Stadium (Sandy, Utah), 6 p.m., MLS Direct Kick
Two teams heading in opposite directions in this one. RSL has won four in a row for the second time in club history and is celebrating forward Robbie Findley's unexpected selection to the U.S. World Cup team. Alvaro Saborio has established himself among MLS's best forwards, and Fabian Espindola's return from injury bolsters the attack. K.C.'s winless streak has reached seven, including an Open Cup qualifying loss. The Wizards on Thursday signed Jamar Beasley, the older brother of U.S. World Cupper DaMarcus. Jamar, 30, a youth national team star for the U.S. more than a decade ago, has been an indoor star after playing in MLS, from 1998 to 2001, for New England and Chicago.
Toronto FC (4-4-1, 13 points) at San Jose Earthquakes (5-2-1, 16 points), Buck Shaw Stadium (Santa Clara, Calif.), 7 p.m., MLS Direct Kick
A terrific matchup of two of MLS's hottest teams, both succeeding well beyond expectations. The Quakes have posted four straight shutouts and five in six games behind goalkeeper Joe Cannon and a backline anchored by Brandon McDonald, both of them former Galaxy players. This is the best San Jose team since the 2005 side, which moved to Houston the following year, finished 15-1-6 to win the Supporters' Shield. TFC has four successive clean sheets in all competitions, are unbeaten in five games, are 5-1-2 in its last eight and Wednesday night clinched the Canadian Championship to qualify for the CONCACAF Champions League. The Reds are hoping midfielder Julian de Guzman and defender Nana Attakora, who returned to training this week, will be available after missing last week's win over New England with injuries.