CHIVAS USA: Not the homecoming Benny Feilhaber expected
April, 30, 2011
4/30/11
1:55
PM PT
By
Scott French
| ESPNLosAngeles.com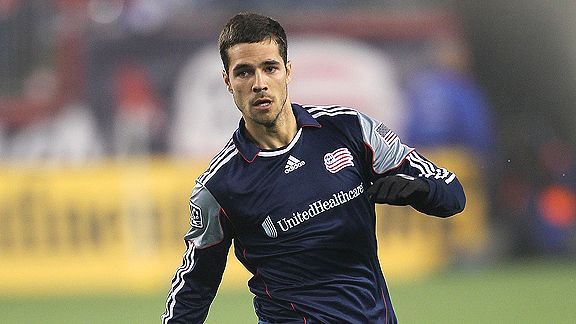 Jim Rogash/Getty ImagesBenny Feilhaber is excited to be playing in front of friends and family Saturday night at the Home Depot Center.
Benny Feilhaber
is coming home, just not like he thought he would.
The Irvine-bred midfielder, who signed eight days ago with Major League Soccer after six years in Europe, thought he'd be making his home debut for Chivas USA (1-2-3) on Saturday night. He got the venue right -- he will be on the field at Home Depot Center -- but he'll feature for the New England Revolution, who won his services in as dramatic an allocation process as MLS has seen.
Feilhaber went to bed one night thinking he was going home and woke up the next morning bound for Massachusetts.
As luck, and agile scheduling, would have it, Chivas' next guest was Feilhaber's new team.
"Well, you're eventually going to play Chivas," Feilhaber noted following the Revs' practice Friday at HDC. "Obviously, they had the first opportunity to take me and passed up on me, but I'm really more excited to be playing in front of my friends and family [this weekend]. There will be plenty of people I know in the stands, and all rooting for New England."
Those would have been Chivas fans had the Goats claimed Feilhaber, a creative midfielder expert at possession and setting up teammates. They had first dibs on him the allocation process and spent four days mulling it over and listening to trade offers before deciding it didn't work financially for the club.
By passing, Chivas retained the top spot on the allocation list -- they'll have first say on the next player to enter the league through that mechanism -- and Philadelphia stayed at No. 2 when it passed, too.
So Feilhaber fell to No. 3 New England, and he made an immediate impact, setting up
Marko Perovic
's goal just 12 minutes in and drawing a red card that changed the tenor of play in last week's 3-2 victory over Sporting Kansas City.
"You see the quality he has," Revolution coach
Steve Nicol
said afterward. "And that affects the opposition, as well, because they don't know whether to stand off or close him down. And, obviously, with his teammates, it's good knowing you're getting a guy the ball who's, nine times out of 10, he's not losing it."
The Brazilian-born Feilhaber, who played at Northwood High School, with Irvine Strikers and at UCLA, went to Europe just before his junior season with the Bruins and played for Germany's Hamburger SV, England's Derby County and Denmark's AGF Aarhus before coming home. He'll need some time to adjust to the MLS game, but not much.
"I've played in three different places in Europe, and all were different styles," he said. "I think MLS is more of a physical league than in Denmark and Germany, more high-paced, more direct. A little similar to the [English] Premier League -- maybe not as high-paced as the Premier League, but similar in that sense. It does take a little while to get used to.
"I felt pretty good last week, but there were times I got caught with the ball, and I'd like to take that out of my game. The more and more I get used to the style of play, the more I'll be able to help out my team and have an influence on the game."
Feilhaber says he figured after signing with the league that he'd be going to Chivas or to Houston, which was angling hard for a trade. The Goats' decision to pass surprised many, and so did Philly's, and "it was all kind of crazy," he said. "After that, I was happy I knew where I was going, I knew where I was going to get started. I had signed four days [before that]; it was an anxious time waiting to see what team I would play for."
He has no burning desire to show Chivas that it made a mistake.
"I think that I couldn't ask for more motivation tonight, playing in front of friends and family," Feilhaber said. "I haven't been able to do that in a really long time. Playing in California, my hometown -- I don't need any extra motivation."
WORTH NOTING:
Chivas' miserable 2010 campaign wasn't so awful when the Revs were the opponent. The Goats swept both games with shutouts, routing New England, 4-0, in May at Foxborough and using two early goals in a 2-0 victory at home in September.
Justin Braun
scored in both games. … Braun could get the nod up front in place of
Marcos Mondaini
if Fraser chooses to change the lineup after last week's win at San Jose. … The all-time series is tied, 5-5-2, but Chivas is 4-1-1 at HDC. … The return game: Aug. 6.
CHIVAS' INJURY LIST:
Six players, all contributors -- four of them starters -- are out: midfielders
Blair Gavin
(hamstring strain) and
Paulo Nagamura
(calf strain), forward
Tristan Bowen
(sprained ankle), and defenders
Seth Owusu
(torn meniscus),
Jimmy Conrad
and
Michael Lahoud
(both concussions).
THE OPPONENT
NEW ENGLAND REVOLUTION
Head coach

Nicol, a defender, mostly, on the great Liverpool sides of the 1980s and into the 1990s, is the longest-serving coach in the league -- he's in his 10th season at the Revolution's helm -- and one of the best, taking the Revs to four MLS Cup title games. He's doing early coach-of-the-year kind of work, steering a unfancied side to a 2-2-3 start in its first seven games while adeptly adding quality to his roster.
Three key players

Shalrie Joseph, 32, nominally a central midfielder but likely to pop up most anywhere on the field, remains one of MLS's most dominant figures, and he's responded to some off-field troubles with a superb start for the Revs -- including a team-best three goals.

Feilhaber, who played right behind the front two in his league debut last weekend, provides a critical dimension for New England: He's got the vision, touch and wherewithal to deliver the final ball -- whether from distance or with the most intricate of touches.

Goalkeeper Matt Reis, 36, long one of MLS's best, has gone through a tough spell, missing much of last season through shoulder, knee and ankle surgeries and enduring another shoulder injury early in this campaign.
Current form/prospects

This is a different Revolution team than we saw a month ago at Home Depot Center, where Joseph's early goal forged a 1-1 draw with the dominant Galaxy. The Revs are deeper, healthier, more talented and starting to click. They're coming off successive 3-2 wins, the second over D.C. United in a U.S. Open Cup qualifier Tuesday, after shutout losses to mighty Real Salt Lake and a good Houston Dynamo side. The additions of Danish forward Rajko Lekic, who netted his first MLS goal in last week's victory, and Feilhaber could transform the attack, and New England, an afterthought when the season began, suddenly appear to be contenders.
Local connections

There's Feilhaber and there's Reis, who is from Rancho Santa Margarita, starred at Santa Margarita Catholic High School and led UCLA to an NCAA title in 1997. And he started his pro career with the Galaxy.
Missing
Perovic is out with a sprained knee and midfielder Pat Phelan is doubtful with a concussion. Reis is questionable with that sprained shoulder, but rookie midfielder Andrew Sousa (quad strain) is probable but unlikely to feature.
THE GAME

At Home Depot Center (Carson), 7:30 p.m.
TV: Fox Sports West and KWHY (Channel 22)
Radio: W Radio (XEWW/690)
Referee: Mark Kadlecik