It had been a long time since Amy Rodriguez found the net, and that's not a good thing -- her job is to score goals. The former USC All-American from Lake Forest got her first in international play since the 2008 Olympics on Sunday, starting the U.S. women's national team toward a 3-0 triumph over Mexico at the University of San Diego's Torero Stadium.
Rodriguez -- known to all as "A-Rod" -- finished a long ball from Heather O'Reilly in the 12th minute, her seventh goal in 43 international appearances but just the first since a 4-0 rout of New Zealand at the Beijing Games.
"It has been a long time, I know," she said after the nats' first game this year on U.S. soil. "When I came off the field and everyone was congratulating me about my goal, I realized it felt so good because I hadn't scored in so long, and for me that was really special.
"I've been a part of this team. I want to contribute, and the way I do that is by scoring goals."
[+] Enlarge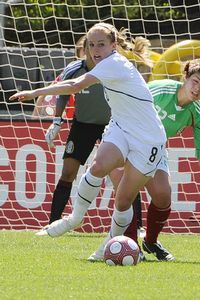 Icon SMI
Before Sunday, it had been quite a while since former USC standout Amy Rodriguez scored a goal for the U.S. national team.
Rodriguez, 23, has long been celebrated for her blazing speed and tenacity around the net. She led Laguna Hills Eclipse to two national club titles as a teen, won every important national player-of-the-year honor as a Santa Margarita Catholic High School senior, was part of U.S. U-17 and U-20 World Cup teams, spurred USC to the 2007 NCAA championship and was the top draft pick in Women's Professional Soccer's inaugural college draft.
But she's struggled since the Olympics and has tumbled down the depth chart as former UCLA All-American Lauren Cheney, who also scored Sunday, has emerged as Abby Wambach's best partner up top.
"Amy's challenge arises in that Cheney is playing so well," said Wambach, one of 10 women who have scored 100 or more international goals. "I'm gonna give her a big hug for (scoring today). I mean, money off the back, for sure. Every great forward knows what it's like to go through some slumps. Obviously, you don't want one to last two years."
Rodriguez's slump has lasted almost that long. Her senior season at USC wasn't as sparkling as her junior year, and she tallied just once in her WPS rookie campaign for the Boston Breakers, who dealt her to the expansion Philadelphia Independence and grabbed Cheney with the No. 2 selection in this year's draft.
"It was hard (in Boston)," Rodriguez said. "As a forward, you want to be able to contribute to your team. I wasn't able to do that, for many reasons. Now that I'm with Philadelphia, I'm able to make more of an impact for them. I'm really happy about that. I'm playing well, and today's score was a big confidence booster, and I'm hoping to bring that to the WPS this year."
The Independence debuts April 11 against fellow first-year club Atlanta Beat in West Chester, Pa.
U.S. coach Pia Sundhage believes Rodriguez can play an important role for the national team.
"Her speed helps a lot," Sundhage said. "She's young. She has to be patient. It's learning every single time she's on the field. She's getting there, but it's still another level (she must reach)."
The U.S. and Mexico meet again Wednesday in Sandy, Utah. ESPN2 will show the game at 6 p.m. PDT.