The New England Revolution won on Saturday for the first time since April 10, and it's pretty clear why.
Revs captain Shalrie Joseph, probably Landon Donovan's prime challenger in the MLS's-best-player debate, returned after missing five game for "personal issues," took charge (as he so often has done) in midfield, and set up two goals in a 3-2 victory over visiting New York, including rookie Zach Schilawski's 80th-minute winner.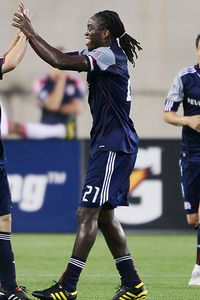 Elsa/Getty Images
Sharlie Joseph of the Revolution celebrates with a teammate after a goal during the first half of Saturday's game vs. New York.
Joseph was making just his second appearance of the season. He had been slowed by a hip-flexor strain at the start of the season but had come off the bench to assist one of Schilawski's three goals in New England's other win this year, a 4-1 decision April 10 over Toronto FC.
Then, just as he was starting to get healthy, he tested positive for marijuana and was shut down for five weeks by the league.
"Bottom line," he told the Boston Herald, "I made a bad decision to smoke marijuana. I got caught, and they sent me to drug-rehab treatment."
The Revolution, hit hard by injuries, went 0-3-2 in that span, plus a 3-0 loss to New York in a U.S. Open Cup qualifier and a 4-0 defeat in a friendly against Portuguese giant Benfica.
"In all, New England had gone winless in nine games (with an 0-5-2 mark in MLS play) and had been shutout in five of six games heading into Saturday's clash. Joseph's ability to clean things up in midfield and organize the Revs' attack put things right.
Joseph was repentent on his Web site, writing: "I am deeply and truly sorry to everyone that I have let down, especially all the young players for whom I am viewed as a role model. I plan to work tirelessly to regain your respect. … My break allowed me the chance to step back and reexamine life's priorities, and to let my body heal from some injuries. … Soccer is my burning passion. I feel great and am so glad for the opportunity to return to my team and dominate!"
Joseph, 32, is a four-time MLS Best XI all-league selection, including each of the past three seasons. He was born in Grenada but moved to Brooklyn in his teens, and he would be heading to his second World Cup with the U.S. team had he not represented his native land, a soccer minnow, before the Americans offered him a slot. He deserves a more prominent international career, and God knows how important he would have been to the U.S. midfield most of the past decade.
BURPO'S BREAK: A grisly scene during the Revs' win: New England goalkeeper Preston Burpo, who was with Chivas USA in 2006 and 2007, came off his line to stuff Dane Richards' breakaway. Just as he and the Red Bulls winger collided, Burpo's right foot got stuck in Gillette Stadium's artificial turf.
Burpo suffered a broken tibia and fibula, and for several minutes he lay on the turf while trainers tended to him, a scene that shook up teammates and brought tears to one.
Finally loaded on a stretcher, he was taken off the field and to an ambulance as Revolution fans chanted his name.
CREWSIN: The Columbus Crew weren't happy with the result in Saturday's showdown of unbeaten conference leaders, a 2-0 loss to the Galaxy, but they were happy with their performance. The Eastern Conference leaders dominated the game, outshooting the Galaxy, 21-3 (but only 4-3 in shots on goal), and taking 15 corner kicks to none for L.A., which scored twice on counterattacks.
"If we play like that, no one is going to be able to stop us," Crew central defender Andy Iro, a UC Santa Barbara product from England, said afterward. "We're disappointed because we felt we truly dominated and should have won. At the same time, the fans know, you guys know, this is a very, very positive step."
Defender Gino Padula suggested it "was one of those nights you can play all night and not score," but Iro praised the Galaxy defense, which claimed its ninth shutout in 11 games.
"They have good team defending," Iro said. "Right now they got lucky: a bit of poor finishing and a little bit of luck. You can only ride that for so long. Without any disrespect to them, they do defend well. They're going to get theirs soon enough."
BEERY LAMENT: Seattle Sounders goalkeeper Kasey Keller, a fixture in the U.S. nets for years, might expect some respect no matter where in the U.S. he plays. Didn't happen in Denver.
The veteran netminder was doused with beer in the Sounders' 1-0 loss Saturday night to the Colorado Rapids, and he wasn't happy.
I'm a little disappointed," he said afterward. "I've played all the world, and this is the first time I've had a beer thrown on me in a game. So I'm just wondering: I know what would happen in Europe if that happened. I know that fan would be banned for life and there would be sanctions. I'm just wondering what (Commissioner) Don Garber is going to do about it, because that (crap) shouldn't be allowed in this league."
Garber had made no response as of Monday afternoon.
PROPER RESPONSE? Brian Ching was greeted with a standing ovation by Houston fans when he subbed on for the second half of Saturday night's Dynamo-Philadelphia game, his first match following his surprise omission from the U.S. World Cup roster. The striker, who was on the 2006 World Cup team but did not play, responded with his first goal of the season. It was his just his second appearance for the Dynamo since suffering a hamstring injury on April 1; he returned to play the final half-hour of a 3-1 loss to Real Salt Lake on April 13, then took off to the pre-World Cup camp.
Ching and Eddie Robinson headed home free kicks from Brad Davis to give the Dynamo a 2-1 second-half lead, but expansion Philadelphia claimed its first road victory as 18-year-old rookie Danny Mwanga, the top pick in January's MLS SuperDraft, came off the bench to set up Sebastian Le Toux's 69th-minute equalizer and score the winner three minutes into stoppage.
Ching was hardly pleased with his effort.
This year, being 5-5, a lot of teams would probably take that, but with the history we've had, we are all embarrassed here," Ching, a chief influence on Houston's 2006 and 2007 MLS Cup-winning teams, told reporters after the game. "I'm just frustrated. I shake my head at it. The energy level is not good enough. Every one of us as players have to look at themselves.
"I should have done more in the second half. It is something that I think we all are going to have look into ourselves and be better and demand more. Our fans deserve better. The club history deserves better."
The Dynamo has been alternating wins and losses since a draw with FC Dallas in its opener -- it's W-L-W-L-W-L-W-L-W-L -- which bodes well for Galaxy fans. Houston plays Wednesday at New York (W), then visits the Galaxy on Saturday night (L).
HARD-LUCK HARTMAN: Palos Verdes' Kevin Hartman was astounding in the nets for FC Dallas in May, and with a little more luck, he might have had five shutouts in five games.
The former Galaxy shot-stopper, who played at Peninsula High School, Cal State Dominguez Hills and UCLA, was promoted to the starting lineup on May 5 and gave phenomenal performances to lead the Hoops to their first two victories, 1-0 decisions at Houston and against D.C. United. He was seconds from a third shutout when Mwanga pulled Philly even in stoppage, then got beat by the Galaxy when his backline got caught upfield on a counterattack.
He should have had another shutout Saturday, but FCD's lead over Chicago was wiped away on Brian McBride's strike near the end of the first half. Replays showed McBride was offside.
ODDS AND ENDS: Our vote for Player of the Week went to Shalrie Joseph, whose presence made a massive difference for the skidding Revolution. Dwayne De Rosario, who returned from Canadian national team duty and came off the bench to score his seventh and eighth goals of the season in Toronto FC's 3-1 victory at San Jose, won the honor. … New England is 8-0-6 in its last 14 meetings with New York. … Andy Nahar's powerful header against Chivas USA was the 17-year-old D.C. United winger's first MLS goal. Also scoring their first: Galaxy youngsters Michael Stephens (UCLA) and Tristan Bowen (Van Nuys). … Colorado's Conor Casey netted his first goal from the run of play since September.
Past week's scores (home teams listed first)
Thursday
Chicago 1 (McBride 40), FC Dallas 1 (Ferreira 6)
Saturday
D.C. United 3 (Nahar 26, Cristman 76, Talley pen. 92+), Chivas USA 2 (Braun 16, Galindo 80)
Columbus 0, Galaxy 2 (Stephens 10, Bowen 87)
New England 3 (Perovic 8, og Ream 24, Schilawski 80), New York 2 (Stammler 20, Angel 49)
Houston 2 (Ching 52, Robinson 59), Philadelphia 3 (Salinas 39, LeToux 69, Mwanga 93+)
Colorado 1 (Casey 63), Seattle 0
Real Salt Lake 4 (Espindola 31, Saborio 34, Russell 84, Grabavoy 92+), Kansas City 1 (Wolff 42)
San Jose 1 (Corrales 76), Toronto FC 3 (Barrett 31, De Rosario 66, 94+)
Standings
Western Conference: Galaxy 29 points, Real Salt Lake 19, Houston 16, San Jose 16, Colorado 16, FC Dallas 12, Seattle 12, Chivas USA 10
Eastern Conference: Columbus 20, Toronto FC 16, New York 15, New England 11, Chicago 10, Kansas City 8, New England 8, Philadelphia 7, D.C. United 6
This week's games (all times Pacific)
Wednesday
Houston at New York, 4:30 p.m.
Chicago at San Jose, 7 p.m.
Saturday
Chivas USA at New York, 4:30 p.m.
Houston at Galaxy, 5 p.m.
Kansas City at Toronto FC, 1 p.m.
Real Salt Lake at D.C. United, 4:30 p.m.
San Jose at FC Dallas, 5:30 p.m.
Philadelphia at Chicago, 5:30 p.m.
Columbus at Colorado, 6 p.m.
New England at Seattle, 7:30 p.m.
Leading goalscorers
1 Edson Buddle (Los Angeles) 9
2 Dwayne De Rosario (Toronto FC) 8
3 Juan Pablo Angel (New York) 5
Kei Kamara (Kansas City) 5
Sebastian Le Toux (Philadelphia) 5
Alvaro Saborio (Real Salt Lake) 5
Zach Schilawski (New England) 5
Chris Wondolowski (San Jose) 5
9 Chad Barrett (Toronto FC) 4
Justin Braun (Chivas USA) 4
Conor Casey (Colorado) 4
Jeff Cunningham (FC Dallas) 4
Brian McBride (Chicago) 4
Guillermo Barros Schelotto (Columbus) 4
Other results
Wednesday
U.S. Open Cup qualifying: New York 3 (Wolyniec 11, 43, Chinn 56), Colorado 0
Friendly: D.C. United 3 (Emilio 20, Pontius 30, Alsopp 61), AC Milan (Italy) 2 (Oddo pen. 70, 74)
Friendly: Seattle 3 (Levesque 42, Noonan 64, Seamon 70), Boca Juniors (Argentina) 0
Sunday
Friendly: Chicago 0, AC Milan (Italy) 1 (Seedorf 47)
This week's other games
Wednesday
U.S. Open Cup qualifying: Real Salt Lake at D.C. United
Canadian Championship: Vancouver Whitecaps at Toronto FC