Monday, November 15, 2010
CHIVAS USA: Wynalda has legends on his side

---
By Scott French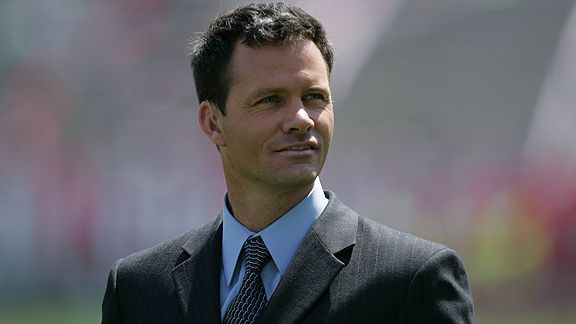 John Todd/MLS

Eric Wynalda, a former U.S. national team player, is one of the more intriguing coaching candidates for Chivas USA.


Chivas USA managing partner Antonio Cue has said he'd like to have a new head coach in place before this week is over, and whether or not the Goats meet that deadline, there no question they've got some interesting candidates.

Former Chivas midfielder Jesse Marsch, who retired after the 2009 season to join U.S. national team coach Bob Bradley's staff, has talked to club management, and The Washington Post reported Monday that former Galaxy defender Robin Fraser, an assistant coach for Real Salt Lake, has had conversations about the job.

A club source earlier this month said there were a dozen names on the team's list of candidates and that some belonged to Mexicans, hardly a surprise given Chivas' roots -- with Club Deportivo Guadalajara -- and chief owners Cue and Jorge Vergara, who are Mexican.

Perhaps the most intriguing candidate is former U.S. national team star Eric Wynalda, 41, who has two of the biggest names in Mexican soccer on his side.

Wynalda's proposed staff includes former defenders Ramon Ramirez, 40, and Claudio Suarez, 41, So Cal-based Mexican legends who starred for Guadalajara and finished their careers with Chivas USA. They've got five World Cups and 299 caps between them.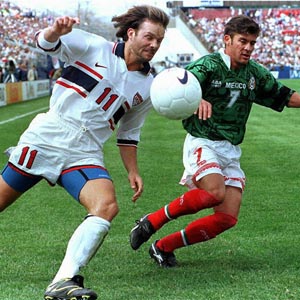 John Mottern/AFP/Getty Images
Eric Wynalda, left, and Ramon Ramirez, right, used to do battle on the field.


Wynalda, a National Soccer Hall of Fame forward who played professionally in Germany, Mexico and Major League Soccer, adds another three World Cups and 106 international appearances -- with 34 goals, the top U.S. mark before Landon Donovan.

Wynalda, Suarez and Ramirez had been gathering weekly to talk soccer, and when Martin Vasquez was dismissed last month as head coach -- after refusing to consider reassigning one of his assistant coaches following the club's worst-in-the-West campaign -- they decided to pursue the position.

A source close to the group said they've had escalating talks with Chivas USA management covering philosophy of play, tactics for improving the roster and how to rebuild the club into an MLS powerhouse. Chivas USA director of soccer Stephen Hamilton was not available Monday to comment on the club's coaching search.

Ramirez was one one of the finest left backs of his generation and Suarez a regal central defender who holds the global record for international appearances by a field player, with 178. Both were key foes of Wynalda's as the U.S.-Mexico rivalry grew into the region's most important during the 1990s.

"It's true, we're working together," said Wynalda, who has coached in the U.S. and Mexico and worked as a studio and game analyst for ESPN and Fox Soccer Channel. "Honestly, it would be a flat-out honor to work with these guys. We're available, we want to do this."

Wynalda confirmed that there have been talks with Chivas officials but would not go into specifics.

"We're very interested in getting involved," he said. "When [Ramon, Claudio and I] discuss [the possibility], we just want the opportunity to pass on what we know, what we've gained [from our experiences]."


---