Thursday, December 23, 2010
2010: A royal visit ... and one tough year

---
By Scott French

Our countdown of 2010's top 10 soccer stories and newsmakers -- from a Southern California slant -- continues.
Stories/No. 9: Real Madrid's visit

The gap between Major League Soccer's best and the world's finest clubs has rarely been more aptly illustrated than at the Rose Bowl last Aug. 7.

The Galaxy, en route to the Supporters' Shield (as MLS's regular-season champion), stood toe to toe with mighty Real Madrid through 45 minutes, taking a two-goal lead to the locker room at halftime.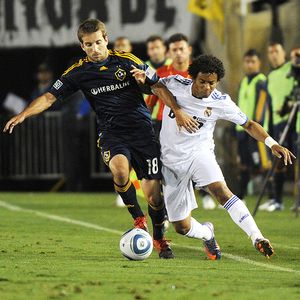 Mark Ralston/AFP/Getty Images
Real Madrid defender Marcelo, right, clashes with Galaxy forward Mike Magee during their friendly at the Rose Bowl on Aug. 7.


Then Jose Mourinho, the "Special One,"  unleashed his A side, bringing on World Cup stars Cristiano Ronaldo, Gonzalo Higuain, Xabi Alonso and Iker Casillas. Real Madrid, demonstrating a substantial superiority in skill, quickness of thought and ball movement, destroyed L.A. over the final 45 minutes, rallying for a 3-2 victory -- with Argentine forward Higuain scoring two of the goals.

The encounter delighted a crowd of 89,134 -- the second-largest crowd to watch a soccer game in Southern California this year, just off the 90,526 count for Mexico's Rose Bowl game against New Zealand on March 3. And it delighted the Galaxy, who considered it an honor to be on the same field with one of the globe's greatest clubs.

Real Madrid's 11-day visit to Los Angeles was pretty special, too. Mourinho is an L.A. lover; he brings his club -- previously Chelsea and Inter Milan -- to UCLA for preseason training each year. As big as Chelsea and Inter are, they're no Real Madrid: The Spaniards are one of, arguably, the big three, along with Manchester United and Barcelona. (Some might add AC Milan to the grouping.)

Fans responded, with hundreds lining the pathways outside UCLA's North Athletic Field every day for a glimpse, an autograph, a photo of some of the biggest names in the game. Inside the gated facility, a select few -- including U.S. coach Bob Bradley and his staff -- watched as Mourinho put Real through its paces.
Newsmakers/No. 9: Charlie Naimo

Everything Charlie Naimo touched seemed to disintegrate in 2010.

First the L.A. Sol, Women's Professional Soccer's top regular-season club in year one, folded before year two started. Then his Pali Blues women's team, the unbeaten W-League champs in its first two seasons, stumbled in search of title No. 3. And then the Chicago Red Stars, the WPS club he was helping turn into a contender, announced it needed cash or would join the exodus from America's women's league.

It was a rough year for Naimo, one of America's finest women's soccer coaches, who had built the New Jersey Wildcats and Sky Blue FC into national powers before he was lured from New Jersey to California as Ali Mansouri and Co. began preparing for the birth of WPS and the Sol.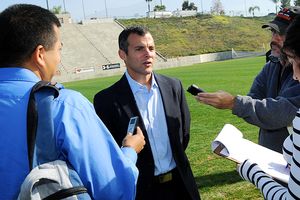 Courtesy L.A. Blues
It was a trying year for Charlie Naimo, who now has taken over the L.A. Blues.


He enjoyed an extraordinary first two seasons in L.A., guiding Pali -- with a roster including nearly two dozen players who have played for the U.S. national team or gone on to WPS -- to a 14-0-0 in mark 2008 and an 11-0-3 record in 2009 and overseeing the L.A. Sol's tremendous start en route to the WPS regular-season title and a spot in the league's first title game.

The Sol shut down last January, after AEG pulled out as co-owner. Pali struggled: The Blues' unbeaten streak ended after 32 games, they limped barely into the playoffs with a 3-4-3 record, then were promptly ousted by the Vancouver Whitecaps.

Naimo was hired as as an adviser to the Red Stars last summer, and working with general manager Marcia McDermott (she coached Carolina to the 2002 Women's United Soccer Association crown) and new coach Omid Namazi (former San Diego Spirit coach in the WUSA) turned WPS's most disappointing franchise (it was shut out 15 times in its first 27 games) into a competitive side expected to contend in 2011. The club went on hiatus earlier this month, the fourth WPS team to fail.

The year closed better for Naimo, with the unveiling of the L.A. Blues, the third professional men's team in Southern California. He's the head coach and general manager -- and he'll continue to serve as manager of the Pali Blues, the team's sister club.

No. 10: College soccer's big names ... and expansion




---