Monday, December 27, 2010
2010: Would-be hero ... and Chivas USA's disaster

---
By Scott French

Our countdown of 2010's top 10 soccer stories and newsmakers -- from a Southern California slant -- continues.
Newsmakers/No. 5: Maurice Edu

It might have been the biggest moment in American soccer history, the point when everything -- the quality of the soccer, the loyalty of the fans -- came together in a way it didn't or couldn't with Paul Caligiuri's "shot heard 'round the world," the 1994 World Cup, Brandi Chastain's bra or the 2002 quarterfinal run.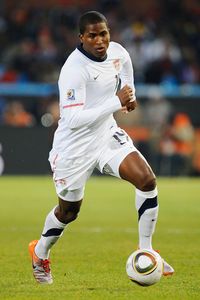 Kevork Djansezian/Getty Images
The goal Maurice Edu scored but did not count for the U.S. was the tipping point for the team at the World Cup.


Fontana's Maurice Edu scored the most compelling U.S. goal at the World Cup, all because it didn't count.

It's Landon Donovan's strike, the one in stoppage to beat Algeria, that will forever be remembered, but Edu's goal five days earlier against Slovenia -- and Malian referee Koman Coulibaly's decision to omit it -- was the tipping point for the U.S. and the World Cup.

The Americans had started slowly, as they did throughout the Cup, and fallen behind, 2-0, by halftime. They halved the deficit just three minutes into the second half, with Donovan finishing from Steve Cherundolo's feed, and pulled even on Michael Bradley's goal in the 82nd minute.

Then Edu, making his World Cup debut, got on the end of a perfect Donovan free kick, and the U.S. was five minutes plus stoppage from a 3-2 victory. Except Koulibaly whistled for a foul nobody else could see.

The injustice of the moment rallied the fans at home, those fervently following the World Cup and casual observers who couldn't name a U.S. player, Donovan aside, perhaps. We had been wronged, and that self-identification with this U.S. team hit a crescendo when Donovan beat Algeria to give the Americans the Group C title and send them to the knockout phase. No telling how big it might have gotten had the U.S. beaten Ghana in the round of 16.

It was a breakthrough year for the Etiwanda High School alum. He emerged as a true contributor during Rangers FC's run to its 53rd Scottish league title, cemented his spot with the U.S. national team, and made a convincing argument that he's the best partner for Bradley in central midfield.


Stories/No. 5: Chivas USA back in the cellar

Chivas USA arrived in Major League Soccer nearly six years ago, the league's first Mexican club, claiming it would show the gringos how the sport was meant to be played.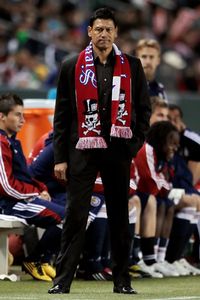 Jeff Gross/Getty Images
Martin Vasquez was dismissed as Chivas USA coach after an 8-18-4 season in 2010.


The Goats went 4-22-6, finishing at the bottom of the Western Conference standings with the worst record in league history. They had virtually no following -- the Guadalajara supporters they expected to draw had zero interest -- and gained less respect.

The lessons came hard, but the club made appropriate fixes -- bringing in Bob Bradley as head coach: stroke of genius -- and soon was playing the most delightful soccer in MLS. They posted winning records from 2006 to 2009 and won the Western Conference in 2007, but were disappointed by four successive one-goal aggregate losses in the first round of the playoffs.

Everything went south in 2010.

Retirement robbed Chivas of its two best leaders, departures hammered at its talent and depth, and then new captain Sacha Kljestan's summer move to Belgian champion Anderlecht left the Goats without their most recognized star. New coach Martin Vasquez shifted lineups and tactics in search of a winning formula, and the midseason additions of midfielders Paulo Nagamura, returning after a stint in Mexico, and Rodolfo Espinoza bolstered the squad, but there was not enough depth nor talent to compete for a playoff berth.

Chivas went 8-18-4 and finished last in the Western Conference, and then housecleaning began. Vasquez was dismissed, the front-office leaders resigned, and managing partner Antonio Cué began a rebuild.

Not everything went wrong. Jonathan Bornstein's effort, as always, was exemplary, and his selection to the World Cup team was a season high point. He finished the campaign after agreeing to join Mexico's UANL Tigres in 2011. Rookie midfielder Blair Gavin exhibited star quality; too bad he was sidelined by injury the final three months.

No. 6: Big breakthroughs … and So Cal in South Africa
No. 7: Sol sets … and Chivas USA's boss
No. 8: Fantastic frosh … and the coach's son
No. 9: A royal visit … and Charlie Naimo's rough year
No. 10: College soccer's big stars … and expansion




---