Thursday, May 27, 2010
WPS: More on Athletica's demise

---
By Scott French

Saint Louis Athletica's talent -- and there's a lot of it -- will be available to the other seven Women's Professional Soccer clubs Tuesday, when they'll become free agents in the wake of the team's demise.

Athletica, a WPS semifinalist in its inaugural season, ceased operations Thursday because of a financial shortfall following the departure of its England-based owners last week. WPS said it covered the club's last two payrolls.

Local players on Athletica are Redondo Beach's Shannon Boxx, Mission Viejo's Kristina Larsen and Larsen's former UCLA teammate Tina DiMartino.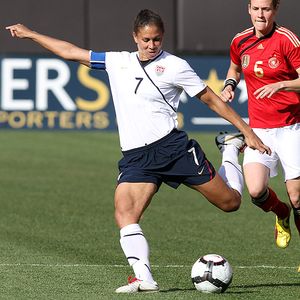 Scott Terna/US Presswire
Shannon Boxx, a Redondo Beach native, will be one of the most attractive players available after the demise of Saint Louis Athletica in the WPS.


"It's incredibly difficult to lose a team in mid-season like this," WPS Commissioner Tonya Antonucci said in a statement. "We looked at a few options as a league together with our board and U.S. Soccer, but the operational hurdles and finances just didn't work out. In the face of a severe funding gap in St. Louis, the local ownership group is shutting down the team at this point."

Saint Louis is the second WPS club to fold this year. The L.A. Sol, which included Boxx and Brazilian star Marta on its roster, was disbanded in late January. The Sol and Athletica finished 1-2 in the regular-season standings last year, and both were upset by champion Sky Blue FC in the playoffs.

Athletica acquired Boxx, DiMartino and Japanese midfielder Aya Miyama in the dispersal draft following the Sol's termination.

Saint Louis, coached by former Brazilian women's national team boss Jorge Barcellos, was in fifth place with a 2-1-3 record. The club's all-time mark was 12-4-8.

WPS said games already played against Athletica would count in the standings and that the remainder of the schedule would be revised and released next week. Only expansion Atlanta has not played Saint Louis this season; Atletica has played each of the other teams once.

The impact on WPS could be considerable, especially if a negative perception scares away potential sponsors and investors, but Antonucci said the league would soldier on.

"This is a setback, but it's one individual franchise, and the loss of a team is an unfortunate reality of pro sports," she said in the statement. "We'll continue to have great games and an exciting season for our fans. The solid foundation that we built in 2009 is there. We have the same number of teams that we had last year during a successful first season. We'll get through this stronger and keep moving the league and business forward."

Boxx will be among the most sought-after Athletica players. Others expected to be draw considerable interest are U.S. national team goalkeeper Hope Solo, defender Tina Ellertson and midfielders Lori Chalupny and Lindsay Tarpley, and English national team stars Eniola Aluko and Anita Assante.

Aluko is the WPS's top scorer this season, with four goals.

Solo, who played for the Philadelphia Charge in the late, great WUSA, which folded in 2003 after three seasons, told the St. Louis Dispatch: "Nothing surprises me anymore. In WUSA, it was more of a shock. I was younger, it was my first job out of college. It's seven years later and I've learned a lot. I've become a lot more realistic. I'm less of a dreamer. I don't want to say I'm more pessimistic, but I have a clear view of things. With the economy we launched in, we knew it would be a struggle. … Things happen in life. People can place blame all they want and think they know the true story, but I don't know if anybody in the outside world will."

Athletica founder Jeff Cooper, who sold a controlling interest in Athletica and USSF D2 Pro League men's team AC St. Louis to London-based brothers Heemal and Sanjeev Vaid, released a statement. Here is most of it:

"The termination of Saint Louis Athletica is a painful outcome from the funding shortfalls and ultimate default by the investors who had the obligation to fund and operate the team on a day-to-day basis. I've given this matter my complete attention since returning to a more active role in the last few weeks, and numerous parties have spent a lot of hours during that time exploring what options or solutions might be available. Despite best efforts, nothing was found that would answer the immediate needs of the franchise. With more time, it is possible the answer to the financial challenges Athletica faced would have been met, but unfortunately we do not have the benefit of extra time. The investors who defaulted on a contract to fund Athletica through this season and beyond broke a promise to a league, team, players and a community, and that is what is most troubling about today's development. "


---