Los Angeles Soccer:

2010 World Cup
December, 31, 2010
12/31/10
5:40
PM PT
By
Scott French
| ESPNLosAngeles.com
Our countdown of 2010's top 10 soccer stories and newsmakers -- from a Southern California slant -- continues.
Newsmakers/No. 1: Landon Donovan
America's biggest soccer star enjoyed his finest year in 2010.
Landon Donovan
offered compelling evidence that he, indeed, is suited for the rigors of the European game; followed his Major League Soccer MVP campaign with a more complete performance; and emerged as one of the stars of the World Cup.
The 28-year-old forward/midfielder from Redlands (Redlands East Valley HS) has been pegged as something special since his teens. He won the Golden Ball, as top player, at the 1999 FIFA U-17 World Cup, was part of the U.S.'s semifinal team at the 2000 Sydney Olympics and was a pivotal figure as the Americans reached the quarterfinals at the 2002 World Cup, the furthest the U.S. has progressed on the game's biggest stage since reaching the semifinals in 1930 (an achievement not nearly as impressive).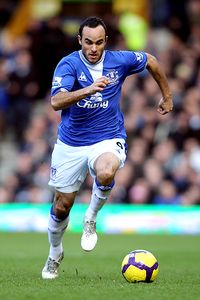 Ross Kinnaird/Getty Images Landon Donovan spent part of his year in England playing for Everton.
But he's climbed new heights since a poor outing at the 2006 World Cup, maturing into a true leader, taking on responsibilities he once avoided while devoting himself to his craft. He's been MLS's best player, by a significant margin, ever since.

Doubts about how he'd fare in a top European league -- remnants of his failures at Bayer Leverkusen and a disappointing loan stretch with Bayern Munich in 2009 -- were gone after a superb 10-week stint on loan with Everton in the English Premier League to start the year. He scored twice in 13 games, won a club Player of the Month honor and had legions of fans begging him to stay in Liverpool -- or, at the least, return.

After winning MLS's scoring title in 2008 and MVP award in 2009, he had arguably his finest league campaign in 2010, stepping back into midfield, where he was needed, and playing chief provider (his 16 assists led the league) and making a massive impact defensively. He led the Galaxy to the Supporters' Shield (as regular-season champion) and within one win of a second successive MLS Cup title-game appearance.

His year primarily will be remembered for his play at the World Cup. He was the Americans' top player -- and one of the best attackers in the tournament -- with an all-around performance marked by goals to help the U.S. rally for a 2-2 draw with Slovenia, to beat Algeria in the dying moments (securing the Group C title and a round-of-16 berth), and to forge a tie with Ghana before succumbing in overtime.

Donovan's international totals: 45 goals and 45 assists -- both U.S. records -- in 128 appearances.


December, 30, 2010
12/30/10
6:29
PM PT
By
Scott French
| ESPNLosAngeles.com
Our countdown of 2010's top 10 soccer stories and newsmakers -- from a Southern California slant -- continues.
Stories/No. 2: What a World Cup party!
It has been said that the difference between the U.S. and the rest of the world is that the rest of the world stops in its tracks every four years -- such is the impact of the World Cup nearly everywhere else.
This year Southern California joined the party.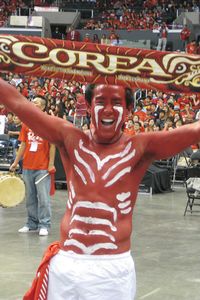 Scott French for ESPNLA.comA Korea fan shows off his enthusiasm during a televised showing of a World Cup match at Staples Center.
From the Germans at Alpine Village in Torrance to the Africans gathered at the Springbok in Lake Balboa to the Dutch in Orange County and in West L.A. to American fans everywhere, the 2010 tournament in South Africa captured the Southland's attention like never before.

Of course, Mexico was a favored team: Big gatherings at Lynwood's Plaza Mexico cheered on El Tri, and every television along Broadway downtown, it seemed, was tuned into the Mexicans' matches, with celebrations along Pacific Boulevard in Huntington Park.

The best celebrations occurred in Koreatown, where thousands gathered for every South Korea game -- even the 4:30 a.m. start -- at a little plaza on Wilshire Boulevard. More packed Staples Center for broadcasts of the Koreans' matches.

Fans of every team in the tournament, from Algeria to Uruguay, could be found in L.A. -- North Korea, too … seriously -- no surprise given the size and diversity of the region, but the best-supported team in these parts might have been the U.S.

Bars, pubs, restaurants and workplaces everywhere were tuned in for the Americans' stirring victory over Algeria. Supporters club American Outlaws' L.A. chapter celebrated Landon Donovan's stoppage-time winner with an impromptu march down Hollywood Boulevard, which drew honks from passing cars and even a police escort.

Americans have been following the World Cup all along, since the U.S. reached the semifinals in the inaugural event 80 years ago, but the 1994 World Cup, held in the U.S., was the real introduction to those not among soccer cognoscenti. The numbers paying attention have risen with each tournament since, and we can only guess how big a deal the 2014 tournament, from Brazil, will be.

December, 29, 2010
12/29/10
3:33
PM PT
By
Scott French
| ESPNLosAngeles.com
Our countdown of 2010's top 10 soccer stories and newsmakers -- from a Southern California slant -- continues.
Stories/No. 3: Galaxy's great year

The Galaxy wasn't expected to reach the MLS Cup final last year and did so. Expectations that they would get to the title game, and win it, weren't met in 2010. A step backward?
Hardly.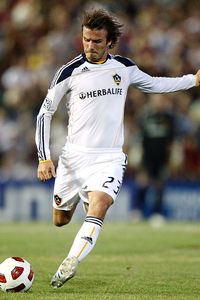 Brendon Thorne/Getty ImagesDavid Beckham huried back from an awful Achilles' tendon tear to join the Galaxy on their unexpected playoff run.
L.A. started strong, skidded long and rediscovered its best form down the stretch en route to Western Conference and Supporters' Shield titles before a disappointing postseason finish to a trying and exhilarating campaign.

The Galaxy (18-7-5) sprinted at the start, winning 10 games in the first 11 weeks, then needed more than three months to capture five more. They hung on to the top spot as Real Salt Lake, FC Dallas and, in the East, New York made late-season charges, then executed a perfect tactical plan to dominate Seattle in the opening round of the playoffs.

Another MLS Cup final might have followed if not for former Galaxy star Kevin Hartman's heroics in the nets for FC Dallas, which routed L.A. in the conference title game en route to an MLS Cup loss to Colorado, which finished fifth in the West, 13 points behind L.A.

The journey was tumultuous. A 10-0-2 start provided a cushion needed when the Galaxy slumped as summer arrived, with quick exits from the U.S. Open Cup and CONCACAF Champions League and just three wins in 12 games against MLS opposition from June 9 through Sept. 4.

The Galaxy absorbed injuries, illness and off-field tragedy, with coach Bruce Arena giving one of the best performances of his career, especially providing confidence to Brazilian midfielder Juninho, who developed into a nearly complete player by season's end, and with deft maneuvers along a hit-and-miss-and-hit-again backline. A.J. DeLaGarza's play in central defense -- partnered with former University of Maryland teammate Omar Gonzalez -- in place of defensive leader Gregg Berhalter down the stretch was a high point of L.A.'s season.

The stars? Landon Donovan, MLS's 2009 MVP, stepped into midfield and played provider more than finisher -- he led the league in assists with 16 -- and Edson Buddle emerged as the league's most dangerous striker, scoring 17 league goals, more than half of them in the first half-dozen games. David Beckham returned from a torn Achilles' tendon at least a month earlier than expected and was closing in on top form as the season closed.

The Galaxy wasn't MLS's best club in 2010 -- Real Salt Lake, FC Dallas and New York (when at full strength) were deeper and had more talent through their lineups -- but they had the best campaign, start to finish, and head into 2011 looking to sharpen their attack (with Colombian striker Juan Pablo Angel) and add depth in midfield and the backline. The goal, of course, is a championship, and they'll surely be among the chief contenders when the new season kicks off in mid-March.
December, 24, 2010
12/24/10
4:00
PM PT
By
Scott French
| ESPNLosAngeles.com
Our countdown of 2010's top 10 soccer stories and newsmakers -- from a Southern California slant -- continues.
Stories/No. 8: UCLA's fabulous freshmen
It was an odd (and some might say off) year for college soccer in the Southland:
UCLA's women didn't come close to an eighth straight trip to the NCAA College Cup final four (USC's disappointed, too)
UC Santa Barbara's men never got a chance to try to win a championship at home (deserving Akron celebrated on the Gauchos' field)
UC Irvine's stirring fall finished just short (what a run by the Anteaters' women) and with a stunning snub (how did their men, top 10 all year, not get an NCAA Tournament bid?)
Let's not even mention the lower divisions, Azusa Pacific's women (NAIA semifinalists) aside.
The best team in these parts, and that wasn't clear until season's end, was UCLA's men, who needed nearly half the season to figure things out, then came up just shy of the program's 13th final-four appearance.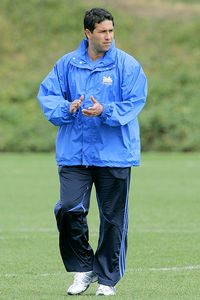 Courtesy of UCLA Athletics
UCLA coach Jorge Salcedo has one of the most talented collection of young players in the nation.

No surprise they needed time to find their feet: The Bruins had the finest collection of freshmen in the country, and their sophomores were pretty good, too. They might be the NCAA's No. 1 team when the season opens next fall, but their window for winning a title ought to be short: The players Bruins coach (and former Galaxy and UCLA midfielder)
Jorge Salcedo
brings to Westwood are so good, they rarely last more than a couple of years before going pro.
And this year's youngsters might be the Bruins' best. Included were an All-American midfielder (
Kellyn Rowe
), a forward who turned down pro offers to come to UCLA (Fontana's
Victor Chavez
) and another forward coveted by top programs everywhere (Newport Beach's
Reed Williams
). Two top defenders (Dove Canyon's
Joe Sofia
and Laguna Niguel's
Patrick Matchett
) sneaked in under the radar. And maybe the best of the lot (goalkeeper
Earl Edwards
) saw no action, sitting behind a top veteran (junior
Brian Rowe
).
Seven freshmen played considerably and the class accounted for most of the goals (23 of 40, with Chavez's 10 tops on the team) and assists (27 of 52, with Rowe's 10 tops on the team).
UCLA went 16-5-1, absorbing a big loss early (5-1 to Indiana) and another defeat in front of the biggest crowd ever to watch a soccer game at a university field (2-0 to UC Santa Barbara in front of 15,896), then taking off on a 14-2 spree into the NCAA quarterfinals. They held two two-goal leads before succumbing, 5-4, to No. 1 Louisville in the snow.
December, 2, 2010
12/02/10
8:13
AM PT
By
Scott French
| ESPNLosAngeles.com
The World Cup will not be coming to the U.S. in 2022. Qatar, no surprise, was awarded the tournament Thursday in Zurich, a decision seemingly about money that will add to FIFA President Sepp Blatter's legacy of taking soccer's great showcase to new lands.
Oil-rich Qatar hasn't the stadiums nor the soccer pedigree of its competitors to stage the 2022 Cup -- and add in searing summer heat -- but it had emerged as a favorite in recent weeks, a nod to the backroom politicking (fueled by great sums of cash) and Blatter's desire to bring the World Cup to the Middle East for the first time.
Blatter was pivotal in South Africa's selection to stage last summer's World Cup, the first played in Africa.
The U.S. reportedly reached the final vote after a bid presentation that featured former President Clinton, Galaxy captain Landon Donovan and actor Morgan Freeman. Australia, Japan and South Korea also had bid for the 2022 event.
The Rose Bowl, which staged the 1994 World Cup final, was part of the U.S. bid, although a new NFL stadium -- venues have been proposed for downtown L.A. and the City of Industry -- likely would have superseded the historic Pasadena facility.
Qatar's bid was judged "high-risk" by FIFA's inspection committee -- the only bid so criticized -- and the country's national team has never qualified for a World Cup.
Russia was awarded the 2018 tournament over England and joint bids from Spain/Portugal and Netherlands/Belgium; it was a surprise only because Prime Minister
Vladimir Putin
declined to travel to Zurich for the final presentation. He reportedly was en route to Switzerland following the decision.
Al Jazeera reported before the announcement that Qatar had won the vote and that Australia exited following the first round of voting, followed by South Korea and then Japan, leaving the final vote between the U.S. and Qatar.
The 1994 World Cup was the best-attended and most lucrative in history, and it has had a profound effect on the growth of the sport and of soccer's fan base in the U.S.. No word yet whether U.S. officials will consider a 2026 bid, although it is expected they will.
UPDATE:
Japan was eliminated before South Korea in the 2022 balloting. Here's how the voting went in Zurich:
First round: Qatar 11 votes, South Korea 4, U.S. 3, Japan 3, Australia 1 Second round: Qatar 11, U.S. 5, South Korea 5, Japan 2 Third round: Qatar 11, U.S. 6, South Korea 5 Fourth round: Qatar 14, U.S. 8.
UPDATE 2:
U.S. Soccer President (and 2022 bid chief)
Sunil Gulati
on the process: "It's politics, it's friendships and relationships, it's alliances, it's tactics. There are far too many permutations, especially with these two World Cups being decided on the same day, and I'm not smart enough to figure out how all those played out in these two elections."
And on the possibility of bidding for the 2026 Cup: "All of us that have been involved in this for quite some time want to sit back, not very long, but at least until the end of the night before we think what else we might do in the future."