Los Angeles Soccer:

2012 European Championship
June, 22, 2012
6/22/12
4:18
PM PT
By
Scott French
| ESPNLosAngeles.com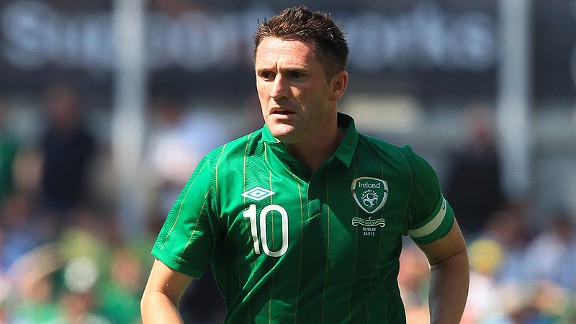 Peter Muhly/Getty ImagesRobbie Keane is back from Euro 2012 and ready to play for the Galaxy if called upon.

CARSON -- Robbie Keane returned to training Friday with the Galaxy, just four days after wrapping up his involvement at the European Championship, and although he wishes he were in Ukraine preparing for a quarterfinal Saturday or Sunday, he says he's happy to be back.

And ready to go, should he be called upon for Saturday night's Major League Soccer clash with Vancouver at Home Depot Center.

"It's nice to be back amongst the lads and look forward to being involved tomorrow," the Irish striker said following Friday's training session at HDC's Track and Field Stadium. "[I'm ready to] play as long as I can. I'd be happy to play 90 minutes."

He's hoping to "get minutes under my belt tomorrow to sort of get all the stiffness out" as he looks to move on from a very disappointing Euro 2012 campaign. Ireland lost all three of its Group C matches, to Croatia, Italy and Spain, and finished last in the 16-nation tournament.

Asked what he takes from the Euros, Keane replied: "Nothing, really. It was a good experience. It was obviously great to play in the European Championship, but if you don't win ... sometimes you just have to hold your hand up and say the team you played were superior than you were. Simple as that, really."

It was a frightful group for the Irish, who are capable battlers without the depth or talent of the continent's powers, a roster that includes the Spaniards -- defending European and World Cup champs -- and the Italians and, on occasion, the Croats, too.

The gap might be growing between decent teams, such as Ireland, and "people like Spain, who's probably on a different planet at the moment [from] anyone else I've ever played against," Keane said. "You're just basically chasing shadows for 90 minutes."

The only positive for Ireland was the Green Army supporters, a jovial lot who charmed everybody and won great plaudits for serenading their team with the Irish folk song "Fields of Athenry" as Spain rolled to a 4-0 victory Monday.

"That's normal for Irish fans," Keane said. "They've been fantastic over the years, and especially in Poland I think they've been a credit to the country in the way they behaved and the way they supported the team. That's how every team should be supported."


June, 20, 2012
6/20/12
2:31
PM PT
By
Scott French
| ESPNLosAngeles.com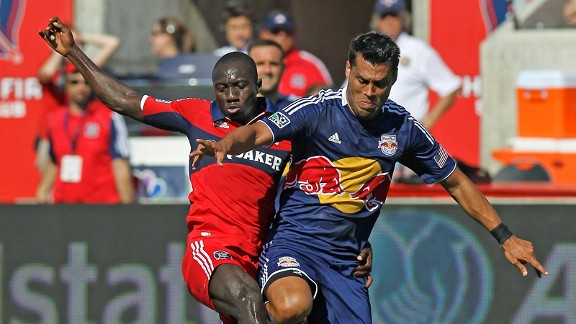 Jonathan Daniel/Getty ImagesThe Red Bull's Wilman Conde clearing of the Fire's Dominic Oduro's shot was the biggest play of the week in MLS.
In just a matter of days, the argument over goal-line technology has been settled. They'll still argue, but after Ukraine was denied a legitimate goal in Tuesday's 1-0 loss to England at Euro 2012, the discussion is moot.
"After last night's match," FIFA President
Sepp Blatter
tweeted Wednesday, "GLT is no longer an alternative but a necessity."
MLS Commissioner
Don Garber
has been vocal in his support of goal-line technology, and the week's better argument in favor of implementation occurred in Chicago's 3-1 victory Saturday over visiting New York.
A shot by Fire forward
Dominic Oduro
, slowed by a deflection off Red Bulls goalkeeper
Ryan Meara
, was
cleared as it entered the net
by
Wilman Conde
. The linesman was a little behind the play and screened by a sliding Conde and could not see that the ball had, indeed, crossed fully into the goal. Referee
Baldomero Toledo
waved play on and cautioned Oduro for protesting.
The incident incensed the Fire, who replied with another goal four minutes later and another 13 minutes after that to pull away.
Marko Devic
's goal for Ukraine was just as clear, and
John Terry
's clearance after it had crossed the line should have been easier to spot. UEFA, led by legendary French midfielder (and anti-technology crusader)
Michel Platini
, is experimenting with goal judges in this European Championship. Their sole job is to decide if the ball has crossed the line. The goal judge in Donetsk was next to the net staring at the play, and he didn't get it right.
As
Michael Ballack
noted on ESPN's coverage of the Euros, it's not his fault. Everything's happening so fast, the eyes can't discern exactly where what is at any given moment. ESPN used stop-action video to prove Devic's goal should have counted.
FIFA on July 5 will decide if Platini's alternative or either of two systems, both using technology, at use in England and Denmark should be approved for widespread use. The past week calls for at least one of them to get the nod, and the UEFA boss' chances aren't good.
Here are this week's power rankings:
1. REAL SALT LAKE (10-3-2, 32 points), Last Week: 1
Week 15:
Fabian Espindola strikes twice in impressive 3-0 triumph at Chivas USA.
Latest:
Javier Morales ready to return to the starting lineup.
Should-be All-Star:
Espindola has been unstoppable.
Next:
Wednesday vs. Galaxy, 6 p.m. (KDOC/Channel 56 and KWHY/Channel 22); Saturday vs. San Jose, 6 p.m. (MLS Direct Kick).
2. SPORTING KANSAS CITY (9-3-1, 28 points), LW: 3
Week 15:
C.J. Sapong, Julio Cesar hit the net in 2-0 win over Toronto FC.
Latest:
Peter Vermes reveals K.C. has
tried to acquire Giovani Dos Santos
"a couple times, but there's always been little problems here or there," mostly money talk with Tottenham. The Mexico star says he wants to stay in Europe.
Should-be All-Star:
Aurelien Collin has been splendid at the back.
Next:
Wednesday at Seattle, 7 p.m. (MLS Direct Kick); Saturday at Philadelphia, 4 p.m. (MLS Direct Kick); Tuesday in a U.S. Open Cup quarterfinal vs. Dayton Dutch Lions (USL Pro), 5:30 p.m.
3. SAN JOSE EARTHQUAKES (8-3-3, 27 points), LW: 4
Week 15:
Idle.
Latest:
When will the Quakes' new stadium open? Could be
2013 or 2014
-- still lots of uncertainty.
Should-be All-Star:
Chris Wondolowski, of course.
Next:
Wednesday at Colorado, 6:30 p.m. (MLS Direct Kick); Saturday at Real Salt Lake, 6 p.m. (MLS Direct Kick); Tuesday in a U.S. Open Cup quarterfinal vs. Seattle, 7:30 p.m.
June, 14, 2012
6/14/12
10:35
PM PT
By
Scott French
| ESPNLosAngeles.com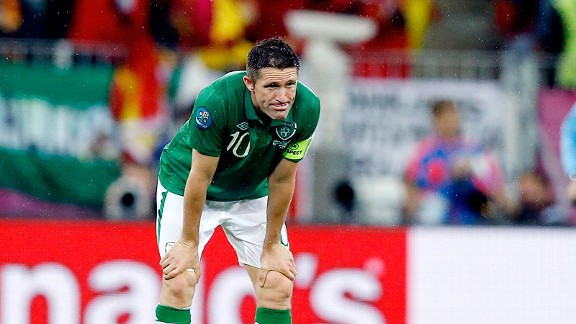 AP Photo/Peter MorrisonIreland's Robbie Keane reacts at the end of the Euro 2012 soccer championship Group C match between Spain and Ireland. Ireland lost the match, 0-4.
Robbie Keane will be back with the Galaxy next week, following Ireland's first-stage finale, after the Republic was eliminated from Euro 2012 contention with a lopsided loss to Spain.
The Irish, despite strong support from their legendary Green Army, are the first team ousted from the European Championship after Thursday's 4-0 defeat in Gdansk, Poland. They lost their Group C opener Sunday to Croatia and complete their schedule Monday against Italy in Poznan. The Italians must win to advance.
Keane, Ireland's captain, is expected to rejoin the Galaxy when they return from Wednesday's game at Real Salt Lake, although a club spokesman Thursday said the striker's schedule was not known. The Galaxy return from a three-week break Sunday against Portland at Home Depot Center. Keane has missed three Galaxy games, including the U.S. Open Cup defeat, while with the Irish squad.
Spain dominated Thursday's game, and after the game former Irish captain Roy Keane voiced his displeasure.
"It was a wake-up call for these players," he said. "The goals they gave away tonight at any level were absolutely shocking."
Ireland, the underdog in a a very difficult group, fell behind Spain on the first of two
Fernando Torres
goals in the fourth minute. The Spaniards, Euro 2008 and 2010 World Cup champion, held two-thirds of possession, spent much of the match in and around the Irish box, and outfired their foe, 26-6, putting 20 shots on target.
David Silva
,
Cesc Fabregas
and Torres scored second-half goals.
Ireland was making its first European Championship appearance since 1988 and playing in its first major championship since the 2002 World Cup. They are one of two teams to play twice without a point -- Holland remains alive at 0-2-0 in Group B -- and have conceded a tournament-worst seven goals. Only one other team has surrendered more than three.
Editor's note: In an earlier version of this post quotes from former Irish captain Roy Keane were mistakenly attributed to current Irish forward Robbie Keane.
June, 10, 2012
6/10/12
3:09
PM PT
By
Scott French
| ESPNLosAngeles.com
Ireland's start to the European Championship was not what Galaxy striker Robbie Keane hoped for.

Mario Mandzukic scored two goals to lead Croatia to a 3-1 victory in the Group C opener in Poznan, Poland, leaving the Irish in a difficult position to advance to the knockout stage.

Ireland, which entered its first major tournament in a decade with a 14-game unbeaten streak, is last in the group after the opening matches and has games left against the last two World Cup champions, Thursday against Italy and next Monday against defending Euro titlist Spain. The top two teams in the group move on to the quarterfinals.

If Ireland fails to advance, Keane is expected to return to the Galaxy in time for the June 23 game against Vancouver at Home Depot Center. It is unlikely he'd be back for the June 20 match at Real Salt Lake.

Italy and Spain drew, 1-1, in a sparkling encounter featuring brilliantly executed sequences for goals three minutes apart in the second half by the Azzurri's Antonio Di Natale and Spain's Cesc Fabregas.

Keane, the Irish captain, went just 71 minutes before manager Giovanni Trappatoni, looking for an offensive spark, pulled him off in favor of Shane Long. Keane was denied a clear penalty kick in the 63rd minute by Dutch referee Bjorn Kuipers; televised replays indicated Gordon Schildenfeld fouled him from behind.

Ireland was unfortunate on all three Croatian goals. Mandzukic scored in the third minute from an odd header following a deflected cross, and Nikica Jelavic was in an offside position when he scored the winner just before halftime, except the ball came off a shanked clearance attempt by the Irish. Mandzukic's second goal, three minutes into the second half, was a header that hit the right post and ricocheted in off diving goalkeeper Shay Given.

Sean St. Ledger netted Ireland's goal, a header from a free kick in the 19th minute.
June, 8, 2012
6/08/12
3:13
AM PT
By
Scott French
| ESPNLosAngeles.com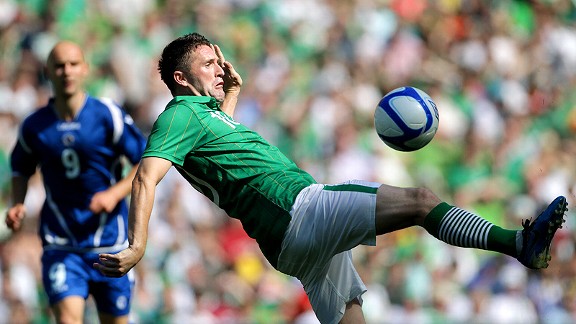 AP Photo/Niall CarsonRobbie Keane will be away from the Galaxy for the next month while competing for Ireland in Euro 2012.

CARSON -- The odds might not favor Ireland as the European Championship begins in Poland and the Ukraine, but that's fine with Galaxy striker Robbie Keane, the Irish's captain and all-time goals leader. He rather likes it that way.

The world's No. 2 soccer tournament kicks off Friday morning L.A. time, and Keane will lead the Irish into Euro 2012 action on Sunday morning, a critical meeting with Croatia before showdowns with the last two World Cup champions.

It's a ferocious challenge, but whatever Ireland lacks in technical brilliance is offset by plenty of grit and guile -- and Italian manager Giovanni Trapattoni's clampdown defensive system.

"We've certainly got the toughest group," Keane told L.A.-based reporters before heading to Europe last month. "We're underdogs, and I think with the national team it's always good -- and we've always done better -- when we're the underdogs. Hopefully, that will be the case."

It's Ireland's first major competition in a decade, since the 2002 World Cup, and its first European Championship appearance since 1988, when Keane was 7 years old. The draw could hardly have been worse.

Spain, the defending European and World Cup champion (and only the third team ever to win the titles back-to-back), is the finest side on the planet and, along with Germany and Holland, the tournament favorite. Italy comes in undervalued and, as always, with a defensive mindset that can boost Azzurri chances. Croatia always is among Europe's most talented teams.

Ireland, based in Poland for Group C play, faces Croatia in Poznan, then takes on Spain next Thursday in Gdansk and Italy on June 18 in Poznan.

"Spain, who are kind of the Barcelona of everyday kind of football, that's going to certainly a challenge," Keane said. "We'll certainly be doing a lot of running, a lot of chasing. Croatia we played against last year, and we're quite even team. Italy is Italy -- they defend very well as a team, but we've got a manager who's Italian, who knows the Italian players inside-out. ...

"We have the toughest group, we know that, we're not stupid, we're not na´ve to think that we've got an easy group, but the thing is when you play these games, there's no easy games regardless who you're playing."

The Irish beat Italy, 2-0, in a friendly last year, and they have a knack for getting results against better-fancied teams. They've lost just twice in 24 competitive games under Trapattoni and might have gone to the 2010 World Cup if not for Thierry Henry's infamous hand ball.