Los Angeles Soccer:

2012 MLS SuperDraft
January, 12, 2012
1/12/12
10:46
PM PT
By
Scott French
| ESPNLosAngeles.com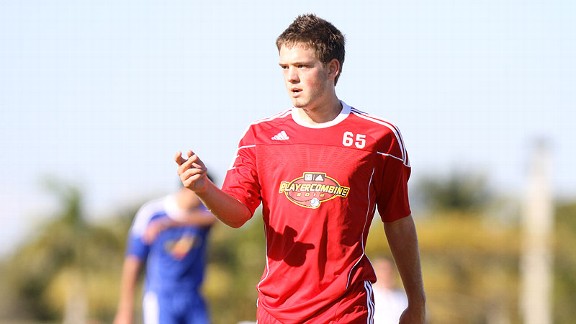 Major League SoccerUCLA's Kelyn Rowe, who was drafted No. 3 by New England, says he's honored to going to that organization.

CARSON -- Chandler Hoffman had heard the buzz, how his superb performance at Major League Soccer's pre-draft combine in Florida -- on top of his 18-goal, All-America showing for NCAA semifinalist UCLA -- had vaulted him into the top five, maybe the top three in the MLS SuperDraft.

So when Commissioner Don Garber began announcing the New England Revolution's selection with the third pick Thursday morning at the Kansas City Convention Center -- first noting the player was a Generation adidas signing from UCLA -- Hoffman got excited.

For a second or two.

It was Bruins teammate Kelyn Rowe the Revolution grabbed at No. 3, and Chandler sat down to wait. And wait. And wait.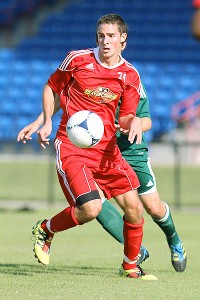 Major League SoccerIt was a longer wait than expected for UCLA's Chandler Hoffman, who was picked No. 13 overall by the Philadelphia Union.
By the time the striker from Birmingham, Ala., finally heard his name, he first round was two-thirds through and the Philadelphia Union, choosing 13th, was giddy.

"Pretty surprising. But good for us, right?" Union assistant coach John Hackworth told the league's website. "We get one of the best young attacking players in he country, someone that's proven to put the ball into the back of the net. There's nothing more valuable in all of soccer."

Hoffman's slide down he draft table was one of the big stories out of the headlining festivities at the National Soccer Coaches Association of America's annual convention, but not the only one involving local players.

There was Rowe, an attacking midfielder from Federal Way, Wash., whom New England coach Jay Heaps described during ESPN2's draft coverage as "a really critical player to our team."

And there were UC Santa Barbara standouts Luis Silva (Los Angeles/Salesian HS), who went to Toronto FC with the fourth overall selection, and Texan Sam Garza, taken by San Jose at No. 6.

Plus UC Irvine's Miguel Ibarra, a quartet of UCLA players, English midfielder Andy Rose most prominent among them, and several other hopefuls from local schools who now turn their attention to Tuesday's four-round supplemental draft.


January, 12, 2012
1/12/12
8:43
PM PT
By
Scott French
| ESPNLosAngeles.com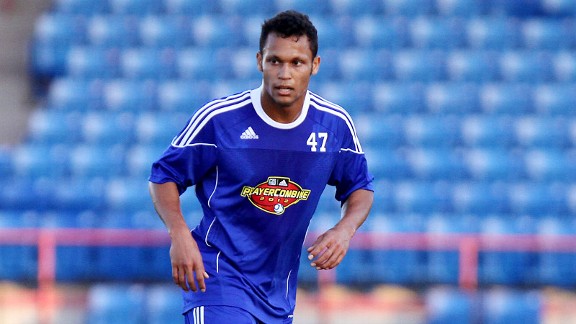 Major League Soccer The Galaxy were plesantly surprised that Kenney Walker was available to them at the end of the second round.
Tommy Meyer had been a Galaxy defender all of five minutes before the tweet landed. Landon Donovan, from the other side of the Atlantic, officially welcomed Meyer to the club with a simple "Let's welcome [Meyer] to the Galaxy family/defense!" on his Twitter account.

Meyer, a 6-foot-2 central defender from Indiana University whom L.A nabbed with the final selection of the first round in Thursday's MLS SuperDraft, hadn't even had a chance to read it -- just texts from friends telling him about it (and expressing shock he was joining the biggest soccer club in America) -- when he made the gantlet of media calls, but it certainly got the point home: He wasn't going just anywhere.

"There are world-class players there, with Landon and [David] Beckham and Robbie Keane," Meyer, 22, told ESPN Los Angeles. "Those are players I grew up watching. The chance to get to train with them, you couldn't ask for more than that. ... It's definitely something I didn't expect, but I'm really excited to get to work, and to join the team that won MLS Cup is definitely something."



Meyer
Kenney Walker got the treatment an hour or so later -- Donovan's tweet: "And finally, welcome Kenney Walker to the family!" -- as the Galaxy wrapped a productive day that turned out better than they thought it would.

Galaxy coach Bruce Arena says a center back was always in the plans, even before Omar Gonzalez tore the anterior cruciate ligament in his left knee last week at the start of his FC Nuremberg loan. Meyer was considered one of the better second-level central defenders in the draft.

Walker, a skillful central midfielder out of Louisville, was the surprise prize. The Galaxy's coach didn't expect him to still be around when the 38th (and final) pick in the SuperDraft came around.

Mayer, Arena says, has "has all the characteristics to become a good professional. ... We wanted a center back with physical characteristics. ... Tommy is a very impressive young man, a bright kid, confident, with a burning desire to be successful. I walked away from our meeting [at the MLS Player Combine] feeling very good about him."

Walker, primarily a defensive midfielder with skill and creative instinct, "absolutely impressed me during the combine," Arena said. "One of the better players on the whole. He just played really well. I was surprised he wasn't picked in the first round."

Gonzalez, had he not been hurt (and once healthy), appears destined for Europe, and Juninho's departure, even with the arrival of Brazilian Marcelo Sarvas, leaves a hole in midfeld. Meyer and Walker hope they can contribute right away, but they're moves for the future, providing depth while maturing into productive professionals under the tutelage of a veteran side possessing significant standards.

"I don't think at this point in our program we expect that out of our draft picks," Arena said. "I think both are capable players, and it's maybe a case where Tommy has to play a little bit more in the early going. We'll see."


January, 12, 2012
1/12/12
5:51
PM PT
A look at the first-round picks by Chivas USA and the Galaxy with a bit of analysis from Alexi Lalas and Taylor Twellman.


The New England Revolution took UCLA midfielder Kelyn Rowe with their first pick (third overall) in the MLS SuperDraft.

January, 12, 2012
1/12/12
3:10
PM PT
By
Scott French
| ESPNLosAngeles.com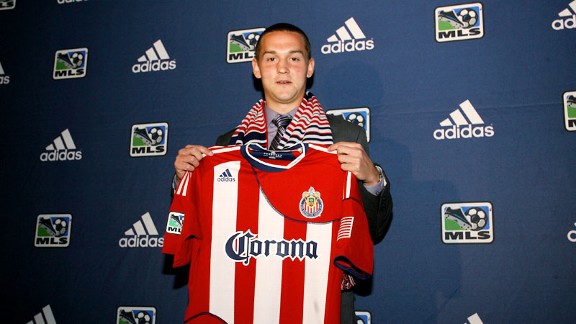 Major League SoccerChivas USA draft pick Casey Townsend is looking forward to learning under fellow forwards Juan Pablo Angel and Alejandro Moreno.

Chivas USA has some clear needs and this year's draft class has some real depth, so when the fifth pick arrived in Thursday's MLS SuperDraft, Robin Fraser and his staff had some tantalizing options to consider.

Maryland striker Casey Townsend, perhaps the best finisher on the board, proved most enticing, and the Goats exited the Kansas City Convention Center feeling like conquerors.



That's nothing compared to Townsend's emotions, nor the opportunity thrown his way -- if Juan Pablo Angel really is coming back.

Townsend, a first-team All-American who scored 17 goals as a senior and 43 goals in four seasons with the Terrapins, has big-time promise, and a season spent with the star Colombian striker's -- and working with Venezuela veteran Alejandro Moreno, too -- sounds like the best finishing school imaginable.

"Absolutely. Those two guys are very accomplished. They've proven themselves in MLS for years," Townsend, 22, told ESPN Los Angeles. "I'm very excited to learn whatever I can from them. I'll be a sponge out there and take all the advice they can give."

Townsend figures to see his share of action, too. The Goats aren't done dealing -- they've got a surplus of midfielders, at least one more offshore acquisition coming and five picks in the first two round of Tuesday's supplemental draft -- but the newcomer from Traverse City, Mich., is just the third forward on the active roster.

Uh, make that second. Angel hasn't re-signed yet, although Fraser said he's confident he will.

"This is a great place for [Townsend] to learn," Fraser said. "He has great role models around us, serious professionals who are very dedicated to their craft. It's really a dream situation for any forward to be around especially those guys."


January, 12, 2012
1/12/12
1:26
PM PT
By
Scott French
| ESPNLosAngeles.com
Chivas USA got its man, the Galaxy bolstered its ailing backline, and UCLA's Kelyn Rowe was the No. 3 overall selection in Thursday's MLS SuperDraft.

Chandler Hoffman surprisingly slipped into the teens and two UC Santa Barbara products were taken with the first six picks and Major League Soccer's most visible -- but not necessarily most productive -- player-acquisition mechanism unfolded in Kansas City.

The Goats took Maryland's Casey Townsend, the best senior forward in the draft, with the No. 5 selection, and the Galaxy, reeling from Omar Gonzalez's knee injury, used its pick at the end first round pick on big Indiana central defender Tommy Meyer, who has U-17 World Cup experience.

Rowe went early to New England, but teammate Hoffman fell to 13th, where Philadelphia added to its collection of UCLA alums.

Two UC Santa Barbara products were taken in the top six, with midfielder Luis Silva (Los Angeles/Salesian HS) going to Toronto FC with the fourth pick and forward/midfielder Sam Garza taken by San Jose at No. 6.
Townsend, a first-team All-American who scored 17 goals as a senior and 43 in four seasons at Maryland, said he was hoping to join Chivas after talking to head coach Robin Fraser at the MLS Player Combine in Fort Lauderdale, Fla.

"It was very exciting, very nerve-racking," Townsend, MVP of the combine, told ESPN Los Angeles. "I was really hoping to go to Chivas. I had a great sit-down meeting with them. They were my gut feeling, and I was really excited to hear them call my name."

The Galaxy's plan was to take the best player available, and it turned out to be a center back, a position of need following MLS Defender of the Year Gonzalez's torn ACL last week on the first day of a loan to FC Nuremberg.

Meyer started 79 games in four seasons at Indiana, which, like Maryland, is a longtime national powerhouse. He credited Hoosiers head coach Todd Yeagley and assistant Brian Maisonneuve -- former IU stars who played in MLS; Maisonneuve was on the 1998 U.S. World Cup team -- with furthering his development.

"They really pushed me, especially this year, to take the next step and, hopefully, be ready for MLS," Meyer said.

The Galaxy selected Louisville defensive midfielder Kenney Walker, a technically gifted player who impressed at the combine, with the 38th pick to end the SuperDraft.


January, 12, 2012
1/12/12
6:45
AM PT
By
Scott French
| ESPNLosAngeles.com
CARSON -- The best attacking midfielder available in Thursday's MLS SuperDraft might be Kelyn Rowe, a UCLA sophomore expected to go early in the first round.

He's deadly with the ball at his feet, the kind of player who can destroy opposing defenses on the dribble, with the pass or with spectacular goals.

Rowe, 20, from Federal Way, Wash., would have been one of the best players available a year ago, and he might have been -- turning pro certainly was in his thoughts following an All-America campaign his freshman year in Westwood. Instead he stuck around for another term, one that wasn't quite so glorious, and grew in ways that will enhance his game at the next level.

"It was a tough decision for me [to return for my sophomore year], but I think I'd make the same decision," Rowe said Wednesday at Home Depot Center, where he's training with the U.S. under-23 national team. "You know, I could learn more [from one more year] in college. And I promised my parents I'd go back for a full year of school. ... I had some stuff to learn before I went pro."

The lessons came fast and hard, as Rowe started the season slowly, struggling to acclimate to UCLA coach Jorge Salcedo's revamped system and with tendonitis in his right knee, then lost his starting job. It dawned on him things weren't quite as he thought.

"It was a tough year," Rowe he concedes, "but I was able to play a different role. Instead of always going forward, I was able to keep the ball a little more. I learned that aspect. I also learned to come off the bench, which is something that I might have to do come pro time.

"It was definitely a good year for maturing. I saw a lot of stuff I hadn't seen before. I saw a lot of adversity that I had to overcome, and I think it was good for me."

Rowe, who trained last May with his hometown Seattle Sounders, found his game during the season and was pivotal in the Bruins unbeaten run through their Pacific 12 Conference schedule and into the NCAA final four. He hit double digits in assists for the second straight year, won the Pac-12 player-of-the-year award and was a second-team All-West Region selection.


January, 12, 2012
1/12/12
12:13
AM PT
By
Scott French
| ESPNLosAngeles.com
One thing Chivas USA has plenty of is midfielders, as many as 10 potential starters on the roster, so it follows that when the fifth pick arrives in Thursday's MLS SuperDraft, the Goats will be looking for something else.
Maybe not.
Robin Fraser
's plan is simple: take the best available player, no matter where he plays.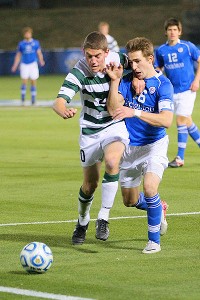 Marvin Gentry/US PresswireCreighton forward Ethan Finlay, right, could be on Chivas USA's radar in Thursday's MLS SuperDraft.
"I think position is of consideration," said Fraser, who needs to rebuild his backline and bolster his depth at forward. "But at the end of the day, I think we still go for the best player we can get."

The Goats, barring trades, have just one selection in the two-round SuperDraft -- a four-round supplemental draft follows next week -- and figures to get something good.

Nearly everyone figures Akron forward Darren Mattocks and Duke defender/midfielder Andrew Wenger will be taken with the first two picks, by Montreal and Vancouver. UCLA's Chandler Hoffman and Kelyn Rowe, Connecticut defender Andrew Jean-Baptiste and UC Santa Barbara midfielder Luis Silva are prime candidates to go third or fourth, so, worst-case scenario, at least two of them should be available.

Other options would include forwards Casey Townsend (Maryland), Ethan Finlay (Creighton) and Dom Dwyer (South Florida), center backs Matt Hedges (North Carolina) and Austin Berry (Louisville), and two more midfielders: Louisville attacker Nick DeLeon and Marquette's defensive-minded Calum Mallace.

Fraser and his staff have a game plan.

"We certainly have our projections and a couple different scenarios. We certainly have identified who we want to take ...," he said early Thursday morning K.C. time. "There are a number of good players in the draft, and some of them are extremely appealing. Some have different qualities -- some have qualities that could impact you now and some have qualities that could impact you in the future. There are a lot of things to keep in consideration."


January, 11, 2012
1/11/12
10:34
PM PT
By
Scott French
| ESPNLosAngeles.com
CARSON -- If there's a can't-miss prospect in Thursday morning's MLS SuperDraft, it's Duke University's Andrew Wenger, a versatile defender/midfielder/forward who last week won the Hermann Trophy as college soccer's top player.

He's almost universally pegged as the No. 2 selection, by the Vancouver Whitecaps, following speedy Jamaican forward Darren Mattocks of Akron, and at least one critic has proclaimed him the best candidate on the board in central defense, as a defensive midfielder -- maybe even as a winger and a forward.

"Everyone has their opinions," said Wenger, a two-time NSCAA first-team All-American who signed a Generation adidas contract with Major League Soccer following his junior season.

The buzz is deafening for the Lilitz, Pa., product, and he admits he has heard a lot of it.

"I think it's pretty hard not to," said Wenger, who is training until Jan. 25 at Home Depot Center with the U.S. under-23 national team -- although he jetted to Kansas City on Wednesday for the festivities. "I mean, I'll listen to it a little bit, and it's kind of interesting and funny from time to time, but at the end of the day, it's just what you can do on the field."

Wenger, 21, can do plenty. He anchored Duke's backline as a freshman and sophomore and was pushed up front last fall, scoring 17 goals with eight assists to lead the Blue Devils to an 11-8-3 record and into the second round of the NCAA tournament. But his best position, he says, might be in midfield.


January, 11, 2012
1/11/12
9:43
PM PT
By
Scott French
| ESPNLosAngeles.com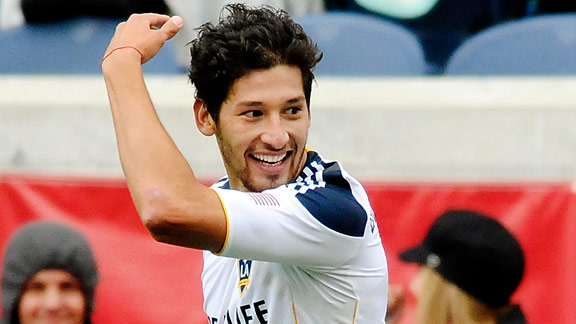 David Banks/Getty ImagesThe Galaxy will have to replace injured Omar Gonzalez's presence on the backline, but it likely won't be through the SuperDraft.

The Galaxy heads into the Thursday's MLS SuperDraft with real needs following Omar Gonzalez's potentially season-ending knee injury, but they're not going to find a replacement for the league's best center back in Kansas City.

Bruce Arena says as much, and he maintains Major League Soccer's reigning champ isn't looking to trade up to grab one of three or four top center backs available and likely to be gone by the time the 19th pick rolls around.

"I don't think we can safely draft a player that necessarily replaces Omar," Arena, the Galaxy's head coach and general manager, told L.A.-based reporters as the MLS Player Combine concluded Tuesday in Fort Lauderdale, Fla. "Obviously, we're aware of the fact we need to bolster our backline. But we're not going to be making up for the loss of Omar in the draft."

Gonzalez, last season's MLS Defender of the Year, tore the anterior cruciate ligament in his left knee last Thursday, in his first training session with FC Nuremberg after joining the German Bundesliga club on a short-term loan. He knocked knees with German-born U.S. national team right back Timmy Chandler, and just like that his plan for 2012 was gone.

Gonzalez, 23, had been called into the national team's January camp -- he pulled out to join Nuremberg's winter-break camp in Turkey -- and there was growing interest in his services in Europe. Nuremberg officials confirmed they hoped to bring in the 6-foot-5 Texan full-time in the summer transfer window.

Instead, Gonzalez will undergo surgery, tentatively planned for late this week or early next week, and spend the bulk of the year rehabilitating his knee and then building fitness.

Gonzalez didn't return to the U.S. until Sunday, and a Galaxy spokesman said he had been slated to visit Dr. Bert Mandelbaum's Santa Monica Orthopedic and Sports Medicine Research Foundation on Wednesday to determine the extent of the injury and damage to the meniscus and other ligaments. Head trainer Armando Rivas was returning Wednesday from the combine, and surgery will be scheduled once he has met with Mandelbaum.

"We were pretty certain [after hearing from Nuremberg] it would be an ACL. We need to get that confirmed," Arena said. "Obviously, it's disappointing. It's more disappointing for Omar than for our team. This was going to be a nice opportunity for Omar, something he wanted to do, and we were happy to support him in it. It's a shame because he's a player who was coming into his prime."


January, 11, 2012
1/11/12
7:33
PM PT
By
Scott French
| ESPNLosAngeles.com
Chandler Hoffman and Kelyn Rowe aren't going to last very long once the MLS SuperDraft begins Thursday morning, and Luis Silva, Sam Garza, Miguel Ibarra and Andy Rose figure to be nabbed soon after.

They're the big names, but hardly the only ones, among local players aiming for an opportunity with a Major League Soccer team. There are nearly two dozen players who grew up or went to school in Greater Los Angeles hoping to hear their names called in Kansas City.

Some of them, let's be honest, don't have a shot, not with just two rounds of picks -- 38 in all. Next week's supplemental draft will provide possibilities, and players will be looking to participate in team combines and in trials during preseason training.

Some might look abroad -- there are leagues everywhere on the planet -- and there are two professional minor leagues (NASL, USL Pro) and several pro clubs in the Premier Development League and its rival NPSL.

Here's a quick rundown of 22 players who might find a job in MLS, if the right situation develops:


January, 10, 2012
1/10/12
10:21
PM PT
By
Scott French
| ESPNLosAngeles.com
Final mock drafts should start showing up online any minute now, and nearly all of them will continue to have Jamaican speedster
Darren Mattocks
, a University of Akron sophomore, going to Montreal with the first pick in Thursday's MLS SuperDraft in Kansas City, and Vancouver following by taking defender/midfielder
Andrew Wenger
, a Duke junior considered the one sure thing on the board.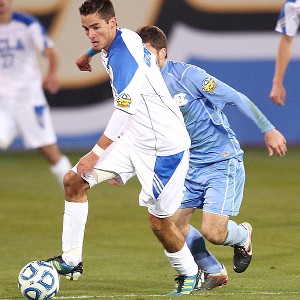 Marvin Gentry/US PresswireUCLA forward Chandler Hoffman could go as high as No. 3 in the MLS SuperDraft on Thursday.
Who goes third? Might be UCLA striker Chandler Hoffman, a Generation adidas player (like Mattocks and Wenger) whose rising stock grew with superb performances in his first two games at the MLS Player Combine, which wrapped up Tuesday in Fort Lauderdale, Fla.

Hoffman, who scored 18 goals to lead the Bruins to the NCAA semifinals, scored an 80th-minute winner to lift adiPower to a 3-2 victory in Friday's combine opener -- moments after forcing a huge save on a breakaway -- and added the first goal in a 2-1 win Sunday.

AdiPower won the tournament with a 3-0-0 record, scoring nine goals behind Hoffman, Maryland forward Casey Townsend, Dartmouth forward Lucky Mkosana and attacking midfielders Kelyn Rowe of UCLA and Luis Silva of UC Santa Barbara.

"It's always good when the roster came out to see I had Kelyn and Luis and then Casey up top with me ...," Hoffman said in a video posted on the Soccer By Ives blog. "It's made my job easy, just combining with them, playing simple and moving the ball."

Hoffman, of course, has played the past two seasons with Rowe, a sophomore also expected to go early in the first round. And Silva (Los Angeles/Salesian HS), another first-round certainty, was Hoffman's summer teammate with USL Premier Development League side Orange County Blue Star.

The Alabaman and Townsend, who is considered the best senior forward (and, with Silva, the best senior) available in the draft, could have been teammates at Maryland -- and their connection at the combines suggests the Terrapins might have won a couple more NCAA titles had he not chosen UCLA.

"Sasho [Cirovski, Maryland's coach], when he was recruiting me, always talked about me and Casey playing together one day," Hoffman told Major League Soccer's website. "Who knew it would be today?"


January, 9, 2012
1/09/12
10:09
PM PT
By
Scott French
| ESPNLosAngeles.com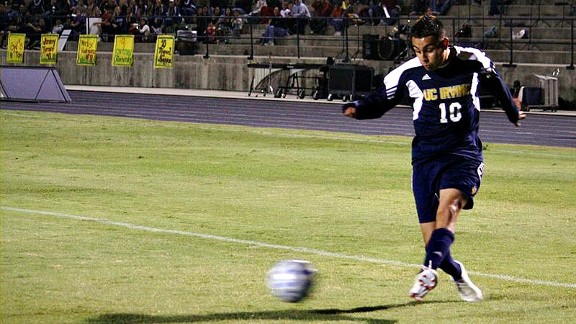 UC Irvine Sports Information UC Irvine All-American Miguel Ibarra is participating at the MLS pre-draft Player Combine in Fort Lauderdale, Fla.
George Kuntz has seen some amazing things in nearly four decades as an accomplished player and coach, but when he tries to describe what's special about Miguel Ibarra -- what qualities he might bring to a Major League Soccer club -- he's at a loss for words.

"I wish I could give you some footage, some highlights [on video]," said Kuntz, who has coached Ibarra the past two seasons at Big West Conference powerhouse UC Irvine. "It's hard to explain how he punctuates dramatic moments in games."

Like in September, when Ibarra, a diminutive midfielder from Lancaster, careened through Wisconsin's "redwoods" to set up an overtime winner for the Anteaters. Or in November, when he took on Cal Poly's defense, weaving past and walking the ball into the net to provide another win.

Kuntz can nearly wax poetic on Ibarra's performances against UC Santa Barbara, which UCI twice beat last fall to win the Big West regular-season and tournament titles, or how he came back from a blow that had knocked him out of the NCAA tournament opener against St. Mary's to create the goal that forced overtime. Or countless occasions on the training field.

"All these punctuation goals," Kuntz said. "The guy creates and scores goals. What I like about his play is how [Barcelona's Lionel] Messi dribbles inside and slips the forward in -- Miguel does that both from the right and the left side, or he can take guys down the line.

"He's got extraordinary speed. His cardio ... there are very few guys who can run at the level of speed with and without the ball that he has over a long period of time."

Those skills and the work honing them have led accolades and opportunity. His mesmerizing trickery won him first-team NSCAA Division I All-America plaudits last month and an invitation to the MLS's pre-draft Player Combine, which wraps up Tuesday in Fort Lauderdale, Fla.

Ibarra (Lancaster HS), 21, He says he "definitely was not expecting" either honor, but the first was a sign that "all the hard work paid off, just an amazing feeling" and the second "an opportunity, and I have to work hard for it and give it all I have."

Ibarra, 5-foot-7 and just 135 pounds, offers something very rare for the club that selects him in Thursday's MLS SuperDraft, Kuntz says, so long as they understand what it is he does. He's drawn comparison to 2010 MLS Rookie of the Year Andy Najar, D.C. United's teen sensation, and Kuntz sees in him a little Irving Garcia, the UCI product who withered in the wrong system after he was drafted by the New York Red Bulls two years ago.

"Whoever gets him, if they're going to use him like [New York utilized] Garcia, they probably don't want to pick him up," Kuntz said. "If you don't give a player like this freedom, you're going to limit your own goalscoring opportunities. Used the right way -- as a wide player or a playmaker, an attacking player who has defensive responsibilities but also players around him [to pick up the defensive slack], he can wreak havoc."