Los Angeles Soccer:

2012 MLS Supplemental Draft
January, 17, 2012
1/17/12
9:48
PM PT
By
Scott French
| ESPNLosAngeles.com
Andy Rose
figured to find a Major League Soccer club in last week's SuperDraft. He didn't. He made up for it Tuesday by joining two teams.
Rose was an early pick in the MLS Supplemental Draft, taken at No. 6 by Real Salt Lake, which promptly dealt UCLA's captain to the Seattle Sounders.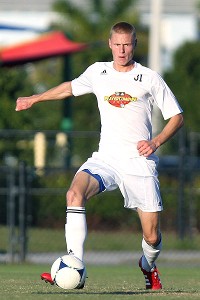 Courtesy of Major League Soccer Real Salt Lake took UCLA midfielder Andy Rose with the sixth pick of Tuesday's supplemental draft.
The Englishman, one of the most prominent players remaining on the board after 38 picks last week, was the first of four Bruins to go in quick succession in the supplemental, with left back Shawn Singh going to Sporting Kansas City with the 16th pick, winger Eder Arreola (Chino Hills/Chino Hills HS) to Houston at No. 18 and goalkeeper Brian Rowe to Chivas USA early in the second round.

That's six players drafted from UCLA's NCAA semifinal team -- New England's Kelyn Rowe and Philadelphia's Chandler Hoffman were first-round picks -- and there are several underclassmen likely to take the step in the next few years.

Rose was one of the real prizes available Tuesday.

"He's a player that we really like," Seattle technical director Chris Henderson, a former UCLA star, told his team's website. "He's a two-way midfielder. He can also sit in as a holding midfielder, so he's pretty versatile. He seems, at a young age, to be a student of the game."

He should be. He grew up in one of the most intense soccer cultures on the planet, and he can compare notes with former U.S. national team coach Bob Bradley, whose daughter dates Rose.

To get him, the Sounders gave up the rights to defender Leone Cruz, a former SMU standout drafted last year who failed to make the team.

Seattle draft selections included UC Santa Barbara defender Tim Pontius (Yorba Linda/Servite HS), the brother of D.C. United standout Chris Pontius, and Cal Poly defender Wes Feighner (Los Alamitos/Los Alamitos HS).


January, 17, 2012
1/17/12
3:30
PM PT
By
Scott French
| ESPNLosAngeles.com
Chivas USA focused on defense in Thursday's MLS Supplemental Draft, grabbing an outside back with its first pick, then adding central defenders -- one a local kid, the other from Germany -- in the second round.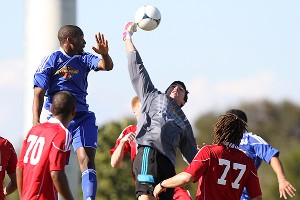 Courtesy of Major League SoccerUCLA goalkeeper Brian Rowe clears his goalmouth under pressure at MLS's pre-draft combine.
The Goats, all five of their selections in the first two rounds, also took UCLA goalkeeper Brian Rowe, who was in the MLS combine, and Cal State Fullerton midfielder Kevin Venegas (Lakewood/Los Alamitos HS), who attended a Chivas combine last weekend.

Chivas used its first pick, fifth overall, on Monmouth right back R.J. Allen, a two-time All-American who attended the league's pre-draft combine and was on Chivas' list of possibles for last week's SuperDraft.

San Diego State's Daniel Steres (Calabasas/Calabasas HS) was expected to be drafted, and the other center back, 6-foot-3 Fabian Kling from NCAA Division II champion Fort Lewis, is among the most intriguing picks of the draft season.

"[Kling is] a guy, we got an email, a recommendation from someone," Chivas general manager Jose Domene said. "He's a big dude. A big fella. An international player, from Germany."

He's from Augsburg and is a two-time D2 All-American and the division's player of the year last season, but more compelling are his numbers: 28 goals, half of them game-winners, in four seasons. That suggests he's a force on set pieces, a quality Chivas could use at both ends.

Allen, Domene said, was "on our board last week, but we didn't have a second-round pick -- not that we would have [necessarily] picked him. He's a guy we valued high, and we're lucky he fell to us."

Rowe, a second-team All-American from Eugene, Ore., shut out 12 foes as the Bruins marched to the NCAA Final Four. He's one of five goalkeepers in camp battling for two jobs backing up Dan Kennedy.


January, 17, 2012
1/17/12
1:28
PM PT
By
Scott French
| ESPNLosAngeles.com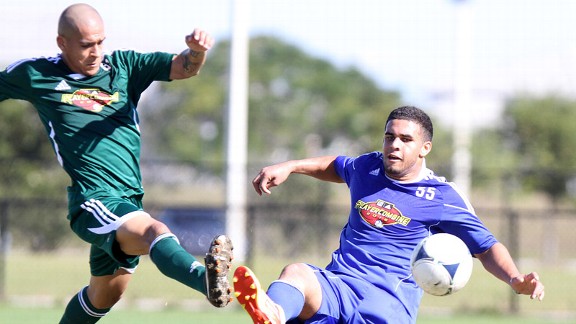 Major League SoccerCal State Northridge's Rafael Garcia, right, battles Dom Dwyer at the MLS player combine.

The Galaxy went after local talent with three of their five selections in Tuesday's MLS Supplemental Draft, including a Cal State Northridge midfielder who impressed at the pre-draft combine.

Rafael Garcia (Canoga Park/Canoga Park HS) was taken at the end of the second round, 38th in the draft (and 76th overall, factoring in last week's SuperDraft), bolstering depth in the middle. Well, at least for the future.

"I think the challenge for these players is to make our roster," said Galaxy head coach/general manager Bruce Arena, who nabbed San Diego forward/midfielder Stephen Posa and San Diego State right back Justin Davies in the fourth round. "I can't even look that far ahead to see if [any of them] are going to step on the field with our first team. The initial challenge is to make the roster."

Arena took Bradley's Bryan Gaul, a 6-foot-5 forward-turned-defender, with his first pick, 19th overall, and Brazilian attacker Yuri Gorentzvaig, 21, who arrives from Flamengo system after spending the previous season with Corinthians.

Gaul, whose little sister, Alexa, is a U.S. youth international, scored 23 goals the past two seasons at Bradley, but he was used primarily in the back at the combine. That's where the Galaxy, in need of defensive cover, see his future.

"He's left-footed, can play center back or left back, and we're going to look at him in that position," Arena said. "Hopefully he'll be able to adapt. He's a kid we think has a chance. That's why we drafted him."

Garcia, just 5-6, is a defensive-oriented central midfielder who grew up a Galaxy fan. He was a four-year starter for the Matadors and a first-team All-Big West Conference selection in 2011.


January, 16, 2012
1/16/12
8:23
PM PT
By
Scott French
| ESPNLosAngeles.com
CARSON -- Chivas USA and the Galaxy have five picks apiece in Tuesday's MLS Supplemental Draft, and after last week's shortest SuperDraft in league history -- two rounds, 38 picks -- there's some talent to sift through.

Chivas' five picks are in the first two rounds, at Nos. 5, 24, 28, 30 and 37. The Galaxy has the 19th, 38th, 57th, 62nd and 76th selections.

Here's a list of some of the best talent available:

January, 16, 2012
1/16/12
8:21
PM PT
By
Scott French
| ESPNLosAngeles.com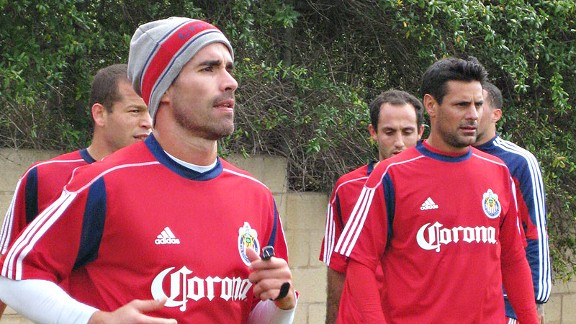 Scott French/ESPNLosAngeles.com Juan Pablo Angel and, behind from left, Alejandro Moreno, Nick LaBrocca and Ante Jazic spend much of Chivas USA's first training session running.
CARSON -- The best sight for Chivas USA fans as the club's preseason camp broke Monday morning at Home Depot Center had to be of striker Juan Pablo Angel, suited up, working hard and declaring he's looking to lead the Goats to the next level in 2012.

The regal Colombian goal-getter, who scored seven times in nine games after arriving in a mid-August trade from the Galaxy, is the pivotal figure in the Goats attack, and it wasn't certain when the team wrapped its year in mid-November that he would be back.

Angel remains without a contract, but he says that ought to be taken care of in the next few days.

"I wanted to be a the start of preseason from day one," he said after the first of two sessions Monday. "There's still minor details to take care of. The will from both sides is that we hope within he next few days everything is going to be sorted out. I'm very optimistic."

No word yet on how the contract will be structured and whether he will remain a Designated Player, a category for top players who earn more than the maximum charge, $335,000 in 2011, against the salary cap.

Angel has been a DP through five Major League Soccer seasons, the first three with the New York Red Bulls and a difficult, eventful campaign last year with the Galaxy and, following an October trade, Chivas USA. Angel made $1 million, with the Galaxy picking up the bulk of the total after he moved down the hall and around the corner.

Chivas, which had never before had a DP -- the Galaxy, by contrast, have three -- will be responsible for the total this year. No problem.

"Obviously, that's a big piece for us," said Galaxy head coach Robin Fraser. "He's just quality. He's a quality person, a quality player, and he adds to us on and off he field. We hope we get [the contract] ironed out quickly and move on."

Angel was signed by the Galaxy out of the 2010 re-entry draft and was expected, with Landon Donovan's and David Beckham's support, to score at the rate he had in New York, where he netted 61 league goals in four seasons. He never meshed with L.A.'s attack, struggled to create on-field relationships, suffered through minor injury and managed just three goals in 22 league appearances.

The Galaxy moved him so they could bring in Irish forward Robbie Keane last August, and Angel was an immediate hit for the Rojiblancos. He scored in his club debut, then tallied six times in a four-game span as Chivas halted a winless streak that ended its playoff hopes.

Whether Angel wanted to return, and whether Chivas could afford to bring him back, were among the biggest questions facing the club heading into the offseason. Some of the maneuvers Fraser and general manager Jose Domene have made -- to increase competition for jobs and add more bite to the Goats' game -- helped in the forward's decision to stay.