July, 3, 2012
7/03/12
9:35
PM PT
By
Scott French
| ESPNLosAngeles.com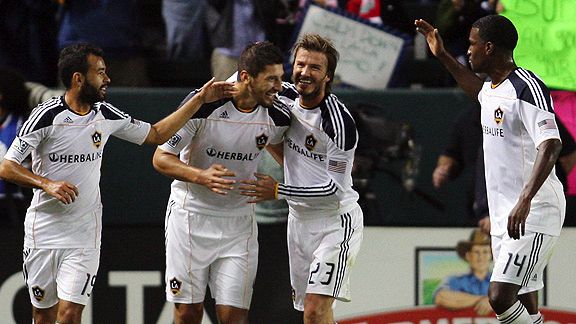 Victor Decolongon/Getty ImagesDavid Beckham, second from right, won't play for the Galaxy on Wednesday, but Omar Gonzalez, middle left, might.

CARSON -- It's time for the Galaxy's annual Fourth of July festivities, but David Beckham is a no-show after some fireworks last weekend. Might Omar Gonzalez's return make up for his absence?

L.A.'s biggest name will miss Wednesday night's match against the Philadelphia Union at Home Depot Center after picking up a stoppage-time yellow card in last weekend's loss at San Jose, but Gonzalez has been activated from MLS's Disabled List and will be available for the game.

Beckham's caution was his sixth of the season and triggered an automatic one-game suspension for accumulation, and more games on the sideline could be coming later this week.

As the Galaxy starts to awaken from their slumber -- they took a three-game winning streak, marked by diversely strong performances, into Saturday night's defeat -- the last thing they need is the man who runs their attack sitting games out.

"Any time you lose your best player, it's going to hurt," Galaxy captain Landon Donovan said as L.A. prepared for Philly. "It's part of the game, but we obviously wish we had him. We've got guys who will step in and do a good job."

It was inevitable that Beckham would serve a yellow-card suspension -- he did so twice last year -- after picking up four yellow cards in a six-game span during April and May. The fifth means a one-game ban, and Beckham had erased one of his with three clean games before picking up cards in each of the last two games.

"Actually, David started the season with a lot of cards right in the beginning, and I think he's done fairly well since then," head coach Bruce Arena said. "Certainly, when you start off with four yellow cards in the first four games, or close to it, you're going to be dealing with suspension at some point."

Arena is mistaken on the specifics: Beckham didn't pick up his first caution until L.A.'s seventh game and has been carded six times in his last 10 league appearances. Saturday's card was totally unnecessary.

Beckham, frustrated as Sam Cronin sat prone in front of the Earthquakes' goal during a stoppage, seemingly trying to waste away the game's final seconds, twice booted balls from the left wing toward the San Jose midfielder. The second ball struck Cronin and ricocheted off referee Hilario Grajeda, who pulled the yellow.

In the pushing and shoving that ensued, Beckham got to face-to-face with a couple of Quakes, at one point lowering his head into that of Quakes midfielder Rafael Baca, the former Loyola Marymount All-American from Lawndale. When the final whistle blew moments later, Beckham had to be prevented from going after San Jose midfielder Khari Stephenson.