July, 2, 2012
7/02/12
4:29
PM PT
By
Scott French
| ESPNLosAngeles.com
CARSON -- British reports claim the Galaxy has offered Chelsea's Frank Lampard a two-year, $20 million offer, and that the veteran central midfielder is strongly considering a move to Los Angeles.
It's not the first time Lampard's name has been linked to the Galaxy, but the reports have never been so specific.
Several outlets made the claim, none identifying their sources, but
David Beckham
lobbied his former England teammate last year and club owner AEG president
Tim Leiweke
has publicly expressed interest in signing the star.
"I'm a fan of Frank's. I think he's a great player. When I think of Chelsea, I think of Frank Lampard ...," Leiweke told Sky Sports in January. "It took us two years to get David to come here the first time.
"We're working on the next [Designated Player], and we'll continue to work on the next DP. There are a half-dozen guys we have a good relationship with, and we'll see how that goes. But first we've got to have a spot, and at the moment we don't have a spot."
The Galaxy still doesn't have a spot. MLS clubs may sign up to three DPs, whose salaries go beyond the $350,000 maximum hit to the salary cap. Beckham,
Landon Donovan
and Irish striker
Robbie Keane
occupy L.A.'s slots.
Sources with knowledge of the talks confirmed to ESPN Los Angeles that AEG is holding discussions with Lampard's representatives.
Lampard, who turned 34 on June 20, still has one year on a Chelsea contract that pays him about $12 million a year. He's been with the Blues since 2001 and captained them, in
John Terry
's absence to suspension, to triumph over Bayern Munich in the UEFA Champions League final in May.
He is considered one of the finest midfielders of his generation and has played in two World Cups and two European Championships for England, including Euro 2012, in which the English reached the quarterfinals.
February, 17, 2012
2/17/12
5:05
PM PT
By
Scott French
| ESPNLosAngeles.com
The Galaxy made their front-office moves official Friday, announcing the Los Angeles Kings chief operating officer Chris McGowan is taking the same position with the soccer club and will preside over its business decisions.

He replaces Tom Payne, the president of business operations since the end of the 2008 season.

"Chris has been a part of our organization for 16 years and has done an outstanding job with the business side of the Kings to where there is now a lot of enthusiasm and expectations, and he will do the same with the Galaxy," AEG president/CEO Tim Leiweke said in a statement. "With our recent MLS Cup championship, the return of David Beckham and our outstanding roster heading into this season, the Galaxy will continue their rapid growth in this marketplace under Chris' leadership."

Former Galaxy midfielder Chris Klein, who leads the Galaxy's academy, is being promoted to a vice presidency, McGowan told media Thursday, but the move had not been announced. The maneuvers are part of a greater reorganization within AEG.

Payne, in a statement released by the club, claimed it was his decision to leave the Galaxy.

"I have enjoyed my time with the club and have fond memories of all the great things that we have accomplished, including winning the MLS Cup last year in front of our home fans," he said in the statement. "During my time I have been able to see the growth of this club not only here locally, but also nationally and internationally, and I am proud to have been able to play a significant role in that growth."
August, 19, 2011
8/19/11
8:58
PM PT
By
Scott French
| ESPNLosAngeles.com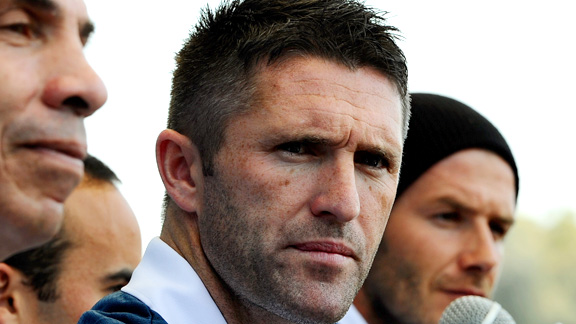 Kevork Djansezian/Getty ImagesRobbie Keane didn't mince words in his introduction to L.A. on Friday.
CARSON -- Why might Robbie Keane favor a couple of years in L.A. over the skill, strength, intensity and atmosphere of proper football in England? Aside from weather?
He says it's about new challenges, new opportunities, a desire to do something that's perhaps a little out of the ordinary, certainly to Major League Soccer's skeptics on the British Isles.
"You always get a good feeling about something," Keane said
during his introductory news conference
Friday afternoon. "Certainly, I have a good feeling about this. I've played in the Premiership for a long, long time, kind of did what I had to do there, scored a lot of goals. It's time for a new challenge, and this opportunity came up. It's an opportunity you can't take too lightly.
"As soon as the opportunity came, I knew straight away speaking to the people and having the chance to have a friendly chat [with
David Beckham
] that we had when he was training with Spurs, so I know how much he spoke about MLS and the people here, so for me it was an easy decision."
Could there be more to it than that? Keane's wife,
Claudine
, a lingerie model who competed in the Miss Ireland pageant, has made no secret of her desire to relocate in L.A. It could help her career, and it's already aided her visibility.
The Keanes have drawn comparisons at home to "Posh and Becks" -- Beckham and his wife,
Victoria
, the former Posh Spice -- but they were virtual unknowns on this side of the Atlantic. TMZ, which offers ample coverage of the Beckhams, has jumped on the Claudine Keane bandwagon: She's routing Victoria Beckham, with 57 percent of more than 113,000 votes at last count, in a "Who'd You Rather" poll
on the celebrity website
.
English tabloid
Daily Mail
covered the
Keanes' arrival Thursday at LAX
almost purely from a glamor perspective.
So how might being in L.A. benefit the Keanes?
"I'm here to play football," Keane said. "For me, first and foremost, that's the most important thing. Everything else is irrelevent to me. It's about playing football, and it always has been."
NOT GOD'S HAND:
The best line of the afternoon went to
M. Finbar Hill
, the Irish consul general, who played a role in speeding up Keane's visa process.
February, 9, 2011
2/09/11
2:05
PM PT
By
Scott French
| ESPNLosAngeles.com
David Beckham's practice stint with Tottenham wasn't the first time the Galaxy and Spurs have worked together. And apparently it won't be last: the clubs are planning a partnership, L.A.'s ownership's president told reporters in England.
Anschutz Entertainment Group president
Tim Leiweke
, who is involved in Spurs' bid to play in the London 2012 Olympic stadium after the Games, said the teams were forming a strategic partnership which could include player movement between the clubs.
"We have an existing relationship now with Tottenham, where we are beginning to think outside the box on football and how we do things together on football," Leiweke said in a conference call with English media. "Whether that's David Beckham training [with Spurs] or maybe players from Tottenham coming to the Galaxy, [or the clubs] playing games against each other.
"Strategically, you'll see more of an alliance between us and Tottenham."
Leiweke says Beckham, who has trained with Tottenham since Jan. 10 and is slated to return to the Galaxy on Feb. 24, was encouraged to go to the north London club because of L.A.'s relationship with Spurs chairman
Daniel Levy
. Beckham earlier said he looked into training with Spurs, and a potential loan deal, after running into former England national-teamer
Jamie Redknapp
-- Tottenham manager
Harry Redknapp
's son -- while Christmas shopping.
"There are other examples of conversations we've had with Daniel in how to take that kind of cooperation and now extend it to our team in the United States," Leiweke said. "You are going to hear more about that in the future, but part of what has been created here is a strategic alliance between AEG and Tottenham on thinking about how we can be involved in Tottenham the football club."
DEMA DONE?
Ukrainian midfielder
Dema Kovalenko
, who played a huge role in the Galaxy's victory over Seattle in the first round of last year's playoffs but saw the option on his contract declined in December, has told Russian newspaper
Gazeta
he has retired.
"I feel that my body can no longer withstand the load," he said. "Very sore Achilles' tendon, back. Even last year I missed most of the season because of injury. I not so much played as tormented. …
"In the end, the Galaxy asked me to extend my contract on terms that are unacceptable to me. Roughly speaking, the money I would earn would be enough only for rental housing, meals and gasoline. I thought: Why kill yourself and risk your health? … It is better to quit and look for a different occupation."
Kovalenko, 33, said he wanted to treat health-related issues, maybe in Israel or Ukraine, and that "perhaps my health after treatment and rest will improve so much so that I am pulled back on the field."
November, 24, 2010
11/24/10
9:55
PM PT
By
Scott French
| ESPNLosAngeles.com
L.A.'s already got the Galaxy and Chivas USA. Here comes a third professional men's team, set to begin play next year, likely at Cal State Fullerton's Titan Stadium.
Blue Star LLC, which had a stake in the late L.A. Sol, will announce next month formation of a club to play in the United Soccer Leagues' First Division, the second tier of American pro soccer. The enterprise was confirmed by
Charlie Naimo
, the group's technical director -- and possibly (probably?) the club's soon-to-be head coach.
"We're still working on a couple final things before [announcing]," Naimo, who attended last week's USL annual general meeting in Florida, said Wednesday. "I think we're shooting [to have] everything in line in a couple of weeks. We want to announce this for real, that we've got a team, this is our first player, this is where we'll play, who coach is. We want it to be complete."
Blue Star, which is run by husband-and-wife team
Ali
and
Maryam Mansour
and has a connection with Australian actor
Anthony La Paglia
and Hollywood United FC, operates the Pali Blues women's club (which plays in the USL's W-League) and was co-owner with Anschutz Entertainment Group of the Sol, which posted the best regular-season record in Women's Professional Soccer's inaugural season and folded earlier this year after AEG pulled out.
The organization is awaiting USL approval of the L.A. Blues name -- the name used by its former team in the USL's semiprofessional Premier Development League -- and is working to reach an agreement to use the 10,000-seat stadium in Fullerton.
"It's certainly one of the venues we're very keen on, and it's a strong possibility we'll get a deal done," Naimo said. "It's the best stadium in the area for anything other than MLS."
Naimo, who was the Sol's general manager, is head coach and president of operations for the Pali Blues -- he guided the team to W-League titles in 2008 and 2009, its first two seasons -- and a consultant for the Chicago Red Stars, a WPS club facing a Dec. 15 deadline to attract funding for the 2011 season.