Los Angeles Soccer:

Akeem Priestley
June, 14, 2012
6/14/12
10:46
PM PT
By
Scott French
| ESPNLosAngeles.com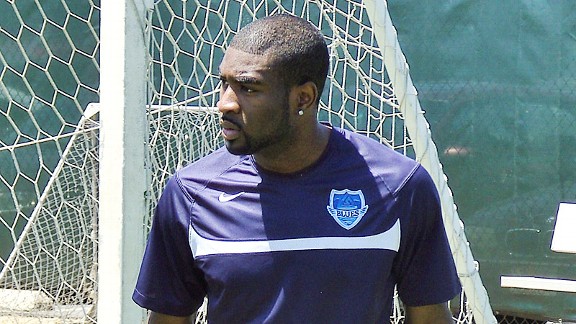 L.A. BluesBright Dike has scored twice for the Blues since arriving on loan.
The message out of Fullerton is simple: Don't overlook Dayton.

Ohio's Dutch Lions haven't won a USL Pro game this year, and they only won two of 24 last year, but the L.A. Blues are leery as they prepare for a two-game set this weekend.

"It's not going to be easy," Blues head coach Charlie Naimo told ESPN Los Angeles in advance of Friday night's 7:30 meeting at Cal State Fullerton. "The USL Pro is pretty tight this year. There are no blowouts. We've seen enough now and know [Dayton] is as good as anybody."

Dayton, it should be noted, is 0-5-5. That makes the second-year club 2-21-11 in almost a season and a half -- numbers that hardly seem frightening -- but the number combination that matters most, that demonstrates what the Lions can do, is 2-1: the score in their U.S. Open Cup upset at Major League Soccer's Columbus Crew.

The Dutch Lions are 3-0 in the Open Cup and set for a quarterfinal showdown June 26 at Sporting Kansas City. They're 3-1-2 in all competitions over the past 3½ weeks -- the lone loss by a goal to second-place Charleston -- after halting the Rochester Rhinos' string of shutout victories with a 1-1 draw nearly a month ago.

The Blues (3-3-2), who are returning to action after a three-week break, won the season's first meeting May 11, a 1-0 decision in Ohio, and Dayton had the better of play for good stretches of the action. It's a possession team with some dynamism, as the name might suggest -- rather like the Blues.

"Thinking of Dayton, the first thing that comes to mind is the Dutch philosophy of keeping possession and knocking the ball around, which is somewhat similar to ours," Blues winger George Davis IV, who played last year for Dayton, told his club's website. "That seems to have worked really well for them lately, given the run they're on with those Open Cup wins and having been so tough to beat in the league.

"When you add in the fact that they haven't won a league game, that makes them very dangerous. They have every reason to believe in themselves and at the same time are dying to get their first three points, which is a powerful combination."

Former Chivas forward Maykel Galindo will play his first match at full strength after using the break to recover from a foot injury, and Naimo is looking forward to seeing him teamed up front with Bright Dike, who has tallied twice in four games since joining the Blues on loan from MLS's Portland Timbers.


August, 1, 2011
8/01/11
12:07
AM PT
By
Scott French
| ESPNLosAngeles.com
As the L.A. Blues struggled through a dark stretch as June turned to July, an answer to their problems sat on the sideline, waiting for the summer transfer window to open.
It did, Antiguan forward
Peter Byers
-- a major contributor not so long ago for the Major League Soccer-bound Montreal Impact -- became eligible, and his blisterintg speed and precise touch had immediate effect, even if he wasn't putting the ball into the net.
Byers scored his first goal for the Blues on Sunday afternoon, and it delivered a 2-1 victory over his former team, Antigua Barracuda FC, at Norco College, a pivotal triumph if L.A. is going to catch Harrisburg or Rochester for one of the top two spots in the USL Pro's National Division.
Byers, 26, scored in the 39th minute to extend the Blues' advantage to two goals, enough to secure their first home win over Antigua in three tries. They'll look to make it two in a row in the third meeting in five days Tuesday evening in Pacific Palisades.
Jamaican forward
Akeem Priestley
also scored for the Blues (8-5-6), who clinched a playoff berth with the victory. They sit third in their division with 30 points, seven behind the first-place Rochester Rhinos (11-6-4) and three in back of the Harrisburg City Islanders (9-6-6).
The Blues have five regular-season games to go and need to catch the City Islanders, or they'll be at a disadvantage in a home-and-home first-round series -- likely against Harrisburg.
July, 2, 2011
7/02/11
8:49
PM PT
By
Scott French
| ESPNLosAngeles.com
The L.A. Blues no longer are in command in the USL Pro's National Division after a late defensive collapse cost them in a 4-2 defeat Saturday at Wilmington, their first road loss of the season.
The Blues (5-4-4) claimed just one point from a two-day, two-game trek to the Carolinas after winning just once in two home games last week against Harrisburg.
It leaves L.A. third in the National Division, eight points behind Rochester (8-4-3), which Sunday plays American Division leader Orlando City, and five behind second-place Harrisburg (7-4-3), which Saturday drilled Charlotte, 4-0. The Blues are winless in five games over nine days, including a U.S. Open Cup defeat Tuesday night against the Galaxy.
Cesar Rivera
's third goal of the campaign, in the 23rd minute, answered
Andriy Budnyy
's strike in the first 30 seconds for the North Carolina-based Hammerheads (6-4-3), who sit fifth in the far tougher American Division.
Wilmington took charge with three goals in 16 minutes, with
Chris Banks
providing a lead in the 66th minute and then assisting
Ivan Becerra
's diving header in the 71st and
Chris Murray
's goal in the 81st.
Akeem Priestley
added a late goal for the Blues, who hadn't previously surrendered more than two goals in any game -- and had conceded one or none in 13 of 16 matches, all competitions.
May, 1, 2011
5/01/11
9:33
PM PT
By
Scott French
| ESPNLosAngeles.com
Charlie Naimo spoke last week to the importance of first impressions, and when his L.A. Blues finally got to make one, the message came garbled.
There was plenty of good but much too much that wasn't in the club's home opener Sunday, a 1-0 USL Pro defeat to Antigua Barracuda before a small but appreciative crowd at Cal State Fullerton.
The Blues (3-1-1) lacked sharpness in Barracuda's box without late scratch
Walter Gaitan
, who failed a pregame fitness test after tweaking a quad muscle last week, and suspended forward
Cesar Rivera
and got far too little from their overwhelming advantage in possession.
Barracuda (4-2-0), which overtook L.A. atop the third-tier USL Pro's International Division standings, was content to sit back -- but with a high and effective restraining line -- and counter, and forward
Peter Byers
might have had a hat trick, or more, had he finished as well as he beat defenders.
Stefan Smith
scored the goal, in the 24th minute, knocking home a rebound after a giveaway by
Nelson Akwari
led to a
Lawson Robinson
shot, but the Blues surely would have prevailed with better precision in the final pass or finish.
"We were good at the things Walter would've helped us be good at, which was keeping possession and creating chances," said Naimo, the Blues' head coach and vice president. "Cesar's that guy that if we had high amongst [Barracuda's] backline … [he's] so strong on the ball, you get him that ball in those areas, central, he's gonna turn you, he's gonna spin you, and he's also extremely creative. I think he would have made a difference.
"Obviously, Walter could have made a difference. But you know what? At the end of the day, whatever we had on the field tonight, I thought the guys did a good job. We lacked efficiency in the final ball, whether it was the service or the finish. We created some beautiful chances tonight.
"It had to be a great game to watch, but, obviously, you come up short, you come up short."
OPENING NIGHT:
The crowd count was 696, which is smaller by 7,157 than the gathering that saw the Blues' second team, playing in the lesser Premier Development League, in Fresno on Friday night.
April, 21, 2011
4/21/11
2:34
PM PT
By
Scott French
| ESPNLosAngeles.com
Tomislav Colic scored twice as the L.A. Blues remained perfect on their season-opening Caribbean trek, topping Puerto Rico United, 4-2, on Wednesday night in a USL Pro clash in Carolina, Puerto Rico.
Mike Randolph
and
Akeem Priestley
also tallied for the Blues (3-0-0), who finish the trip Saturday against River Plate Puerto Rico in Carolina.
Colic, a Serbian forward who starred at Costa Mesa's Vanguard University, scored in the 29th and 59th minutes. Former Galaxy back Randolph tallied from USL Pro player of the week
Walter Gaitan
's feed in the 33rd, and Priestley cemented the victory in the 83rd.
Hector Ramos
scored for PRU (0-1-1) in the 66th and 78th minutes.
April, 15, 2011
4/15/11
4:44
PM PT
By
Scott French
| ESPNLosAngeles.com
It's a new team in a new league, stuck by its lonesome out here, thousands of miles from its rivals, and guided by a coach who has worked exclusively with women the past dozen years.
The makings of a success story? The L.A. Blues hope so, and as they embark on their inaugural season in USL Pro -- American pro soccer's third tier -- they've got greater designs than putting out an affordable and entertaining alternative to the Galaxy and Chivas USA.
"We want to make the playoffs and get in the championship," says midfielder
Josh Tudela
, one of eight Blues with Major League Soccer experience. "We're not going to settle for anything less than that."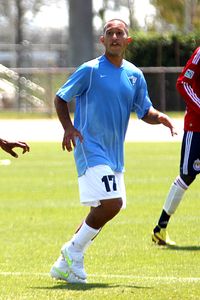 Chivas USAGerardo Bravo will be one of the key players for the L.A. Blues this season.


It's big talk, but the Blues, on paper, at least, have the makings of a contender. They've got Argentine midfielder Walter Gaitan, a superstar of mammoth proportion at this level of the game, veterans such as Tudela and defender Nelson Akwari, rising players like Chivas USA loaner Chukwudi Chijindu and some local-league stars head coach Charlie Naimo says he believes will make their names with the club.

"I feel we've done a pretty good job of putting together a very good roster for this level," said Naimo, who has won three titles in United Soccer Leagues' women's league and was general manager of the L.A. Sol, the short-lived Women's Professional Soccer club partially owned by the Blues organization. "So they need to find some strength in that, then say, 'Hey, we've got the group, now we have to win.' "

If they're not as good as the Galaxy, they might be more fun to watch. The plan is to play a pretty possession game, weaving passing patterns past foes to create chances for Chijindu and the other forwards.

"Everybody wants to play that way," Naimo said, "so time to put up or shut up. Do what is required, and a lot of what I see is when it doesn't work, it's the guys off the ball who aren't working hard enough to get into good spots. You've got to make the game easy for your teammates.

"We're certainly not afraid to pass the ball to guys that are contested. We're certainly not afraid to ask for the ball when guys are on us. It's just a matter of getting those people in a little bit spot, a matter of of making that pass a little bit better so they can escape. And then you discourage that high pressure. That's the only way to slow a game down. Otherwise, what stops the other team from chasing you, from running you over for 90 minutes? You've got to be able to step on the ball. … It's obviously attractive if it comes off."

The Blues open their season Friday night in Juncos, Puerto Rico, where the begin a four-games-in-nine-days sweep of the Caribbean, facing their four International Division rivals. First up: Sevilla FC Puerto Rico, which has weak ties to its Spanish namesake, followed by matches Sunday at Antigua Barracuda, Wednesday at Puerto Rico United and next Saturday against River Plate Puerto Rico.

The home opener is May 1 against Barracuda at Cal State Fullerton's Titan Stadium, and home games also will be played at Centennial High School in Corona and College of the Canyons in Santa Clarita.


April, 6, 2011
4/06/11
9:32
PM PT
By
Scott French
| ESPNLosAngeles.com
The L.A. Blues, preparing for their debut next week in the new USL Pro league, is considering forming a second men's team that would replace Hollywood United FC in the Premier Development League.

A decision by the club, which also fields a women's team in the W-League -- all three leagues are administered by Tampa, Fla-based United Soccer Leagues -- will be made in the next few days, Blues head coach/vice president Charlie Naimo said Wednesday night.

"It looks like it's probably going to happen," Naimo said. "Right now, we haven't signed anything, but we're strongly considering it and talking to guys who might play for us [in the PDL]. We think it can be a good thing. It serves a need, and if we decide we can fit it in, if we do [the PDL team] as a pro team, we can move guys back and forth [between the two teams]."

The Blues' top team plays its first match in the third-tier USL Pro a week from Friday, and a second team could serve as a reserve side, enabling players seeing little time with the first team to see game action and helping to develop players for the big team.

Hollywood United, which has a long relationship with the Blues organization, last month pulled its pro team out of the PDL and joined the Galt, Calif.-based National Premier Soccer League, a rival national amateur/semipro outfit. The Blues, in theory, would step into HUFC's PDL schedule unveiled in February. Opening day would be April 29 at Fresno Fuego.

"We're cautiously optimistic it will happen soon," Naimo said. "There are definitely pros and cons, for sure."

The cons are economic -- it costs more money to field two pro teams than it does one -- and in spreading a thin front office even thinner. Naimo said the club would need operational assistance from the USL to put three teams on the field, but that ought not be a problem.