Los Angeles Soccer:

Alberto Garcia Aspe
April, 16, 2012
4/16/12
10:25
AM PT
By
Scott French
| ESPNLosAngeles.com
CARSON -- The scoreline in Sunday's U.S.-Mexico "legends" reunion at Home Depot Center might have been inevitable, given how everything else seemed to fall right into line.

Big crowd? Check. Rooting for El Tri? Of course. Early Mexican domination? Just like in series history. Lights-out goalkeeping? Shades of Tony Meola, Kasey Keller and Brad Friedel. An American triumph on home ground? Bingo.

"Same old same old, right?" Eric Wynalda chirped afterward. "2-0. That's the way these games finish."

This one did, lending a red, white and blueish glow to a surprisingly delightful evening at the Clasico de Leyendas match between great U.S. and Mexican players of yesteryear, primarily the 1990s and early 2000s, when the rise of American soccer created the region's greatest national teams rivalry.

These games do finish 2-0, as most everyone on the field noted.

"Reminds me of the [2002] World Cup," said Cobi Jones, who like former Westlake High School teammate Wynalda played in three World Cups for the U.S. "Same score, always fabulous."

2002 is the apex of the rivalry, the only World Cup encounter in 59 meetings, but it was 2-0 U.S. in the home qualifier for the last three World Cups, in the 1991 Gold Cup -- the first of 13 U.S. victories in the past 21 years -- and in 2000 and 2007 friendlies.

The goals came from Roy Lassiter (Major League Soccer's first scoring champion) and Brian McBride (a legend in the U.S. and parts of England), and both arrived in the second half, after Galaxy goalkeeper coach Ian Feuer (capped just once, in 1992) had made the best of eight fantastic saves -- on Francisco Palencia, Ramon Morales, Jared Borgetti twice, Alberto Garcia Aspe, Ramon Ramirez and Luis Hernandez twice -- that kept the Yanks in what had been a very one-sided game.


April, 5, 2012
4/05/12
11:20
PM PT
By
Scott French
| ESPNLosAngeles.com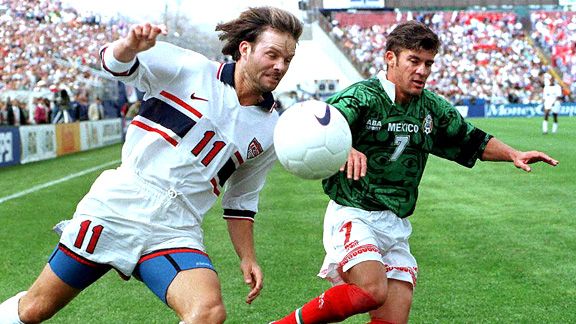 John Mottern/Getty ImagesEric Wynalda, left, shown playing Ramon Ramirez and Mexico in 1997, will be part of a Legends game at Home Depot Center.

Ever wish you could travel back in time to see some of the region's greats of yesteryear? American stars such as Cobi Jones and Eric Wynalda, Alexi Lalas and Paul Caligiuri, or Mexicans Jorge Campos, Jared Borgetti, Luis Hernandez or Alberto Garcia Aspe?

Circle a week from Sunday on the calendar. The Legends Classic, featuring some of the biggest names in the North American game, is scheduled for April 15 at Home Depot Center, with a 6 p.m. kickoff. Tickets start at $15, and the game will be officially announced any moment.

The U.S. roster, according to the PRIMETIME Sports, the event's organizer, features National Soccer Hall of Famers Jones, Wynalda, Lalas, Caligiuri and Thomas Dooley, all key figures on the U.S. World Cup sides of the 1990s (and 2002, with Jones).

Also on the list: John O'Brien, who played in two World Cups; Cle Kooiman, a defender on the 1994 World Cup team; former Galaxy stars Clint Mathis, Chris Klein and Jovan Kirovski, plus longtime pros Roy Lassiter, Ted Eck and Christopher Sullivan.

Hall of Famer-to-be Brian McBride and Galaxy goalkeeper coach Ian Feuer are on the list but unconfirmed, and Galaxy assistant coach Curt Onalfo will guide the American "legends."

The Mexican roster will feature Campos and Hernandez, both former Galaxy standouts, plus Garcia Aspe and Roberto Luis Alves, better known as Zague, the organizers confirmed. Hoy Los Angeles reports that Borgetti and former Chivas USA star Francisco Palencia also will play.

UPDATE (April 6, 5:40 p.m.): The game has been announced, and with it Mexico's roster, which includes former Chivas USA stars Claudio Suarez, Ramon Ramirez and Mariano Trujillo. Organizers report that also suiting up for El Tri, in addition to the players listed above, are Martin Zuniga, Carlos Reynoso, German Villa, Ramon Morales, David Oteo, Joel Sanchez, Missael Espinoza, Marco Antonio "Chima" Ruiz and Jesus Olalde.