Los Angeles Soccer:

Alex McLeish
February, 23, 2012
2/23/12
11:21
PM PT
By
Scott French
| ESPNLosAngeles.com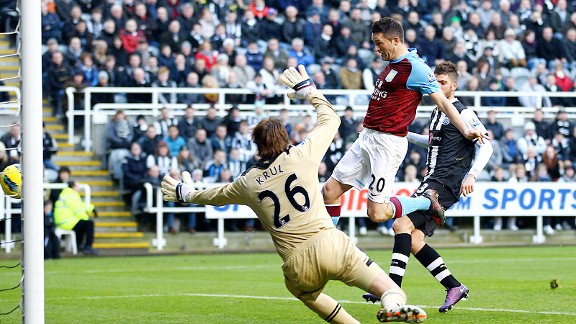 Julian Finney/Getty ImagesReports in British newspapers are hinting Robbie Keane might want to stay and not return to L.A.
Robbie Keane's six-week loan to Aston Villa ends with Saturday's game at Wigan Athletic, but Villans boss Alex McLeish sounds as if he wouldn't mind bringing back the Irishman full-time.

Keane, 31, rejoins the Galaxy following Ireland's friendly Wednesday against the Czech Republic in Dublin, but his impact with Villa -- and the enjoyment he has derived playing for the American-owned, Birmingham-based club -- has endowed speculation that he'd like to return to the English Premier League.

Keane joined the Galaxy in August and scored four goals in 11 MLS regular-season and playoff and CONCACAF Champions League matches (and four more in the three-game postseason tour of Asia and Australia). He has three goals in four EPL starts for Villa, and British tabloid The Sun reported last week that he was homesick and considering a return to England, where he has spent the vast majority of his career.

"When I go back to L.A., it could be totally different," The Sun quoted Keane. "At this moment in time, I can't tell what will happen. It's a case of watch this space. But people have seen over the years with the clubs I've been at, how quickly I leave if I don't think I fit in."

McLeish was asked if he'd consider bringing Keane back in the summer transfer window.

"I don't know," he replied, according to the Birmingham Mail. "We have to get through this season and then see where we are in terms of recruitment for the summer. ... I think Robbie's had a good influence on the place. There's his movement, his ability to get on the ball or lose a defender, and his appetite for getting in the box.

"I'd like to think that other players who have got their own qualities that are different from Robbie's will see one or two of the things in his game that they can use to enhance their game as well."

McLeish said he had no insight into Keane's thoughts about the Galaxy and the EPL.

"Has he missed the Premier League? Maybe. I don't know," McLeish said. "Where he is right now, there's probably a pretty glamorous feeling about it, jetting to play in L.A. and then jetting to play over in New York and places like that. It sounds like there's a kind of world-class connotation to that.


January, 21, 2012
1/21/12
1:17
PM PT
By
Scott French
| ESPNLosAngeles.com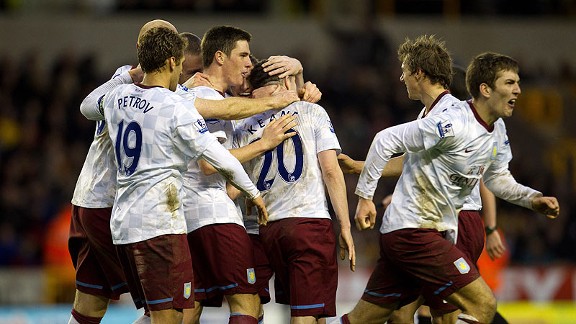 Neville Williams/Aston Villa FC via Getty ImagesRobbie Keane (20) is congratulated by Aston Villa teammates after one of his two goals Saturday.
Robbie Keane brilliantly fêted his first start for Aston Villa with a pair of goals, lifting the Birmingham club to a 3-2 victory Saturday at Wolverhampton.

The Irish striker, on a 6½-week loan from the Galaxy, tallied in the 51st and 84th minutes to prod the Villans from a 2-1 halftime deficit.

L.A.'s other EPL loaner, captain Landon Donovan, also had a role in a goal, helping to create Tim Cahill's opener in Everton's 1-1 draw against visiting Blackburn.

It was a huge day for another American: Clint Dempsey's hat trick sparked Fulham's 5-2 win over Newcastle.

Both of Keane's goals were stupendous. He pulled Villa even six minutes into the second half on a stunning half-volley from just outside the box from Ciaran Clark's header.

Even better was his late winner. He collected an attempted clearance at the top of the box and pounded it in off the bottom of the crossbar.

Keane did not celebrate either goal, in recognition of his time as a youngster in Wolves' set up.

"They were two great strikes," Villa manager Alex McLeish told his club's website. "Robbie has done that throughout his career. It was no surprise to see him get on the scoresheet. The winner was spectacular. Not many people shoot from there these days. Robbie has done that a few times through the years.

"Getting it out from your feet is the key to the technique for a striker like Robbie. They instinctively know how to move the ball quickly and get it out of his feet. You have to be quick as an opposition player, and, unfortunately for the Wolves defenders, it was two sublime strikes.


January, 14, 2012
1/14/12
12:27
PM PT
By
Scott French
| ESPNLosAngeles.com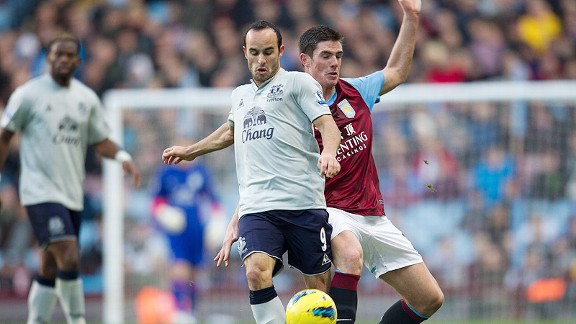 Neville Williams/Aston Villa FC/Getty ImagesLandon Donovan's manager thought Donovan was the best player on the pitch.
Landon Donovan was atop his game and Robbie Keane made his return to the English Premier League as the Galaxy teammates contributed to their sides in Everton's 1-1 draw Saturday at Aston Villa.

Donovan, the Galaxy captain, set up Victor Anichebe's 69th-minute equalizer to cap his best performance since joining Everton on loan two weeks ago, and he should have had another assist on a superb first-half cross for Louis Saha.

Keane, making his Aston Villa debut after his loan deal from the Galaxy was finalized Thursday, came on in the 81st minute for Stephen Warnock and was energetic up front as he searched in vain for a late winner.

Donovan again started on the right flank but moved to the left side when Anichebe replaced Royston Drenthe in the 61st minute. He brilliantly fed Anichebe following a lengthy run, cutting in from the left and pushing the ball past four Villa defenders to leave the Nigerian forward one-on-one with goalkeeper Shay Given.

Darren Bent had given Aston Villa a 56th-minute lead.

Almost as nice was Donovan's sprint down the right wing in the 23rd minute to collect Tim Cahill's pass and the first-time curling cross into the goalmouth that Saha, pulled by Villa defender Alan Hutton, couldn't get his head onto. Saha probably deserved a penalty, but referee Mark Clattenburg let it go.

"I thought Landon was the best player on the pitch today," Everton manager David Moyes told media. "He has come over here from Galaxy, completed the full 90 minutes, and it is a testament to the professional he is."


January, 12, 2012
1/12/12
10:37
AM PT
By
Scott French
| ESPNLosAngeles.com
Robbie Keane was introduced as Aston Villa's newest signing Thursday morning, hours after the long-anticipated loan deal with the Galaxy was finalized.
The Irish striker figures to debut for the Birmingham-based club Saturday afternoon at Everton, where he will line up against Galaxy captain
Landon Donovan
.

Jake Roth/US PresswireKeane
Keane, who previously has played in England for Wolverhampton, Coventry City, Leeds United, Tottenham and West Ham United, has a goal for the game: To pull a "Titi."

Thierry "Titi" Henry sealed his legendary status at Arsenal by scoring a sizzling winner off the bench last weekend in his return on loan from the New York Red Bulls, and Keane's primary job is to score goals.

Just ask Alex McLeish.

"I saw Thierry Henry's goal the other night, and it was a fantastic moment regardless of which team you support," the Aston Villa manager told the media Wednesday. "I thought, 'Wow, it would be good if Robbie can make that kind of impact.' "

"Can I do a Thierry Henry? I hope so," Keane said at Aston Villa's weekly news conference. "It would be great to do that. It was written that he was always going to come back and score on his return to Arsenal. Good luck to him, he is obviously a legend at Arsenal.

"If I can do something like that in the six [league] games, and help the team, that is great."

Keane could play in as many as eight games during the 6½-week loan period, which will run through Villa's Feb. 25 EPL match at Wigan Athletic. He'll then join Ireland's national team, preparing for Euro 2012 with a Feb. 29 friendly against the Czech Republic in Dublin, before returning to the Galaxy before its March 7 first leg at Toronto FC in the CONCACAF Champions League quarterfinals.

"I'm delighted to be back in the Premier League," Keane said. "This is only short-term, of course, but there has been a lot of speculation over the years linking my name to Villa and, finally, I'm here. I'm excited about it and I know I'll really enjoy my time here. It's only for two months, but I will do my absolute best in these two months.


January, 10, 2012
1/10/12
11:22
AM PT
By
Scott French
| ESPNLosAngeles.com
Robbie Keane's loan deal to Aston Villa is slowly churning through all that "red tape" Alex McLeish was talking about last weekend and likely will be finalized Wednesday, according to reports in Britain and a Galaxy source.

McLeish, Villa's manager, is desperate for Keane's services after forward Emile Heskey sustained an Achilles' tendon injury in Saturday's F.A. Cup victory over Bristol Rovers. Heskey is expected to miss at least a month.

"When you see what happens to Emile, you realize getting Keane in is a decent idea," McLeish told reporters Monday. "Whether there are more remains to be seen. We have got to manage the wages situation."

The Irish striker, who began training Monday with the Birmingham-based club, anticipates he'll debut in Saturday's English Premier League clash at Everton, where Galaxy captain Landon Donovan is playing on loan.


January, 8, 2012
1/08/12
11:21
PM PT
By
Scott French
| ESPNLosAngeles.com
Aston Villa hopes to have Robbie Keane on its roster within the next few hours, and manager Alex McLeish already is anticipating the good things the Galaxy's striker will bring to his club.



Jake Roth/US PresswireKeane
The Birmingham club is looking to complete on Monday a loan agreement with L.A., estimated to be worth as much as $1 million, to acquire Keane for seven weeks. The Irish striker has been training with Tottenham in advance of the Galaxy's preseason camp, which is tentatively scheduled to begin Jan. 23, and reports from Spurs manager Harry Redknapp have McLeish nearly giddy.

"We've had dialogue with Spurs, and the report back we are getting is that he looks in much better condition than he did this time last year, when he went to West Ham," McLeish, who as Birmingham City manager tried to acquire Keane on loan from Tottenham a year ago, told reporters over the weekend. "What we are hearing is that he is in tip-top shape. And the Ireland boys have [Euro 2012 this summer] to look forward to. Robbie wants to be at his peak for that.

"We've been speaking. He feels that's the right way to go forward. He feels he wants to keep right on top of his sharpness. So if he has that kind of motivation, it can only be good for us."

The Galaxy has agreed to the transfer, and it is expected to be finalized after solving what McLeish called a "bit of red tape."

Aston Villa (5-7-8) is 13th in England's Premier League, scoring just 22 goals in 20 games, and has advanced to the fourth round of the F.A. Cup, in which they'll face the winner of Monday's Arsenal-Leeds United match in three weeks.

Keane, 31, has been a consistent scorer in a career that has included stints at Wolverhampton, Coventry City, Inter Milan, Leeds United, Liverpool and Celtic. He scored four goals with two assists in 11 competitive matches after signing with the Galaxy in August (and hit the post twice in the playoffs), and tallied four times in three games on L.A.'s postseason tour of Indonesia, the Philippines and Australia.

"I think [Keane's arrival] will give everyone a lift. You are now talking about a guy who is at his peak ...," McLeish said. "He can make it if up if he is not as quick physically by what he has in his head. He loves to play football, he's got leadership qualities as well that can help in the dressing room, too, and he can score a goal. He's got great movement, and he can hurt defenders. He's a very, very experienced player."


December, 16, 2010
12/16/10
3:28
PM PT
By
Scott French
| ESPNLosAngeles.com
Jovan Kirovski is returning to the Galaxy next year, but it appears possible that Edson Buddle won't.
Kirovski signed a one-year deal Thursday with the Galaxy, three days after pulling out of Major League Soccer's re-entry draft to reopen negotiations with the club, amid acknowledgment from Birmingham City manager
Alex McLeish
that he might be interested in bringing Buddle to England.
Buddle, 29, who scored 19 goals last season and finished second in MLS's MVP balloting, has been training this week with the Premier League club and is slated to return home Wednesday. The Galaxy has said it's just a training stint, nothing more -- a fairly common practice in the soccer world -- but McLeish apparently is starting to think long-term.
"[Buddle has] trained with us this week, and he's done fine," McLeish told
Birmingham City's Web
site Thursday. "I'm not sure when he goes back. I think he's here for next week as well, because we'd like a longer look at him. He's been scoring goals in the MLS and had a good season, and he's available."
McLeish was asked about a potential transfer fee and work-permit issues. His reply: "I'm not sure of the facts, but I know it's not going to cost us and arm and a leg if we do it. Work permits are obviously the stumbling block, but America is in FIFA's top 70, and he's been playing regularly for them."
Galaxy coach
Bruce Arena
said Thursday that he expects Buddle, who last summer played for the U.S. at the World Cup in South Africa, in a Galaxy uniform next season. The striker is out of contract.
"We've had no contact with [Birmingham City]. Edson's just there training," Arena told ESPN Los Angeles when asked if the club was willing to sell Buddle. "I don't have a whole lot more to add to that."
Kirovski, 34, a former U.S. national-teamer in his second stint with the Galaxy, scored four goals with two assists in 21 games last season. The seven-year MLS veteran previously played in Europe.