Los Angeles Soccer:

Alfredo Ontiveros
December, 29, 2011
12/29/11
10:24
PM PT
By
Scott French
| ESPNLosAngeles.com
Goalkeeper Alfredo Ontiveros has been honored as a national player of the year after helping Mt. San Antonio College to its third straight junior college state championship, and he is joined by two teammates on the National Soccer Coaches Association of America's All-America team.

Ontiveros (La Puente/Arroyo HS) conceded just 11 goals in 25 games with 11 shutouts, a 0.54 goals-against average and a 90.4 save percentage for the Mounties (22-0-3), who won the mythical national championship at the Division III (non-scholarship) level.

Defender Eric Flores (Pomona/Garey HS) joins Ontiveros on the first team, and forward Luis Fuentes (Baldwin Park/Sierra Vista HS) is a second-team D3 All-America selection. Two more Mounties -- forward Javier Castro (Pomona/International Poly HS) and midfielder Edgar Padilla (Baldwin Park/Baldwin Park HS) -- receive All-West Region honors.

Mt. SAC coach Juan Sanchez is the Division III South Region's Coach of the Year.

In all, five local men and three women are JC All-Americans, and 10 men and eight women receive all-region awards. All are listed below:


December, 23, 2011
12/23/11
3:30
PM PT
By
Scott French
| ESPNLosAngeles.com
Counting down the 11 biggest 2011 stories in Southern California soccer ...

The best soccer team in Southern California? Relatively speaking, it might be Mt. San Antonio College's men, who claimed a third successive state community college crown while extending their unbeaten streak to 38 games.

Danny Amaya (Rialto/Marshall HS) scored on a scorching blast to the upper corner, off the top of the post, midway through the second half to give the Walnut-based Mounties (22-0-3) a 1-0 triumph over Hartnell, from Salinas, in the final earlier this month in Sacramento. Mt. SAC posted its 14th shutout and sixth in its last seven games.

"You know what? It's awesome," said head coach Juan Sanchez, who has taken the Mounties to four straight state final fours. "It's kind of like a dream. To win the first one was very difficult, No. 2 was very hard, and now No. 3 is just -- there's no words that can describe the feelings."

The Mounties lost to Cerritos in the 2008 state title game, beat Taft with an experienced group in 2009 and unexpectedly cruised to the title last year with a young squad. This year's title wasn't unanticipated.

Sanchez had 14 sophomores at his disposal, including goalkeeper Alfredo Ontiveros (La Puente/Arroyo HS), the NSCAA JC Division III (non-scholarship) Player of the Year, first-team All-America defender Eric Flores (Pomona/Garey HS) and second-team All-America forward Luis Fuentes (Baldwin Park/Sierra Vista HS), who led Mt. SAC with 20 goals for 14 in his two-year career.

Sanchez, who played under Leo Cuellar at Cal State L.A. and professionally in Mexico and in U.S. indoor leagues (including a stint in the mid-'90s with the Anaheim Splash), was the JC West Region Coach of the the Year for the third time and is a finalist for the national honor. The Mounties won the unofficial D3 national title by finishing first in the NSCAA's national poll.

"This group really became a tight-knit family," Sanchez said. "You could see it in the beauty of the way they play, the way they're there for each other. It's just really nice to see this end for these guys the way it happened."
December, 3, 2010
12/03/10
6:40
AM PT
By
Scott French
| ESPNLosAngeles.com
The state's junior college soccer championships kick off Friday morning at College of the Canyons in Santa Clarita. Mt. San Antonio men's coach
Juan Sanchez
is seeking a second successive title. Cerritos women's coach
Ruben Gonzalez
is aiming for his third trophy in four years.
Their link goes far deeper than that.
Sanchez was a midfield creator and Gonzalez a backline anchor for Cal State L.A.'s men's team in the early 1990s -- a breeding ground, it turns out, for outstanding coaches.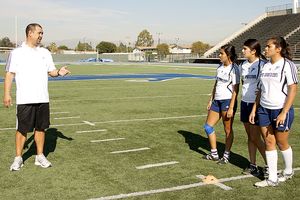 Kelly Kwan/Courtesy of Cerritos CollegeCerritos College coach Ruben Gonzalez.
They're among several Golden Eagles from the era, all prodigies of former Mexican national-teamer Leo Cuellar, who have gone on to guide title-winning teams, and the jobs they've done this year -- no matter what occurs this weekend -- have been among their best.

Sanchez returned just five players from last year's champions for what was supposed to be a "restructuring" campaign. His Mounties are 17-1-4, ranked second in the state and fourth in the nation, and one victory -- Friday morning at 10 against Northern California's West Valley College (16-4-2) -- from an opportunity to defend their title on Sunday.

Gonzalez's Falcons (22-1-2) have more experience but are somewhat of an underdog, forced to knock off the nation's Nos. 1 and 3 teams to reach the final four. They're no favorite at Canyons, either: NorCal powerhouse Santa Rosa (17-0-5), the state's lone unbeaten side, is their foe in Friday's 4 p.m. semifinal.

The other games: Canyons (16-5-2) vs. Fresno City (15-4-3) in a men's semi at 1 p.m., and San Bernardino Valley (17-1-3) vs. Fresno City (19-2-2) in a women's clash at 7 p.m.