Los Angeles Soccer:

Ali Mansour
April, 15, 2011
4/15/11
4:44
PM PT
By
Scott French
| ESPNLosAngeles.com
It's a new team in a new league, stuck by its lonesome out here, thousands of miles from its rivals, and guided by a coach who has worked exclusively with women the past dozen years.
The makings of a success story? The L.A. Blues hope so, and as they embark on their inaugural season in USL Pro -- American pro soccer's third tier -- they've got greater designs than putting out an affordable and entertaining alternative to the Galaxy and Chivas USA.
"We want to make the playoffs and get in the championship," says midfielder
Josh Tudela
, one of eight Blues with Major League Soccer experience. "We're not going to settle for anything less than that."
[+] Enlarge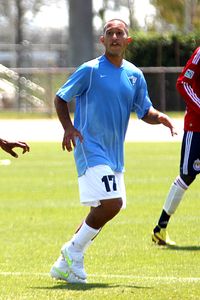 Chivas USAGerardo Bravo will be one of the key players for the L.A. Blues this season.
It's big talk, but the Blues, on paper, at least, have the makings of a contender. They've got Argentine midfielder
Walter Gaitan
, a superstar of mammoth proportion at this level of the game, veterans such as Tudela and defender
Nelson Akwari
, rising players like Chivas USA loaner
Chukwudi Chijindu
and some local-league stars head coach
Charlie Naimo
says he
believes will make their names with the club.
"I feel we've done a pretty good job of putting together a very good roster for this level," said Naimo, who has won three titles in United Soccer Leagues' women's league and was general manager of the L.A. Sol, the short-lived Women's Professional Soccer club partially owned by the Blues organization. "So they need to find some strength in that, then say, 'Hey, we've got the group, now we have to win.' "
If they're not as good as the Galaxy, they might be more fun to watch. The plan is to play a pretty possession game, weaving passing patterns past foes to create chances for Chijindu and the other forwards.
"Everybody wants to play that way," Naimo said, "so time to put up or shut up. Do what is required, and a lot of what I see is when it doesn't work, it's the guys off the ball who aren't working hard enough to get into good spots. You've got to make the game easy for your teammates.
"We're certainly not afraid to pass the ball to guys that are contested. We're certainly not afraid to ask for the ball when guys are on us. It's just a matter of getting those people in a little bit spot, a matter of of making that pass a little bit better so they can escape. And then you discourage that high pressure. That's the only way to slow a game down. Otherwise, what stops the other team from chasing you, from running you over for 90 minutes? You've got to be able to step on the ball. … It's obviously attractive if it comes off."
The Blues open their season Friday night in Juncos, Puerto Rico, where the begin a four-games-in-nine-days sweep of the Caribbean, facing their four International Division rivals. First up: Sevilla FC Puerto Rico, which has weak ties to its Spanish namesake, followed by matches Sunday at Antigua Barracuda, Wednesday at Puerto Rico United and next Saturday against River Plate Puerto Rico.
The home opener is May 1 against Barracuda at Cal State Fullerton's Titan Stadium, and home games also will be played at Centennial High School in Corona and College of the Canyons in Santa Clarita.
December, 7, 2010
12/07/10
3:00
PM PT
By
Scott French
| ESPNLosAngeles.com
The Los Angeles Blues are a reality. The club, owned by the same group that controls the W-League's Pali Blues and was co-owner of dissolved Women's Professional Soccer club L.A. Sol, will play in the United Soccer Leagues' new USL Pro men's division next season.
The Blues announced Tuesday that
Charlie Naimo
, Pali Blues' head coach and general manager of the Sol, will be vice president and head coach and the team will play "a majority of their games" at Cal State Fullerton's Titan Stadium. The venue was the home field for the L.A. Salsa of the American Professional Soccer League, a USL predecessor, in the early 1990s and has been used by the L.A. Galaxy, Chivas USA and U.S. national teams.
USL Pro, which has been granted third-division status by U.S. Soccer -- Major League Soccer is first division, no league has been sanctioned as second division -- plans to field 16 teams in 2011.
The Blues, who are owned by
Ali
and
Maryam Mansour
-- they have dropped the Blue Star LLC name -- will stage a "pep rally," with a formal introduction of the team, next Tuesday at 11 a.m. at Titan Stadium (just west of the 57 freeway, Yorba Linda Boulevard exit).
November, 24, 2010
11/24/10
9:55
PM PT
By
Scott French
| ESPNLosAngeles.com
L.A.'s already got the Galaxy and Chivas USA. Here comes a third professional men's team, set to begin play next year, likely at Cal State Fullerton's Titan Stadium.
Blue Star LLC, which had a stake in the late L.A. Sol, will announce next month formation of a club to play in the United Soccer Leagues' First Division, the second tier of American pro soccer. The enterprise was confirmed by
Charlie Naimo
, the group's technical director -- and possibly (probably?) the club's soon-to-be head coach.
"We're still working on a couple final things before [announcing]," Naimo, who attended last week's USL annual general meeting in Florida, said Wednesday. "I think we're shooting [to have] everything in line in a couple of weeks. We want to announce this for real, that we've got a team, this is our first player, this is where we'll play, who coach is. We want it to be complete."
Blue Star, which is run by husband-and-wife team
Ali
and
Maryam Mansour
and has a connection with Australian actor
Anthony La Paglia
and Hollywood United FC, operates the Pali Blues women's club (which plays in the USL's W-League) and was co-owner with Anschutz Entertainment Group of the Sol, which posted the best regular-season record in Women's Professional Soccer's inaugural season and folded earlier this year after AEG pulled out.
The organization is awaiting USL approval of the L.A. Blues name -- the name used by its former team in the USL's semiprofessional Premier Development League -- and is working to reach an agreement to use the 10,000-seat stadium in Fullerton.
"It's certainly one of the venues we're very keen on, and it's a strong possibility we'll get a deal done," Naimo said. "It's the best stadium in the area for anything other than MLS."
Naimo, who was the Sol's general manager, is head coach and president of operations for the Pali Blues -- he guided the team to W-League titles in 2008 and 2009, its first two seasons -- and a consultant for the Chicago Red Stars, a WPS club facing a Dec. 15 deadline to attract funding for the 2011 season.