Los Angeles Soccer:

Allan Russell
July, 9, 2012
7/09/12
1:08
PM PT
By
Scott French
| ESPNLosAngeles.com
FULLERTON -- Charlie Naimo has never been one to hide his emotions, but after his L.A. Blues hit bottom Sunday evening, dropping their fifth in a row with a 4-0 debacle against Orlando City SC, he made it clear that he's ready to dump some of the more useless players under his command.

The Blues' head coach/general manager railed against his team's penchant for costly errors, its na´vete, lack of "mental strength" and shortage of "resourceful guys," and said if all USL Pro contracts weren't guaranteed, "I would cut so many guys from this team right now. ... Do you think I'd keep some of these guys around here? You kidding me?"

The Blues (5-8-2) were done after conceding two goals to Dennis Chin in first 17 minutes, both following turnovers, then gave up two more near the end, to Jean Alexandre in the 70th and Matt Luzunaris in the 78th minutes, Alexandre's also after a giveaway in the back.

"It's beyond frustrating to me at this point. The bottom line is we make too many mistakes right now," Naimo told ESPN Los Angeles. "Nobody scores a hard-earned goal against us. It's always a gift. I don't know, I don't have any answers. It's my fault. I picked the team. I'm the one who signed some of these guys that are allowing these things to happen, so, whatever. It's on me."

The Blues have in a week and a half fallen from fifth to eighth in the third-division league, and they haven't scored in their last three games, including back-to-back losses at Cal State Fullerton to first-place Orlando City (12-1-4), the defending champion.

They were without striker Bright Dike, who has six goals in 10 games after arriving on loan from Major League Soccer's Portland Timbers but tweaked a hamstring in Friday's loss.

Dike might be done with the Blues; he's set to return to the Timbers early this week, but what exactly that means is uncertain.

"He's supposed to go back tomorrow," Naimo said. "It could be for good, we don't know. We discussed about him going back [to Portland] short-term, coming back [to qualify before] out roster freeze" date in two weeks. "We're working pretty well with Portland right now. I'm sure we'll get another player or two [from them]."

They're getting another defender Monday, with Josh Suggs, who played for the Blues last year and has been with MLS's San Jose Earthquakes this season, arriving on a free transfer. Suggs "is going to give us another winner, winning mentality, good athlete. Helps you in a game like that. I would have played him [rather than Corey Miller] at left center back today, and I promise you the first two goals don't get scored."


May, 27, 2012
5/27/12
8:22
AM PT
By
Scott French
| ESPNLosAngeles.com
The Blues followed a horrendous U.S. Open Cup showing with a solid effort to claim a point against the USL Pro's defending champion and standings leader. They couldn't sustain it to close a two-game East Coast swing, falling Saturday to the Charleston Battery.
L.A.'s failure to adequately defend a corner kick, the same thing that cost it a goal in Thursday's 1-1 draw at Orlando City, was decisive, with
Colin Falvey
nodding home a serve from former Fresno Fuego star
Jose "Chiva" Cuevas
in the 14th minute.
The Battery's defense did the rest, shutting down a fatigued Blues attack from start to finish. L.A. managed just one good chance, an
Allan Russell
blast that kissed the top of the crossbar in the 37th minute.
The Blues started last week with a poor performance in the Open Cup, dropping a 3-1 overtime decision to the Ventura County Fusion and missing out on a chance to take on Chivas USA this week. A terrific effort snagged the point at Orlando, but the attack was ailing Saturday with
Matt Fondy
out injured,
Cheun-Yong Park
not at 100 percent,
Maykel Galindo
still searching for game fitness, and
Bright Dike
exhausted after too many games in too short a span.
May, 22, 2012
5/22/12
10:45
PM PT
By
Scott French
| ESPNLosAngeles.com
FULLERTON -- Might there be no better soccer team in the country from the 91st minute on than the Ventura County Fusion?

After scoring four goals in overtime to win their U.S. Open Cup opener last week over the Fullerton Rangers, the Premier Development League powerhouse netted two on Tuesday, dispensing with the L.A. Blues in a second-round clash.

Francisco Lopez scored his second goal of the game in the 107th minute -- 17 minutes into the extra period -- and Travis Bowen, Chivas USA forward Tristan Bowen's brother, added another with four minutes to go, and the Fusion stunned the USL Pro club, 3-1, before a sparse crowd at Fullerton College's Sherbeck Field.

Their reward: a third-round showdown next Tuesday night against Chivas USA at Ventura College, pending expected U.S. Soccer approval of the site.

Francisco Lopez converted an extremely iffy penalty kick to force overtime, and UCLA goalkeeper Earl Edwards made a save on Allan Russell's penalty kick for a Blues win in the 85th minute, but there was no doubt which side was more deserving.

With Rodrigo Lopez, a former Chivas USA and the Portland Timbers midfield, running the field, the Fusion absorbed heavy early pressure, gave up an own goal after just 13 minutes, and spent the rest of the game outbattling the Blues all over the field.

"And now we have a home game against Chivas, which we really relish," said Fusion head coach Ole Mikkelsen, who watched the final 23 minutes of overtime from just outside Ventura County's locker room after he was sent off for angrily protesting a call. "I have to say, I thought we were [the better team]. We came out slow, which is to be expected: They're a pro team, they play together every day, they're more comfortable with each other.

"Unfortunately, a miscommunication led to that own goal -- those things happen. It could have buried us, but we kept battling, we added some rhythm, and as soon as we got that first goal, I knew that we were in it, and I knew we had a chance to take it from them."


May, 11, 2012
5/11/12
8:15
PM PT
By
Scott French
| ESPNLosAngeles.com
Allan Russell has spent most of his career up top, with stints around his native Scotland and England before coming to America two years ago, so he knows goals. His switch to a holding midfield slot with the L.A. Blues hasn't altered his focus.

Russell pounced on a loose ball in the box following a corner kick to give the Blues a 1-0 USL Pro victory Friday night at Dayton, his team-best second goal of the season.

It was a make-up play for the 31-year-old Scot, who had skied a penalty kick well over the crossbar just 12 minutes earlier. His other goal, in last week's win over Wilmington, was from the penalty spot.

The victory extended L.A.'s unbeaten streak to three games with another match set for Saturday night at Pittsburgh. The Blues (2-2-1) vaulted from 10th to fifth in 11-team league and remained nine points off the third-division lead. Dayton (0-3-2) is in last place.

Bright Dike made his presence felt in his first appearance for the Blues, forcing a point-blank save from Dutch Lions goalkeeper Matt Williams in the 26th minute and drawing the foul from Mettin Copier for Russell's 67th-minute spot kick, but Ladislas Bushiri made the biggest difference after coming on in the second half.

The big Congolese-born Canadian, making just his second appearance of the season, entered in the 61st minute for Cheun-Yong Park to change L.A.'s formation from a 4-4-2 to a 4-5-1. He clamped down on Dayton's midfield game, got involved in the attack and played the most prominent role as the Blues took charge for the final half-hour.


May, 9, 2012
5/09/12
5:35
PM PT
By
Scott French
| ESPNLosAngeles.com
The Premier Development League season kicked off around these parts with a bunch of ties -- and one very intriguing storyline.

It involves star attacker Brent Whitfield, a former Chivas USA outside back from Long Beach (Poly HS/Cal State Fullerton) who has played for several top local clubs and was set to serve as a player-coach for L.A. Misioneros, a PDL team that's brought in some big talent in a bid to compete for a trophy.

Misioneros cut ties with Whitfield just before the season began -- it also cost them former Galaxy defender Mike Randolph, whom Whitfield had brought to the club -- and he has turned up with the Ventura County Fusion, a club he bolted two years ago to play for pay with Hollywood United.

The Fusion opened their season Saturday night at Ventura College against, wouldn't you know, the Misioneros, who took a lead midway through the first half through Edwin Miranda (Reseda/Reseda HS and Cal State Northridge), who played last year for the L.A. Blues.

Whitfield gave Ventura a share of the points, scoring just before halftime.

The other two games involving local teams also finished 1-1. Cal State Northridge's Christian Gonzalez Diaz (Mission Viejo/Mission Viejo HS) scored in stoppage Friday to lift Orange County Blue Star against visiting Pali Blues, which got a goal from UCLA's Evan Raynr (Calabasas/Viewpoint HS). Blue Star rallied against Misioneros in L.A. two nights later, with Loyola Marymount's David Ponce (Foothill Ranch/Trabuco Hills HS and UC Santa Barbara) scoring the equalizer.

Elsewhere in minor-league soccer:

USL PRO: The L.A. Blues got a home win last week, and, true to form, it came away from Cal State Fullerton's Titan Stadium. The 2-1 triumph over Wilmington at Fullerton College was their first victory of the season and just their fourth in what now is 16 league home games.

The record at CSUF is far worse: no wins in nine games (0-6-3), including a "road" loss to the Galaxy in last year's U.S. Open Cup. That includes Sunday's 2-2 draw with Wilmington in the second meeting of the weekend.

The Blues (1-2-1) climbed out of the third-division league's cellar, from 11th to 10th, two points ahead of the Dayton Dutch Lions (0-2-2), the only USL Pro team without a victory, and that after winning just two of 24 league games last year. Midfielder Allan Russell, who converted a penalty kick and assisted Matt Fondy's opener in Friday's win, was selected to the USL Pro Team of the Week.


May, 5, 2012
5/05/12
12:39
AM PT
By
Scott French
| ESPNLosAngeles.com
FULLERTON -- The L.A. Blues finally scored their first goal, then netted another. It added up to their first win of the season in the oddest of settings.

Matt Fondy scored four minutes into the second half and Scotsman Allan Russell converted a penalty kick eight minutes later as the Blues (1-2-0) pulled out a 2-1 triumph Friday evening over the Wilmington Hammerheads on the FieldTurf in Fullerton College's stadium.

Fondy took a feed from Russell and held off Hammerheads defender Tyler Lassiter to beat goalkeeper Alex Horwath in the 49th minute, ending a 228-minute drought to start the campaign for L.A., which was shut out twice by the Rochester Rhinos to start the season.

Russell tallied from the penalty spot after a hand-ball call.

The game was moved from Cal State Fullerton's Titan Stadium to Fullerton College's far smaller facility because of a conflict the the university's Associated Students spring concert, which was to take place Friday night in the stadium. About 200 fans, all admitted for free, sat in small metal bleachers and individual chairs stretched across the north sideline.


April, 13, 2012
4/13/12
6:31
PM PT
By
Scott French
| ESPNLosAngeles.com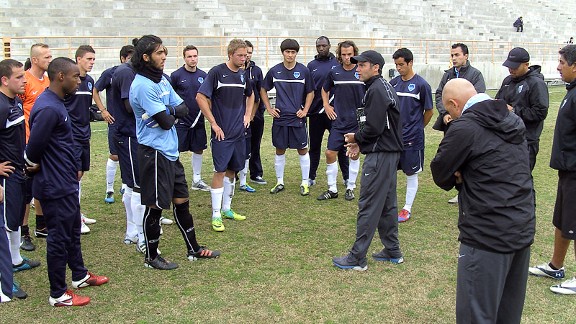 Blues Pro SoccerCharlie Naimo addresses his team during the buildup to the 2012 USL Pro season.

FULLERTON -- The Los Angeles Blues embark Saturday night on their second go-round in the USL Pro, looking to right what went wrong in the inaugural season, when their championship-caliber side unraveled after its big-name star abandoned ship.

Head coach/general manager Charlie Naimo and his staff gutted the team, keeping just four players and bringing in a mix of veterans and youngsters with perhaps not quite the flair of last year's group but with far more grit and resilience, and the Blues are thinking title as they kick off against the Rochester Rhinos at Cal State Fullerton's Titan Stadium.

The Blues want desperately to improve on last year's 8-7-9 campaign, followed by a first-round exit in the third-division professional league's playoffs, and challenge defending champion Orlando City SC and several prime contenders, including the Rhinos, who won the National Division last year, seven points ahead of third-place L.A.



But the real fight is off the field, where Steve Donner -- the club's new vice president of business operations -- is leading a charge to professionalize the organization, create for it a role on Southern California's crowded sports landscape, and create a foundation that will enable the Blues to survive and succeed for years to come. The most important move has been hauling the team's offices from Santa Monica to Fullerton, just a couple of blocks from the club's training ground at Fullerton College, and pledging its future to Titan Stadium after splitting a dozen league games last year among Cal State Fullerton and venues in Corona, Norco and Pacific Palisades.

Tickets are cheap, certainly in comparison with the Galaxy (and, less so, Chivas USA), parking is free and the soccer is better than decent. That's what Donner -- a sports marketing executive with extensive experience in hockey, minor-league soccer and lacrosse -- and his staff are trying to sell.

"A very convenient, very entertaining sports option in the Orange County and the L.A. Metro market: That's the niche we hope to create," said Donner, who was chief executive officer last year at Orlando City, which led the USL Pro in attendance. "It's going to take some time in order for people to understand what we really are."

That's because word didn't get out last year. A short lead-time to the club's debut -- the Tampa, Fla.-based United Soccer Leagues accepted the Blues for its top division in December 2010, and play began five months later -- had the organization scrambling from the start just to put on a season. Marketing was nearly nonexistent, sponsorship was sparse, and little more than 4,500 showed up for the entire 12-game home schedule, with just four crowds above 600.

A BAD START: "It couldn't have been worse last year," Naimo acknowledged. "It's really no one's fault. We started so late. Geographically, we were a constellation, and bottom line: You can't market to people you're not around."

"It did not work, as far as sponsorship, ticket sales," Ali Mansouri, who owns the club with his wife, Maryam, said at the close of last season. "We had a budget, what this thing is going to cost us. And we were very close to it. We were about 10 percent [above] what we estimated the cost is going to be. Very happy about that. But we also had an estimate of how much money we're going to bring in. We [made] 20 percent of that. That wasn't good."